If you have always been interested in playing complex specializations, you have come to the right place. The spec we are going to talk about can hardly be called easy to master due to its variable rotations and ability combos. In this Outlaw Rogue DPS guide, we will provide you with valuable information and tips to help you maximize your performance in both PvE and PvP gameplay. Whether you are a beginner or an experienced player, you will find useful insights on talent choices, rotation strategies, gear recommendations, and more. So, let us not waste a second of precious time and begin our journey!
IMPORTANT NOTE: At SkyCoach, you can also Buy WoW Boost at the lowest prices and with the fastest delivery. You can make your first purchase even CHEAPER if you find our special PROMO CODE (highlighted in green) hidden in this article and get a 20% DISCOUNT.
Check out some of our most popular
WoW Boosting services

below:
Outlaw Rogue Pros and Cons
Before moving to truly complicated things, we would like to start our WoW Outlaw Rogue guide with the spec's strengths and weaknesses description. This is necessary to let you understand whether you want to give it a try at all. After reading this part of the article, you will have a brief insight into what this specialization is capable of.
As usual, let us begin with the Upsides, which are as follows:
Strong burst damage against both solo and multiple targets all thanks to Blade Flurry;
Decent mobility due to the Sprint and Grappling Hook abilities;
With a focus on fast-paced combat and random procs, playing this spec can be quite engaging and enjoyable;
Impressive utility tools, which are equally useful in

PvE

and

PvP.
Up next, we would like to point out the following Downsides:
If Blade Flurry is used incorrectly, you have no other sources of

AoE

damage;
The RNG factor from Roll the Bones can be annoying;
Like other Rogue specs, this spec is not particularly durable and can be taken down quickly if caught out of position;
Hard-to-master rotations can be punishing for beginners.
Just like with all other specializations, especially the DPS ones, you can fully unlock their potential only when you reach the maximum level. The developers have implemented many changes to speed up this process and make it easier. Still, it may take you days to reach level 70. If you wish to save your precious time, you can use our Dragonflight Leveling 60-70 service to skip the most time-consuming part of this activity.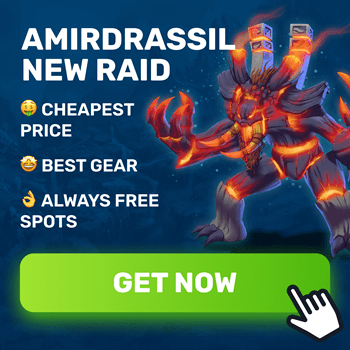 Outlaw Rogue Basics
This specialization relies on quick attacks, evasion, and crowd control abilities to deal damage to enemies. The spec can adapt to various combat situations and playstyles. Your main resource is Energy, which is generated over time and through certain abilities. You also have access to Combo Points, which are gained by using specific abilities and can be spent on finishing moves. BLOG20
Outlaw Rogues have a unique ability called Roll the Bones, which randomly grants various buffs to the Rogue and their group members. They also have access to various CC abilities, such as Sap and Blind, that can help them control the battlefield.
If played correctly, you will become an irreplaceable party member in both PvE and PvP types of content. However, Outlaw Rogue Dragonflight gameplay mechanics can be particularly difficult to master for many players. The reason for this is that you need to understand clearly when to attack and retreat. Besides, you always need to keep an eye on your Energy bar and spend Combo Points wisely.
Outlaw Rogue Core Abilities
When you only begin acquainting yourself with the specialization, it is easy to get lost. Since the Rogue class and this spec in particular have tons of active abilities, it is important to single out the most crucial ones. They are used more often and you can find them in any rotation. Mastering the use of the mentioned-below abilities is key when learning to play this spec. Let us see what WoW Outlaw Rogue abilities are included in this list:
The list is far from complete, as you have tons of other abilities. However, they are more situational and require a certain combat scenario to be used efficiently. As you can see, most of the described abilities serve to deal damage.
At the same time, you have a wide range of utility and defensive skills, which should not be forgotten. For example, they are Evasion and Cloak of Shadows, both are extremely useful in any type of content. Whether you are fighting a mob or a real player, do not miss an opportunity to use them.
After you learn the spec's essentials, you can try your skills in clearing out dungeons. They are a perfect way to get your hands on rare and unique loot. Nonetheless, you need to gather a party of worthy players whom you can rely on. If you have no friends fitting this criterion or you prefer to play alone, you would find our Mythic Carry services useful. Our professional players would gladly clear out a dungeon of any difficulty for you. We offer fair prices and guarantee the result.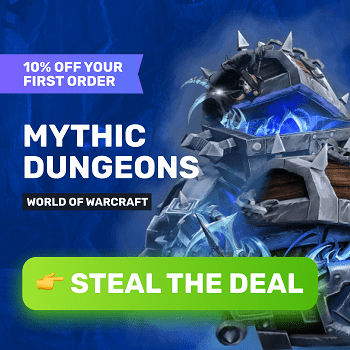 Outlaw Rogue Stat Priority
This spec's gameplay revolves around dealing overwhelming burst damage. It lets you devastate squishy targets before they can react or even see you. To make sure you deal the highest DPS possible, you need to have your Outlaw Rogue stats distributed in the right way. Of course, the described-below alternative is just one of many, as it may change depending on what gear you are wearing or your personal playstyle.
However, you always focus on Agility above anything else, as it is your primary stat. Up next, you usually go for Versatility and Critical Strike, as they provide you with the most noticeable damage boost. Only then, you want to pay attention to stats like Mastery and Haste. We cannot say they are of little importance, they just bring less value if compared to the two others we mentioned first.
Agility;

Versatility;

Critical Strike;

Mastery;

Haste.
As we stated earlier, you can experiment with this priority and change the stat order depending on your needs or preferences. Nonetheless, if you do not know where to start, this alternative will do just fine.
Best PvE Outlaw Rogue Builds
If compared to the previous expansions, the updated Dragonflight talent system looks stunning. The latter offers so many choices and ways to experiment with talent setups that it is difficult to try them all. Unfortunately, not all of them are equally efficient and suit each person's playstyle. Besides, you still need to change your approach to what talents to use depending on what activity you are taking part in.
Beginning with the two most important end-game types of content, they are Raiding and Mythic+. Each of the activities requires you to use a different talent build to maximize your performance. After reading the following two extracts, you will find out what alternatives you have at your disposal.
If you see that having the right talent setup does not help much and you are still wiping when fighting a boss or making a dungeon run, we have you covered. You can always Buy Dragonflight Boost from our company and let our professionals do the job. This will take us a minimum time to complete your order and we guarantee the best market price.
Outlaw Rogue Single-Target Raid Build
When it comes to slaying a boss with millions of health points, you are to prioritize a single-target talent setup. By doing so, you can unlock the spec's full potential and deal significant amounts of damage bringing the maximum value possible. To ensure you achieve this goal, use our Outlaw Rogue raid build you see in the screenshot below.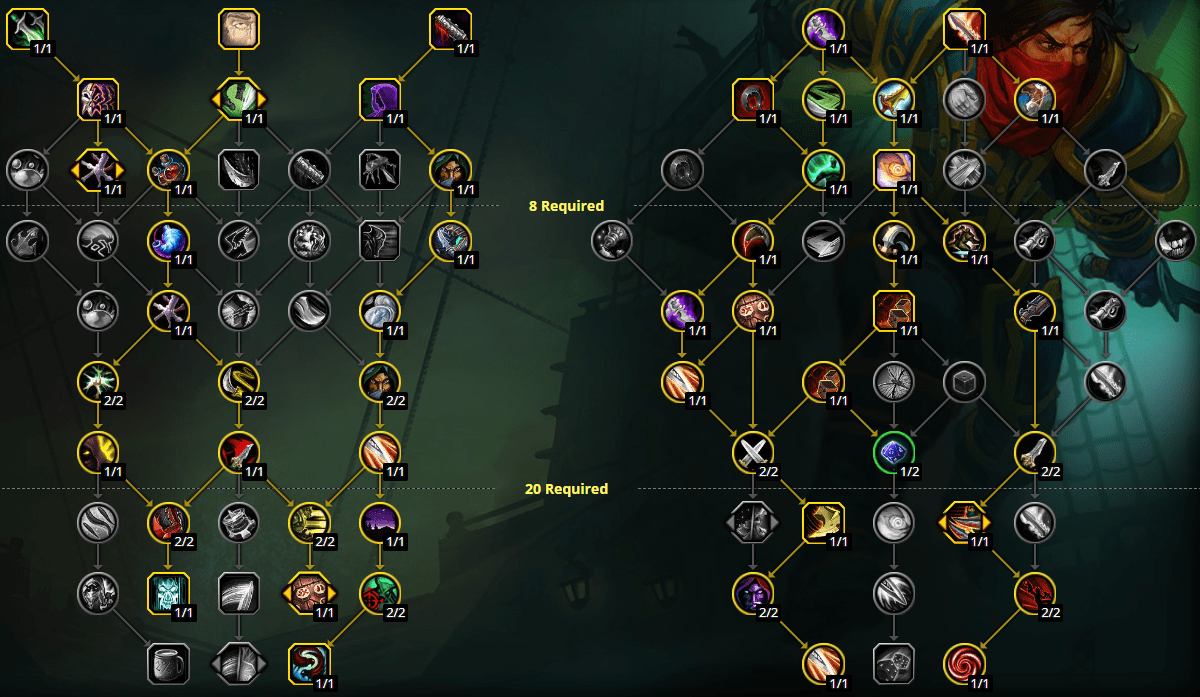 Can't wait to try it in the game? Copy this string to see how this setup performs in action:
BQQAAAAAAAAAAAAAAAAAAAAAAAAAgERSAOQSCJlEBSSkEJikkkECAAAAAAQ0SCJlkASoFAAAA
Outlaw Rogue Mythic+ Build
If you prefer fighting large packs of mobs instead of focusing on a solo target, you would enjoy Mythic+ content instead. However, you need to use a completely different Dragonflight Outlaw Rogue PvE build for this type of activity. The latter is all about dealing AoE damage, which is possible mainly thanks to your Blade Flurry ability.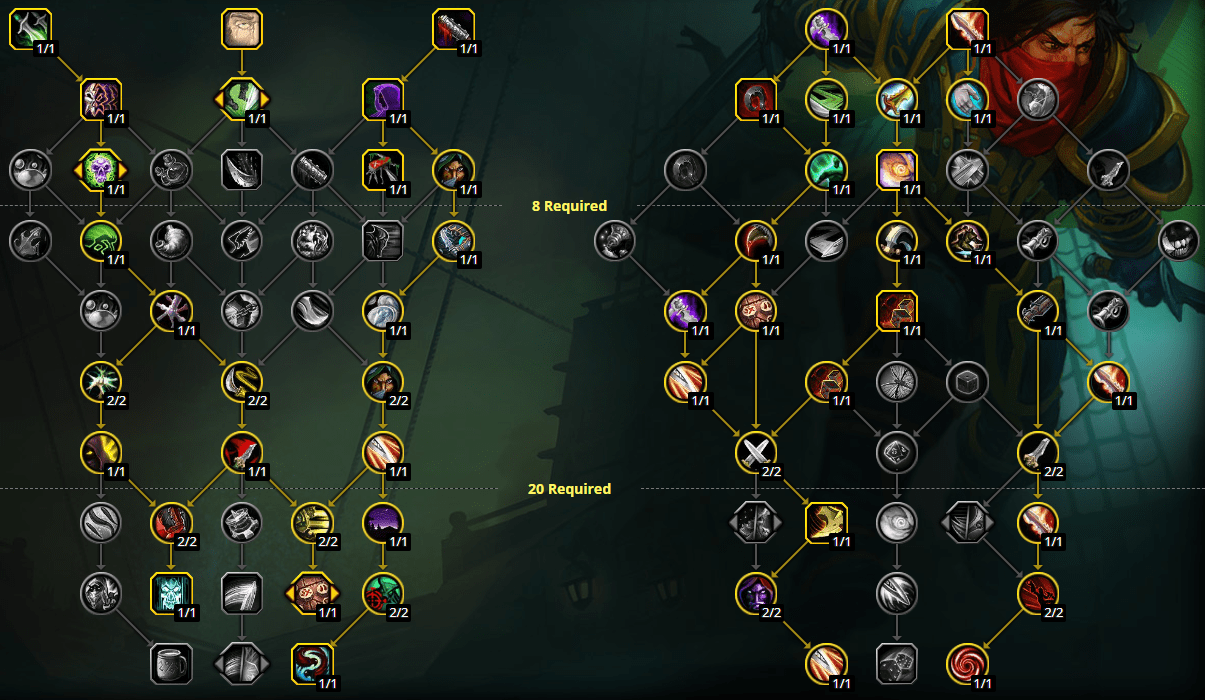 To export this build, copy the following code and paste it into the game:
BQQAAAAAAAAAAAAAAAAAAAAAAAAAgERSAkkEJSSCkEJRikkkkECAAAAAAQ0CkUSCIRKBAAAA
Best Outlaw Rogue PvP Build
We have prepared a separate Dragonflight Outlaw Rogue PvP build for people who prefer fighting other players instead of slaying endless mob packs. Apart from the correct talent setup, you need to follow a few tips to ensure you perform at your peak when participating in this type of content.
For instance, you should always remember about your Combo Points, as they are essential to maximizing your damage output. Use your basic attacks to build those points, and then spend them by using finishers dealing overwhelming DPS.
When it comes to your main resource, Energy, the same recommendation is applied. It is crucial to keep an eye on it to understand when to use certain spells to spend it. This is the point where even the most experienced players can struggle.
Time your defensive abilities, as you need to survive as long as possible to keep dealing damage. Use your defensive abilities, such as Evasion, Feint, and Cloak of Shadows, to avoid or mitigate incoming damage.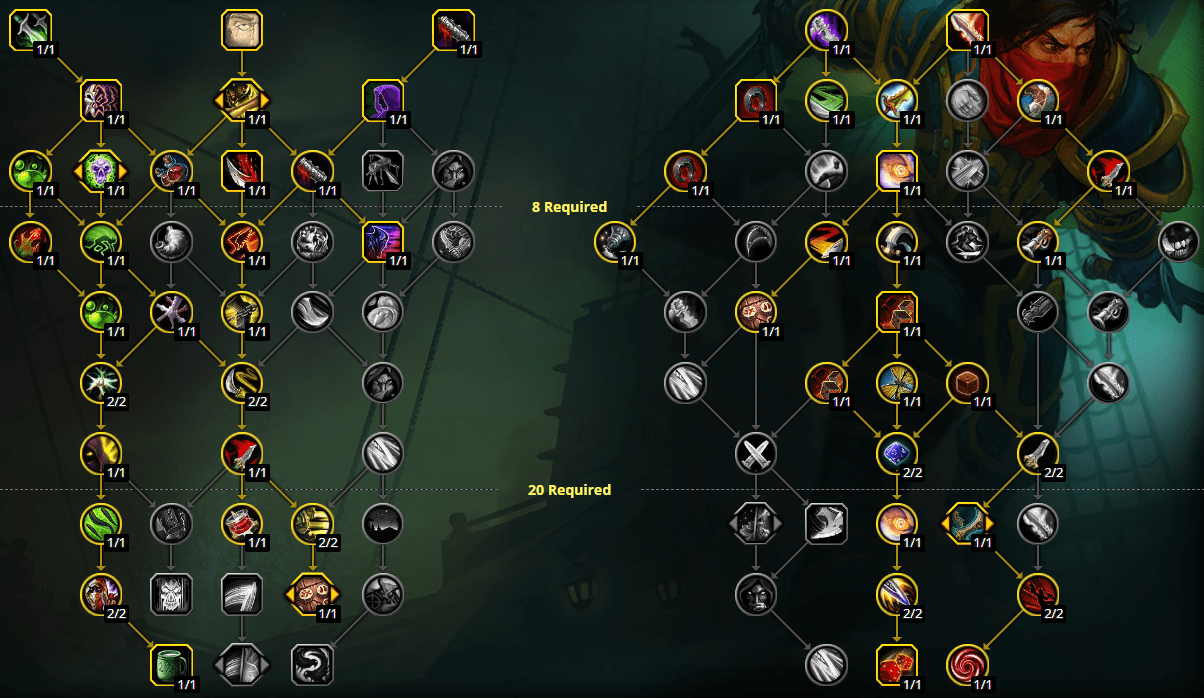 You can try this setup on your own by copying this string:
BQQAAAAAAAAAAAAAAAAAAAAAAAAAJECJSSSSSC0SESSgIJCASCAAAAAAQSJSClkQSSSKBAAAA
No matter how good you are in PvP, there is no way you can outbattle another player if they are of a higher level than you are. Therefore, you should always make your way to level 70 before trying your skills in this type of content. If you wish to skip all the boring and time-consuming stuff and get to the action, you can use our WoW Powerleveling services. Our professionals are ready to boost your character to the level cap. We guarantee the fastest completion time and offer fair prices.
Outlaw Rogue Best in Slot Gear
If you believe that the only way to obtain strong equipment is through Raiding or Mythic+ content, think again. The Crafting Order system in World of Warcraft has transformed the concept of Best-in-Slot (BiS) gear. This system was introduced in the Dragonflight expansion and has quickly gained popularity among players. By using this system, players can avoid spending countless hours attempting to obtain powerful items from end-game content.
Instead, they can collaborate with skilled artisans who can craft substitutes that are almost as effective as what they receive from end-game activities. However, it is important to note that the ideal gear for your character can vary depending on factors such as your raid group's composition, boss encounter, and personal playstyle. To avoid mistakes and unlock the spec's full potential, you should always use a simulation program. The latter lets you determine what equipment and stat priority are perfect exactly for you.
Amirdrassil, the Dream's Hope Best in Slot Gear for Outlaw Rogue
If you are not interested in what the Crafting Order system has to offer, you can always return to more traditional ways of obtaining high-end gear. Raiding has always been and remains one of the most widespread PvE activities. By participating in it, you can get tons of powerful items to make your character stronger.
Keep in mind that it is particularly difficult to collect all the items listed above. In fact, it is almost impossible, as the drop chance is extremely low and it might take you hundreds of attempts to succeed in this goal.
Besides, having this type of equipment is not always worth it. The first reason for this is that BiS gear is often locked behind high-level content, such as Raiding or Mythic+, which require a significant time investment and coordination with a group of skilled players.
Secondly, BiS gear can be replaced quickly with new expansions or content updates, making the time and effort put into obtaining it obsolete. Therefore, it is always recommended to enjoy the game instead of spending all your free time grinding rare items.
Mythic+ Best in Slot Gear for Outlaw Rogue
Thanks to your legendary Blade Flurry ability, you can perform extremely well in another type of PvE activity. We are talking about Mythic+ where you need to fight through hundreds of mobs and clear out a dungeon. Participating in this activity can reward you with powerful items you can later combine into a Mythic+ set. A lot of players believe it is the best Outlaw Rogue gear you can possibly get your hands on. However, it is also incredibly difficult to collect all the required equipment pieces.
Despite being the most powerful gear options, collecting all the described items should not be your priority goal. If you play for fun and do not spend hours of time in the game, you would be more than satisfied with the equipment pieces you get thanks to the Crafting Order system, for example.
Best Upgrade, Spark of Dreams, and Embellishment Options for Outlaw Rogue
When striving to get your hands on the equipment you like, it is actually worth taking a look at what you already have. For example, you might have a decent item you randomly got from end-game content. If it is of a too low level, you can fix it in a moment. With the currency called Dreaming Crests, you can increase your PvE gear pieces' level.
In order to earn Dreaming Crests in WoW, you need to take part in Mythic+ dungeons, raids, and other end-game activities completing them successfully. Since this currency is a precious resource, it is essential to use it wisely and prioritize upgrading the most important gear pieces. As a DPS specialization, it is better to start by improving your main-hand weapon. Once it is done, you can shift your attention to enhancing your trinkets, especially if you have viable options to invest your Dreaming Crests in. Here are a few alternatives to consider:
There is another way of creating substitutes for items you get from end-game activities. We are talking about Spark of Dreams now. The latter lets you craft powerful items, which are almost as strong as what you get from Raiding or Mythic+. Besides, their ilvl can be upgraded later thanks to the recrafting system. Here are the most popular options you would like to get:
Life-Bound Cap with Crit + Vers & Toxified Armor Patch.
To get geared completely, you just cannot go without Embellishments. This system lets you wear items with special effects and bonuses. The only problem here is that you can only wear 2 equipment pieces with Embellishments simultaneously. As a rule, you choose from the following alternatives:
It is not a secret that gold has always played a huge role in WoW. If you wish to get geared up quickly, you will need tons of it. Farming it may take too much time and the process itself seems boring for most players. Therefore, we offer you to Buy WoW Gold with our company's help. We guarantee the best market price and are ready to deliver it to any server you choose.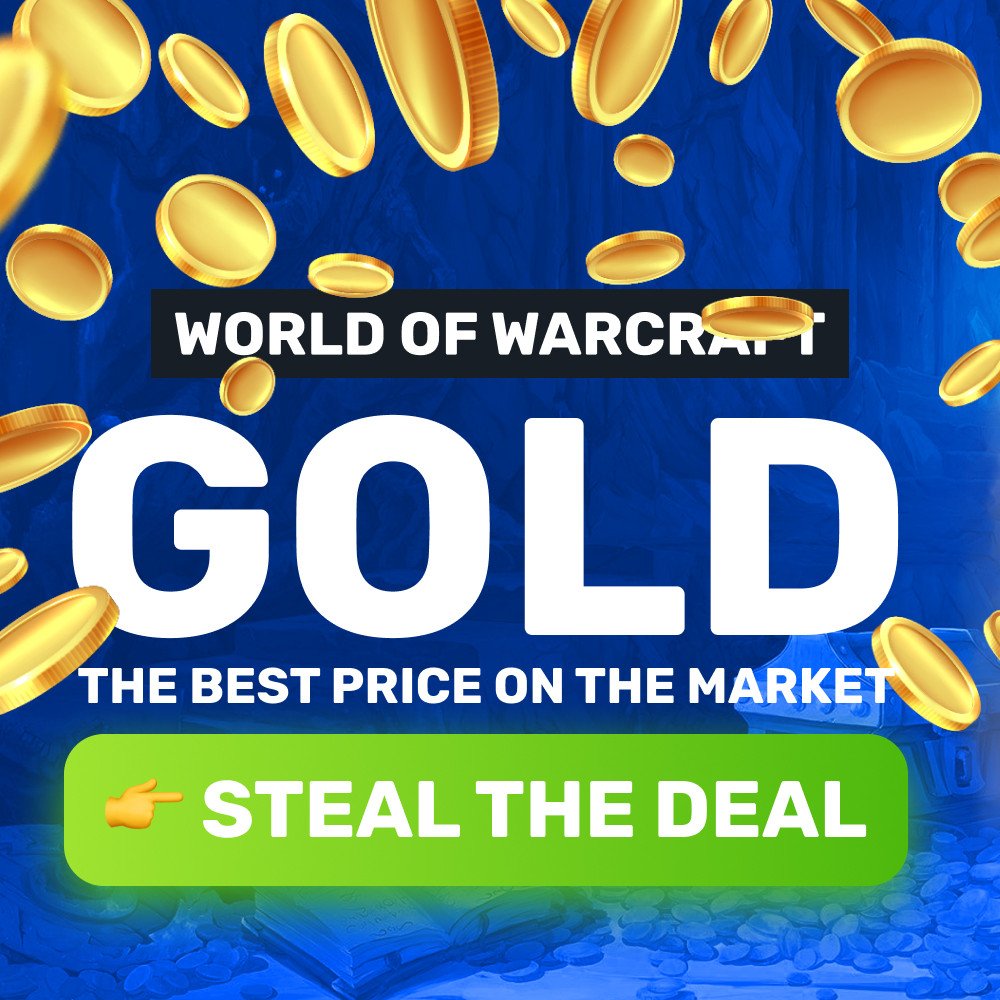 Best Outlaw Rogue Enchants and Consumables
Looking for more options to make your character stronger? Then, you cannot miss out on enchantments and consumables. They act as a great source of extra primary and secondary stats. Consequently, they greatly boost your overall damage output and should never be neglected. Buying them at the Auction House is the simplest way but you can also craft them by yourself.
Moving further, we would like to discuss what consumables you should use when playing this specialization. Since you benefit a lot from the Versatility stat, Phial of Tepid Versatility is your number one choice. It lasts for long enough that you can use it once and forget about it for half an hour. For Mythic+ content, Phial of Glacial Fury is absolutely fantastic, as you will attack new targets quite often.
For pure DPS boost, you should always go for Elemental Potion of Ultimate Power. It lasts only for 30 seconds but it is usually enough to devastate an enemy. Potion of Shocking Disclosure would suit dungeon runs perfectly since it enhances your AoE damage and lets you clear out mob packs quicker.
Being quite a squishy spec, you should not enter a fight without having Refreshing Healing Potion under your belt. The latter can save your life in a critical situation when you are about to die. If you are ready to take a risk, you can use Potion of Withering Vitality, but be aware of its drawbacks.
Adding a few words on what gems you want to use, here are preferable alternatives:
Finally, you always want to have the Grand Banquet of the Kalu'ak effect up. Another option to go for is Fated Fortune Cookie, which works in a similar way. As for the weapon buff choice, go for Primal Whetstone or Primal Weightstone depending on your weapon type.
Using all the mentioned enchants and consumables does not guarantee you success in end-game activities. Still, they are a perfect source of rare loot and should not be neglected. If you cannot get the desired item, you can always use our WoW Raid Boost service and let our professionals do the job for you. We guarantee the fastest completion time and the best market price.
Outlaw Rogue Rotation Guide
We have come to the point at which many players struggle when learning to play this specialization. The reason for this is that you need to press your buttons in a certain sequence to deal all the damage you possibly can. If you use your abilities in the wrong order, you will be severely punished for this. To make things clear, there is no universal WoW Outlaw Rogue rotation you can use for any type of content. However, they are quite similar to each other and only differ in one spell.
Before you start practicing any rotation, learn to watch your Energy bar in any situation. This is absolutely crucial, as it lets you execute a rotation flawlessly and quickly. Besides, you never want to auto attack, as your damaging potential lies within pressing buttons as soon as they refresh.
On top of that, you always want to attack from Stealth since it allows you to apply pressure before an enemy strikes back. After that, they are not likely to recover and they will have to play defense, which is a great advantage for you.
Outlaw Rogue Single-Target Rotation
Outlaw Rogue Multi-Target Rotation
As we stated earlier, this rotation does not differ too much from the previous one. The biggest difference here is that you need to use Blade Flurry before starting your standard rotation.
Outlaw Rogue Leveling Guide
To get access to various end-game activities and unlock the spec's full potential, it is necessary to level up your character first. Only then the actual game begins. The developers have done their best to speed up the leveling process in Dragonflight. Still, it takes quite a lot of time and effort to reach level 70. In this paragraph, we will share a few tips on how you can do this more efficiently. Starting with the most essential part, check out our leveling build.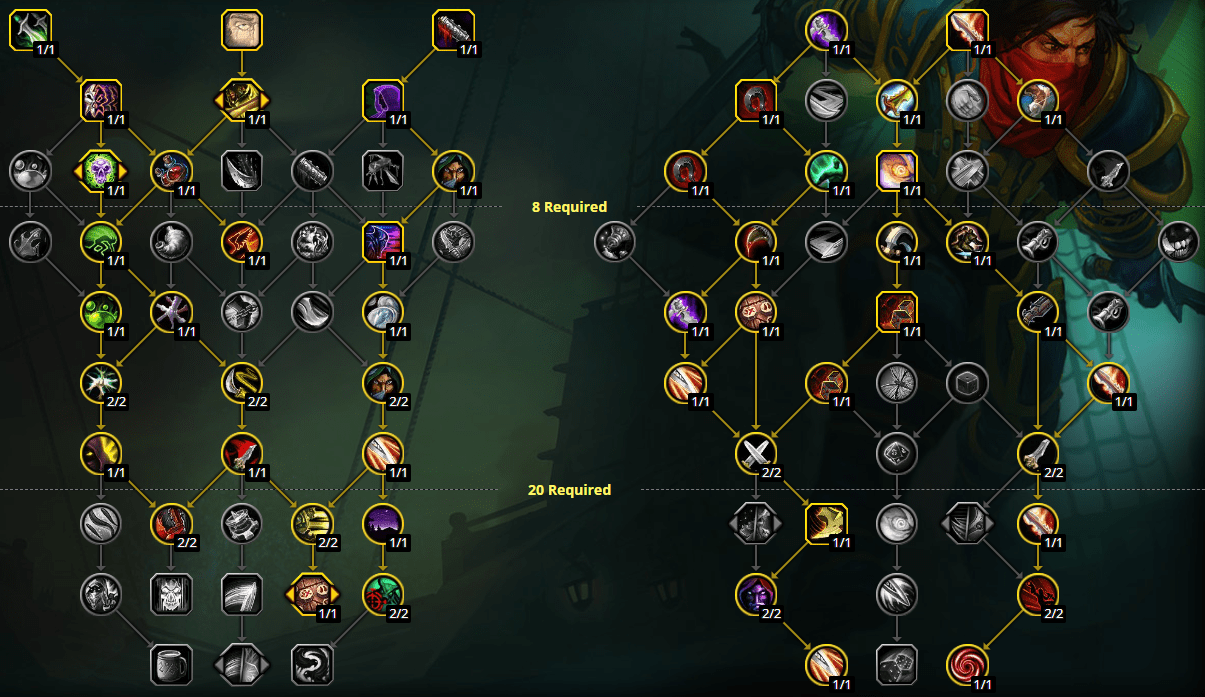 By copying the following string, you can export the build into your game:
BQQAAAAAAAAAAAAAAAAAAAAAAAAAgEREAJJkIJJIJRSSiIkkkIAAAAAAARJSIlkASSKBAAAA
To increase your survivability and mob clearing speed, you cannot neglect consumables. As a rule, they do not cost that much and can be bought at the Auction House in required amounts:
Making your way to level 70 opens the door to end-game content. However, you can hardly reach success in Raiding or Mythic+ without a reliable team. To get the desired loot from any type of activity, you can use our World of Warcraft Boosting services. Our professional players will gladly slay any boss or finish a dungeon run for you.
Best Primordial Stones for Outlaw Rogue
After the 10.0.7 patch was released, a lot of players literally fell in love with the Onyx Annulet ring. The latter features a unique mechanic, which lets you insert Primordial Stones into this ring. Wearing it provides you with various effects and bonuses you cannot get in any other way. This extract of our guide is devoted to this ring in particular. We are going to share what Primordial Stones work best for this specialization specifically.


How to Become a Better Outlaw Rogue in Dragonflight
This part of the article contains the most vital Outlaw Rogue 10.2 tips you can use in the game to become better at playing this specialization:
Pay attention to your rotations.

As mentioned before, there is no one-size-fits-all rotation for Outlaw Rogues. Practice and learn different rotations for various combat scenarios and make sure to keep an eye on your Energy bar and ability cooldowns;

Know your abilities.

Make sure you know all of your core abilities and how they work. This will allow you to use them more efficiently in combat and maximize your damage output;

Stay mobile.

This spec is highly mobile and can move around the battlefield quickly. Use this to your advantage and stay out of harm's way while trying to deal damage;

Utilize your CC abilities.

You have several crowd-control abilities that can be useful in both

PvP

and

PvE

situations. Make sure to learn how to use them effectively and coordinate with your team;

Keep up with gear upgrades.

Upgrading your gear is important for any WoW class, but it is especially important for

DPS

specialization like Outlaw Rogue. Pay special attention to what weapon you are using and try to buy the best one you can afford;

Practice, practice, practice.

Becoming a better player takes time and practice. Do not be discouraged if you do not see immediate results. Do not give up, as this specialization is actually hard to master. Learn from your mistakes and you will improve over time.
Other Articles to Read
If you wish to try other specializations and roles, you can read other WoW class guides our team has prepared for you. For example, you might be interested in reading our Enhancement Shaman Guide to master the elements of nature and use them against your foes. Maybe you wish to destroy your enemies with a bow? Then, you definitely need to check out our Marksmanship Hunter Guide. If you wish to keep playing as Outlaw Rogue, you would definitely find our Outlaw Rogue Mage Tower Guide useful.
SkyCoach Boosting & Coaching Services
At SkyCoach, we pride ourselves on being a team of passionate professionals dedicated to providing high-quality boosting and coaching services to our clients. We understand that many players struggle to find the time to participate in raids or complete dungeon runs, which is where our services come in. With over 5 years of experience in the industry, we offer a diverse range of services to cater to your specific needs and help you achieve your in-game goals.
While we are experts in World of Warcraft, we also provide support for a range of other popular online titles that can be time-consuming to master. By relying on our team of professionals, you can save valuable time and energy to focus on other pursuits.
We are committed to delivering fast and efficient results for our clients at affordable prices. Additionally, we offer a 5-20% cashback on every order as a token of our appreciation for our valued customers. We invite you to explore our offers and see how we can help you reach your gaming goals. With our expertise and dedication, we are confident that we can assist you in becoming a better player and achieving success in your favorite games.
Final Words
Fellow adventurers, this brings us to the end of our guide. We hope you have learned a lot about how to play Outlaw Rogue and understand this spec's basics now. Remember, this specialization is one of the toughest ones to master and requires a lot of time to learn to play it well. Therefore, keep practicing and you will succeed for sure. Stay tuned and do not forget to check this article from time to time, as we will keep updating it if any changes occur.
F.A.Q.
Are Outlaw Rogues good in Dragonflight?
This spec is considered to be a strong damage dealer, as it has a wide range of CC abilities, impressive mobility tools, and can deal tons of damage.
Is Outlaw Rogue hard to play in WoW?
Due to the fact that you need to keep an eye on your Energy bar, Combo Points, and press the abilities timely and correctly, this is one of the toughest specializations in the game for sure. Mastering it may take a lot of time and effort but the result is worth it.
What is the best weapon for an Outlaw Rogue?
Your choice comes down to one-handed Fist weapons, Axes, Swords, Maces, or Daggers. Remember, you must wear a slow one-handed weapon (e.g. a sword) to be able to use most of your abilities.
What is the best profession for an Outlaw Rogue?
There is no particular answer to this question, as every profession has its own benefits to offer. However, a combination of Herbalism and Alchemy would do just fine. The first one lets you sell various herbs and earn money while the second one allows you to craft potions, elixirs, and flasks.
Is Outlaw Rogue good in PvE WoW?
This specialization is considered one of the strongest choices for PvE content at the moment. However, your efficiency strongly depends on how well you execute your rotation, what gear you are wearing, and what group composition you have.
How do I maximize DPS as an Outlaw Rogue?
Manage the Energy resource wisely and press your buttons timely. Also, make sure you use your utility abilities when the situation requires so. They greatly improve your DPS and let you destroy an enemy quicker.
What is the best rotation for an Outlaw Rogue?
It all comes down to what combat situation you find yourself in. We strongly recommend that you learn both rotations described in our guide.