Fellow survivors, welcome to our comprehensive Dark and Darker gold making guide. In the dangerous and gloomy realms of Dark and Darker, where magic and mystery intertwine, the allure of gold is ever-present. Whether you are a novice adventurer seeking to amass wealth or a seasoned explorer looking to fund your epic quests, this article is your key to unlocking the secrets of Dark and Darker gold farming methods.
Within the following pages, we will delve deep into the strategies and locations that will help you amass riches beyond your wildest dreams. From battling formidable creatures to mastering the art trade, our Dark and Darker gold farm techniques have got you covered. Whether you are delving into treacherous dungeons or establishing lucrative trade routes, this guide will provide you with the insights you need to navigate the treacherous path to prosperity.
So, sharpen your sword, hone your magical abilities, and prepare to embark on a journey to transform your financial fortunes with our complete gold guide Dark and Darker. The path to untold wealth awaits, and you are about to become the master of gold-making in this terrifying realm.
Check out some of our most popular
Dark and Darker Boosting

services below:
What is Dark and Darker Gold
If you are new to the game and only starting out, it is essential to answer the question of what Dark and Darker gold is first. To put it simply, this is the main in-game currency used to purchase everything from weapons to armor, as well as potions and other stuff.
Since your survivability and overall performance directly depend on what you are wearing, you need to know how to farm gold Dark and Darker faster than other players. This is especially crucial if you are playing solo and wish to do exceptionally well on maps like Goblin Caves where you have no one to rely on.
While you can trade your other items like ores to buy stuff from people, gold is the primary resource you need to be hunting for to ensure you are well-equipped. To sum it up, here is what you are going to spend Dark and Darker gold on:
Weapons;

Armor;

Utilities;

Golden Key.
We are going to talk about Golden Keys later in our article, as it is directly connected with the strategies and techniques we are going to cover further.
Best Ways to Make Gold Dark and Darker
In the following section of our guide, we will briefly go over the most efficient methods to earn Dark and Darker fast gold no matter how long you have been playing or what class you have chosen. Do keep in mind that the game is still in the Early Access and many things might change later on. So, do not forget to visit this page to stay updated!
Here are the best ways to make gold Dark and Darker in 2023:
Buy Dark and Darker Gold at SkyCoach;

Mine Ore;

Open Treasure Hoards;

Kill Monsters;

Complete Challenges;

Trade with Other Players;

Engage in Goblin Caves.
Of course, this list is not complete and you can use other gold making methods as well. However, the practice has shown that these are the most reliable and efficient ones in terms of how much profit you can make.
Buy Dark and Darker Gold at SkyCoach
Starting with the easiest and most straightforward way to acquire extra gold in Dark and Darker is to use our services. By choosing SkyCoach, you can be sure that your currency will be delivered ASAP no matter the amount you have bought. What's more important, we guarantee the best market price and are always ready to provide you with a price match in case you manage to find a lower cost.
On top of that, you can Buy Dark and Darker Gold from us and get cash back to use for your future purchases. It does not matter whether you opt to acquire more gold or decide to spend it on any other services we offer for dozens of online titles, the choice is yours.
Mine Ore
Inside the Goblin Caves lies a treasure trove of Cobalt Ore and Rubysilver Ore awaiting your mining expertise. With a trusty pickaxe in hand, you can extract these precious resources, abundant in the cave's depths. Equip yourself with a pickaxe, available for a modest 25 gold, obtainable from the following NPCs:
Notably, Rubysilver Ore possesses a higher value due to its rarity, adorned in alluring purple, while Cobalt Ore adorns the more common shade of blue. Therefore, it potentially brings more Dark and Darker quick gold since you can sell it for a better price.
For a strategic advantage, venture to the lower-left corner of the map when mining. Here, you will find fewer adversaries and typically fewer fellow miners. Be cautious, though, as this may occasionally lead you to the outskirts of the playing zone. Should you embrace the path of the Cleric, concerns over the zone's damage lessen, thanks to your mastery of healing spells. When mining, keep a vigilant eye out for the telltale red ore nodes.
Each node typically harbors two to three Rubysilver Ores, conveniently clustered for your convenience. Nevertheless, bear in mind that the mining process is not only laboriously slow but also audibly conspicuous. Beware of rival players; the noise of your labor may attract unwanted attention, potentially resulting in a loot-stealing showdown. Play it safe, for should you deplete your healing resources and emerge weakened as you approach the circle's edge, opportunistic foes may seize the chance to vanquish you and seize your hard-earned ore.
With your spoils in hand, take to the trading post, where you can peddle Rubysilver Ore for a handsome sum of approximately 25 gold apiece or even higher. Do note that to partake in this trading endeavor, you must have attained at least level 10 in your journey.
Open Treasure Hoards
One of the best Dark and Darker ways to make gold is to get yourself a Golden Key and open Treasure Hoards. The latter contains precious loot up to the Legendary rarity, which costs a ton of gold and boasts impressive attributes. These coveted items can be converted into a substantial fortune or serve as mighty assets in your personal arsenal.
Securing these elusive Golden Keys necessitates vanquishing formidable adversaries inhabiting the dungeon's depths, such as:
Lich;

Skeleton Champion;

Ghost King.
These creatures are few and formidable, demanding not only a formidable team but also a meticulously crafted strategy to emerge victorious.
When in possession of a Golden Key, your quest continues as you embark on the journey to discover hidden Treasure Hoards. These concealed repositories can be unveiled by consulting your map or deciphering cryptic clues interwoven within the dungeon's labyrinthine passages.
However, tread carefully, for these troves are often ensconced behind perilous traps or fiercely protective guardians. Additionally, you must remain vigilant, as you may cross paths with other adventurers who may harbor intentions of larceny. Be prepared to defend your key and your riches should such a confrontation arise.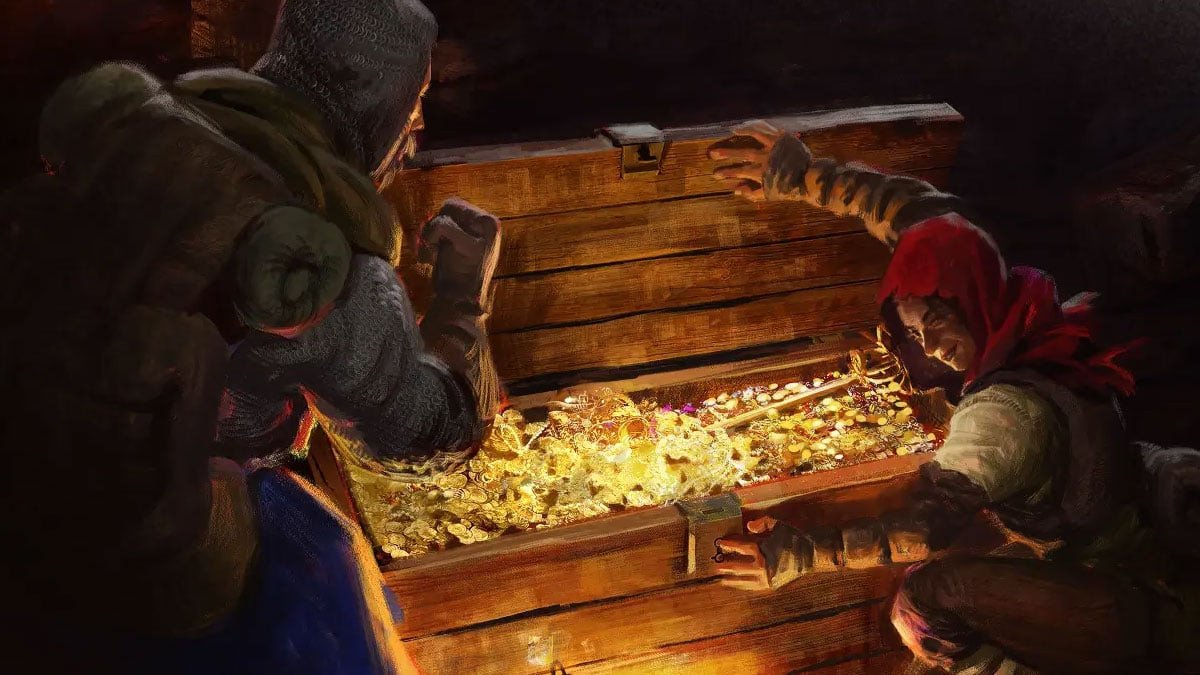 Kill Monsters
When players are wondering how to make gold in Dark and Darker, they often forget about the most basic yet still quite effective methods for this. Of course, we are talking about good old mob farming. Since the biggest part of your adventure consists of exploring dungeons, you will inevitably encounter monsters. While some of them can hardly be called worthy opponents, others can actually kill you.
For instance, facing off against Giant Centipedes within Goblin Caves can reward you with a Ring or Necklace with a 35% chance. Do remember that this is by far not the strongest enemy you can meet out in a dungeon.
The point of farming monsters lies not only in making extra gold but in looting equipment pieces as well. Depending on how powerful a particular enemy is, your chances of getting an Epic item increase greatly. So, do not miss out on an opportunity to kill a mob or two standing in your way, especially if you are sure no one is going to stab you in the back while you are doing this.
Completing Challenges
In the world of Dark and Darker, challenges represent formidable trials and tests of a player's skill, strategy, and perseverance. These challenges are often designed to be arduous, pushing players to their limits as they navigate the game's diverse landscapes, confront powerful adversaries, and solve intricate puzzles. While these challenges may be daunting, they offer significant rewards in the form of gold, making them an enticing aspect of the game.
When telling you about the best Dark and Darker gold farming tips, we cannot miss out on challenges, and here is why:
Difficulty and Risk.

Challenges are often associated with increased difficulty and risk. They might require players to battle formidable bosses, navigate treacherous dungeons, or complete intricate quests. The higher the difficulty, the greater the potential reward, reflecting the principle that greater risk leads to greater returns;

Time and Effort.

Successfully completing a challenging task in Dark and Darker typically demands a substantial investment of time and effort. Players invest their energy, strategic thinking, and gameplay skills into overcoming these obstacles. As a reward for their dedication, the game compensates them with substantial gold earnings;

Skill Progression.

Challenges serve as a means for players to develop and showcase their in-game skills. Overcoming these hurdles demonstrates growth and mastery, rewarding players with not only gold but also a sense of accomplishment. This sense of achievement can be just as valuable as the currency itself.
In case you cannot complete a particular raid on your own or simply wish to save your precious time for other pursuits, we have you covered. Apart from gold, you can Buy Dark and Darker Raid Boost from SkyCoach and get any activity done. Our PROs will gladly take care of the most difficult raids for you. We offer the lowest price and guarantee the result!
Trade with Other Players
While everyone knows perfectly what Trading in Dark and Darker is and the way this system works, not all of us use it to the full extent. Trading with other players in Dark and Darker can be a lucrative endeavor, allowing you to exchange excess resources for gold. Items, crafting materials, and equipment that you no longer need can find new value in the hands of other players.
Engaging in the in-game marketplace can yield significant profits. By buying low and selling high, you can capitalize on fluctuations in item prices and market demand, accumulating gold as you trade.
Some players may specialize in crafting or gathering specific resources. By trading with them, you can acquire valuable materials at a reasonable cost, which can then be transformed into profitable items, potions, or equipment to sell for gold.
Engage in Goblin Caves
Clearing out Goblin Caves is arguably the best gold farming method Dark and Darker for those who are playing solo. The reason for this is that you cannot enter this dungeon with other players in a party. So, you have no other option but to complete it on your own from the start to the very end.
In this part of our Dark and Darker gold farming guide, we have prepared a list of mobs we recommend you to farm on your way to victory. For your convenience, we have also marked their locations on the map: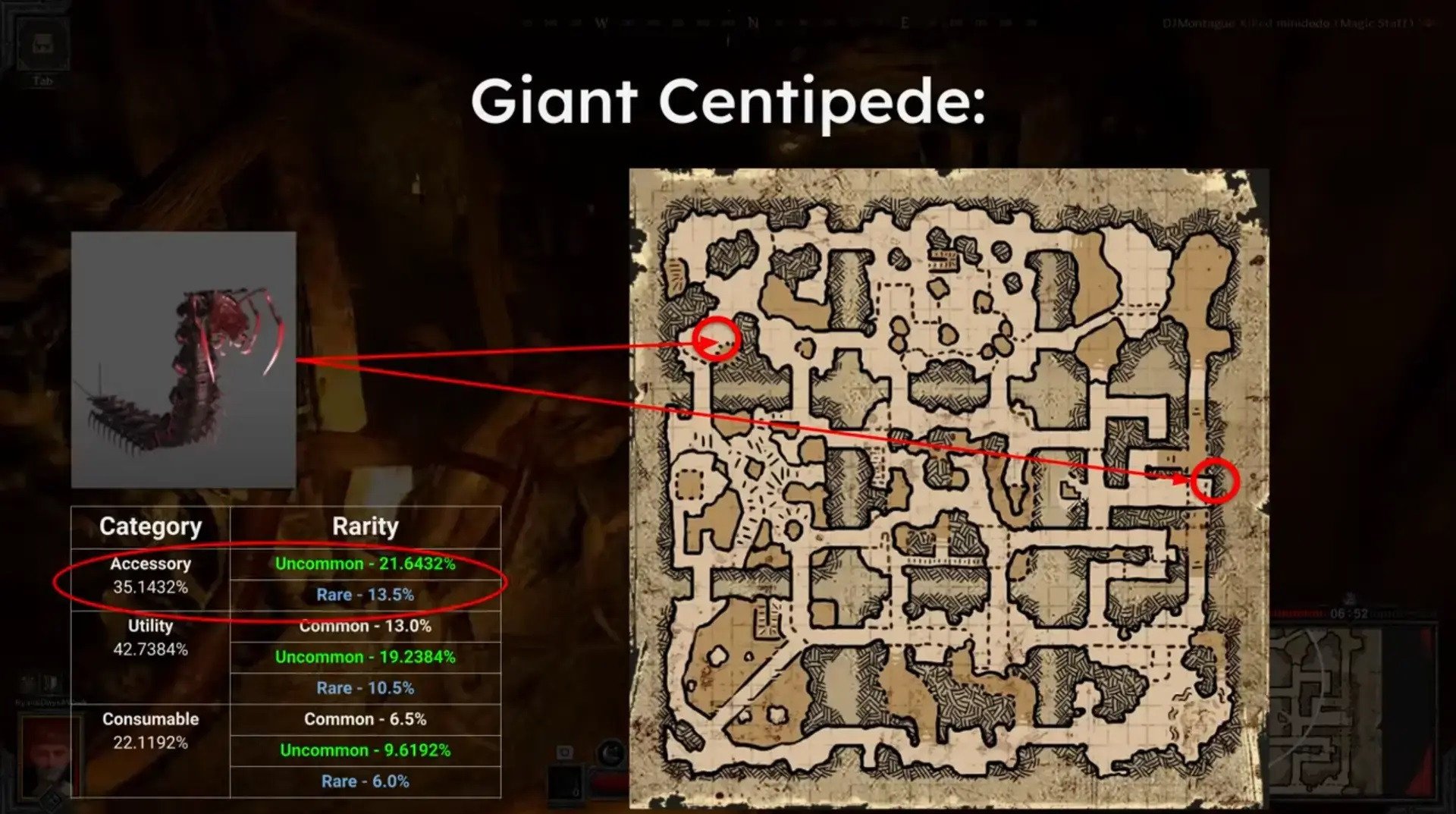 As you can see from the screenshot above, you have quite a high chance of obtaining Uncommon and Rare accessories like Rings or Necklaces. If these are the items you have been looking for this whole time, make your way to the northwestern and eastern parts of the map.
Hunting for a really good Weapon or Armor part? Then, make sure to face off against a Skeleton Champion found in the center of the map. However, this mob can only appear in a different spot, which we have also marked above. As you can see, the chance of looting an Epic item is pitifully low yet it exists.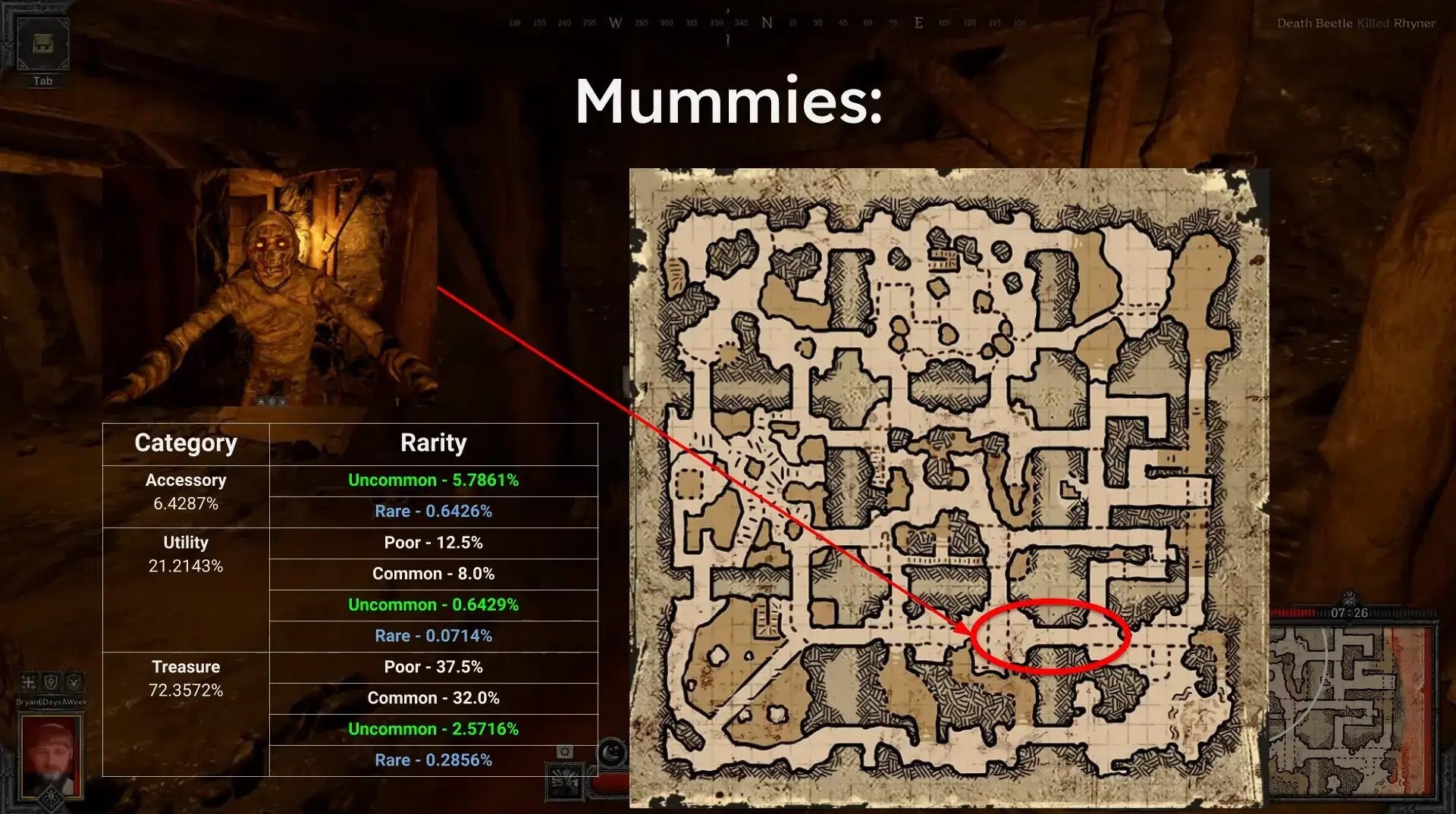 Unlike two previous mob types, Mummies have a super high chance to drop Treasures after you slay them. We highly recommend that you spend your time and make your way to the lower part of the map to take some of them down. This is a great way to acquire extra gold for selling rare Gems and Trinkets.
Dark and Darker Gold Farming Tips & Tricks
As our guide draws to an end, we have prepared the top 3 essential Dark and Darker gold farming 2023 tips and tricks:
| | |
| --- | --- |
| Diversify Your Income Sources | Instead of relying on a single method to earn gold, diversify your income sources. Engage in various in-game activities such as questing, resource gathering, trading, and participating in challenging dungeons. This broad approach will ensure a steady influx of gold from different avenues. |
| Marketplace Mastery | Become familiar with the in-game marketplace or auction house. Monitor price trends, identify undervalued items, and leverage opportunities for profitable trades. Buy low, sell high, and maximize your returns by strategically trading items and resources with other players. |
| Efficient Resource Gathering | When gathering resources, focus on efficiency. Prioritize high-demand materials or rare items that are sought after by other players. Optimize your gathering routes, use appropriate gathering tools, and consider teaming up with others for better resource yields. Selling these resources in high-demand can yield substantial gold. |
Conclusion
To sum up, our journey through the realm of Dark and Darker has revealed the many intricate paths to amassing gold, the lifeblood of success in this captivating world. Whether you choose to embark on perilous adventures, delve deep into resource gathering, master the art of trade, or conquer challenging trials, your dedication and ingenuity can be richly rewarded.
This guide has illuminated the strategies and techniques required to navigate the treacherous path to prosperity. As you hone your skills, gather valuable resources, and engage with the vibrant player community, you will unlock the true potential of your character and fortify your financial standing.
May your coffers grow full, your adventures be legendary, and your legacy in Dark and Darker everlasting. Happy gold farming, and may fortune favor the bold!
F.A.Q.
What is the easiest way to make gold Dark and Darker?
Opening Treasure Hoards is arguably the best way to earn more gold in Dark and Darker in case you manage to get your hands on a Golden Key.
How to make gold fast Dark and Darker?
If your goal is to become richer fast, then consider buying Dark and Darker gold from SkyCoach. We offer fair prices and guarantee the quickest delivery.
How do you farm gold in Dark and Darker?
In most cases, players opt for mining ore or killing mobs to farm gold while exploring another dungeon.