We have been waiting for it for so long! Throughout two years, players have begged the devs to bring mounts into the game. Now, we have finally got what we wanted. With the latest New World update, Rise of the Angry Earth releasing on October 3, we will have a chance to explore Aeternum with a double speed. Are you excited to learn more about the brand-new feature? Then, welcome to our New World mount guide where we will delve deeper into this topic to cover all the details you have wanted to know.
Starting from how to unlock New World mounts, what types of them we are going to see, and all the way up to mount leveling, as well as buffs and customization options. We have you covered completely!
Before we begin, let us tell you about the fastest and safest way you can use to unlock any in-game mount. In fact, you can get all 3 of them at once! Just Buy New World Mounts Unlock from SkyCoach, and trust this job to our professional players. They will take care of this task for you while the only thing you are left to do is to explore Aeternum further. We offer the best market price and guarantee the result!
IMPORTANT NOTE: At SkyCoach, you can also Buy New World Boost at the lowest prices and with the fastest delivery. You can make your first purchase even CHEAPER if you find our special PROMO CODE (highlighted in green) hidden in this article and get a 20% DISCOUNT.
Check out some of our most popular
New World Boosting services

below:
What are Mounts in New World?
Moving on from the question of when does the New World expansion come out, it is time to see what the devs have prepared for us. Similarly to other MMOs, NW mounts are used to travel more quickly within the game world. While these mounts usually vary widely in appearance and abilities, we only have three types to choose from today, namely:
No matter what alternative you choose, they will serve as a means of transportation, allowing you to cover large distances more efficiently than you could on foot. Mounts can also be customized or upgraded to enhance their speed or provide additional benefits.
How to Unlock Mounts in New World
Now that you know the New World mounts release date is set for October 3, it becomes clear you do not have too much time to prepare for the expansion. Therefore, the following part of the article contains all the information you need concerning New World mount unlock. Starting from level requirements all the way up to the quest name and its details, we have you covered.
By reading the paragraphs below, you will learn how to get your very first mount, which is Horse, as well as Dire Wolf and Lion later on. Do remember that this progression is closely tied to your character level. Depending on what game stage you are currently at, you will have a chance to unlock this or that type of mount. Without further ado, let's jump straight to the topic and learn more about New World mount how to get and all the corresponding details.
How to Unlock Horse Mount New World
While being the very first mount you will have a chance to get, you still need to meet a few requirements before you can ride a Horse.
Below, we have prepared a step-by-step guide, explaining how to unlock Horse mount New World:
Reach

level 25;

Head to

Everfall,

one of the starting locations in the game;
Pick up the

Change of the Wild

questline;
Once it is finished, you will get your

Horse

mount.
To add a few more words on the New World mount quest, it does not take much time to complete. Here is a brief explanation of what it looks like. Once you attain the necessary level, a horseshoe icon will become visible on your map. To progress in the quest, your journey will take you to Windkreis initially, followed by a northward trek to Everfall, where you will engage in conversations with a succession of NPCs, including a formidable beast lord. Successfully concluding this quest will reward you with your inaugural horse mount in New World. BLOG20
How to Unlock Wolf Mount New World
Unlike with the Horse, we have significantly less confirmed information about the Dire Wolf mount. Therefore, this topic will be updated once we learn more details.
Here is a step-by-step guide on how to unlock Wolf mount New World:
Reach

level 45;

Level up your Horse to get the

Wolf

mount.
Currently, it has not been officially confirmed whether you will have to complete some kind of quest to unlock the Wolf mount. However, we are sure there will be a particular quest for it. Stay tuned to learn the details later on!
How to Unlock Lion Mount New World
Similarly to the previous mount, we do not know much about the Lion mount yet. Still, we have managed to dig out some details concerning this topic.
In this section of our article, you can find a step-by-step guide on how to unlock Lion mount New World:
Reach

level 65;

Level up your Horse and Wolf to get the

Lion

mount.
As you can see, you can only unlock each of the three mounts by making your way to a certain level threshold. In fact, to get the Lion mount, you need to reach the brand-new level cap, which is set at level 65. If you do not have enough time for this grind and wish to speed up this process, you can Buy New World Leveling from our team and trust this job to our PROs. We offer fair price and guarantee the fastest completion time.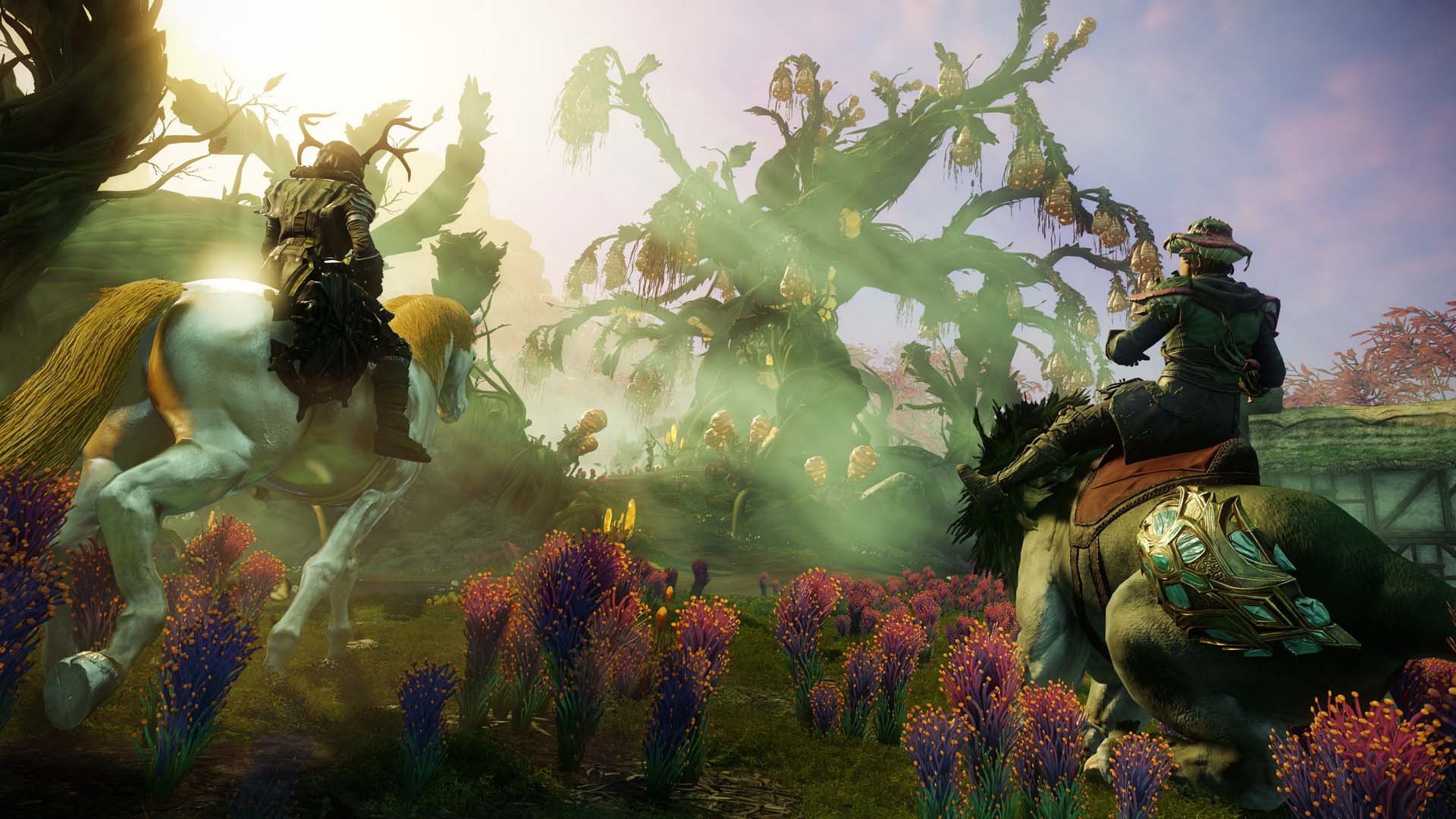 How to Level Up Mounts New World
As you have already guessed, the devs have also implemented New World mount leveling system to the game. What does it change for us? Well, by leveling your mounts, you can significantly boost their speed, as well as Stamina, allowing them to run faster and longer. On top of that, you will not be able to unlock a mount of a higher rarity unless you level up the one coming prior to it.
Here are the most efficient methods describing how to level up mounts New World:
Feed Your Mounts

– One of the most widespread and basic ways to increase your mount's level is to feed them with

Barley, Water, Milk,

and other food;

Mount Quests

– While exploring the world, you will encounter mount-specific questlines, serving as another tool to level up your mount's level;

Race Against Time

– Participate in timed races, where the objective is to reach all checkpoints before the timer expires.

Vittles

– When you have a chance to feed your mount with something special, Vittles is the first thing that crosses the mind. This delicacy is divided into 4 Tiers, each granting more Riding XP than another.
To ensure you master the art of riding mounts, you can always count on us and Buy Riding Skill Leveling from SkyCoach. By doing so, you can increase its level all the way up to 250. Our PROs will gladly take care of this routine task for you. Check out our deal and make sure of the fact we offer the lowest prices on the market and guarantee the fastest result!
What are Mount Vittles in New World?
Since we have briefly touched on this topic already, it would make sense to add a few more words on what Mount Vittles are in New World.
To put it simply, Vittles are used to gain extra Riding XP, and this is by far the most efficient and fastest way to enhance your riding capabilities. As we have previously mentioned, all Vittles are split up into 4 Tiers, depending on their quality. The rarer the consumable, the more expensive ingredients it requires to craft it.
Below, you can see a table, explaining what Mount Vittles Tiers are available in New World and what crafting ingredients you need to create them:
Item Name

Crafting Ingredients

Quality

Basic Mount Vittles

x1 Barley
x1 Water
x1 Milk
x1 Honey

Tier I – Common (1250 Riding XP)
Mount Vittles

x3 Basic Mount Vitamins
x1 Barley
x1 Water
x1 Milk

Tier II –

Uncommon

(2500 Riding XP)
Hearty Mount Vittles

x3 Complex Mount Vitamins
x1 Flour
x1 Water
x1 Butter

Tier III –

Rare

(8000 Riding XP)
Luxury Mount Vittles

x3 Potent Mount Vitamins
x1 Flour
x1 Water
x1 Butter
x1 Salt
x1 Honey

Tier IV –

Epic

(15000 Riding XP)
Depending on what Vittles quality you decide to prepare for your mount, you will need the appropriate Cooking level. To ensure you have Cooking or any other Crafting Skill of the required level, you can Buy New World Crafting Skills Boost from SkyCoach and trust this time-consuming job to our professional players. We guarantee the fastest result and the most affordable prices!
How Does Riding Work in New World?
The following part of the guide is devoted to various New World mount mechanics you will encounter when exploring the lands around you. To begin with, you cannot use your mount while fighting, and you will be immediately knocked off of it if you get hit by someone when riding.
Also, if you do not know how to summon New World mounts – press "X". This button is a default bind for this action, but you can change it to whatever is more convenient for you. Do remember that the process of summoning a mount takes 2 seconds, meaning it can be interrupted. Keep that in mind when using New World mounts in PvP or even PvE encounters, as you might find yourself in a difficult position.
We have already mentioned the Stamina bar, which every mount has in the game. The latter is used to activate a Sprint feature. The default key bind for this is Left Shit. The Stamina stat is one of the reasons why leveling up New World mounts is so important. By doing so, you will have more Stamina, as well as your mount speed increased. This will let you move from point A to B much faster while also winning more time races.
To sum it up, here are the main features you need to know about New World mounts:
Stick to Roads.

To attain peak speed, it is advisable to stay on designated roads. You can also use your mount in towns, but the sprint mechanics will be temporarily disabled;

Sprint Mechanism.

Your mount possesses a sprinting capability, providing a momentary burst of speed. However, this ability includes a cooldown to prevent overuse;

Maneuvering Complexity.

Managing mounts during sprints can be a bit intricate, making sharp turns and rapid maneuvers more demanding to execute.
Since this is the first introduction of the mount system New World we ever see, it will take you some time to get used to controlling it. However, you will soon master this brand-new feature to the full and the world of Aeternum will shine anew for you!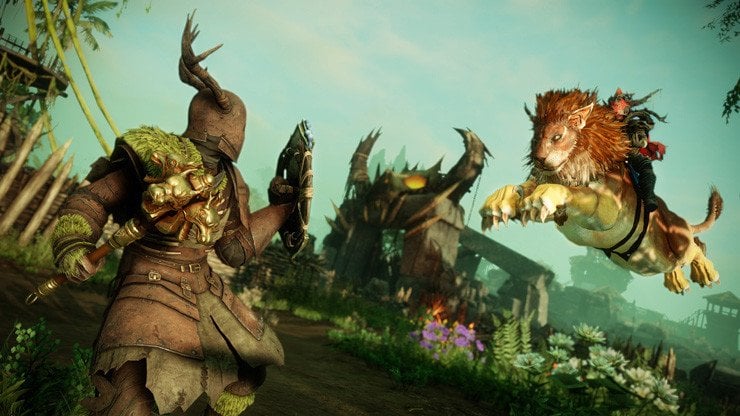 What is Riding Trade Skill New World?
The newly implemented Riding Trade Skill is directly connected with mounts and how efficiently you use them. You can level up Riding Trade Skill all the way up to 250, each making your mount faster and more enduring.
How to level up Riding Trade Skill New World:
Complete Time Trials & Mount Quests:

Participate in tours, rallies, and time trials, and finish mount-specific quests to level up the skill, as well as your mount;

Feeding Mounts:

You can feed your mounts with mount-specific food and consumables to level up the skill.
Why leveling up Riding Trade Skill is so essential? Your mount will move faster and be able to sprint for longer distances. On top of that, you will have access to several mount buffs and customization options to make it truly special.
What are New World Mount Buffs?
The devs have also introduced two separate buff slots, allowing to enhance your mount performance even further.
The New World mount buffs can be split up in the following categories:
Mount Strap

– Provides you with combat-related buffs

(e.g. Empowered Talisman)

or directly improves your mount abilities

(e.g. Beasts of Burden Bangle);

Mount Shoe

– Lets you move faster when traveling on roads or off roads, as well as increases your dash recharge rate.
Starting with the Mount Strap Category, it includes the following items:
Cleansing Talisman

– When knocked off of the mount, you gain the Cleansing status;

Empowered Talisman

– When someone dismounts by starting a fight, you activate the Empowered effect;

Fortified Talisman

– When you are kicked off of the mount, you have the Fortify status followed by it;

Hasty Talisman

– When forcefully dismounted, you gain the Haste status;

Healing Talisman

– When you get hit while riding your mount, you dismount and gain the Healing effect;

Cavalier Crest

– Lets you summon a mount faster;

Mountaineers Pendant

– Boosts your mount landing durability;

Beasts of Burden Bangle

– You can still ride your mount when you have excessive weight.
Moving further, we have the Mount Shoe Category to describe:
Magis Mount Charm

– Boosts your mount dash capacity;

Strata Mount Charm

– When being on road, your mount dash is upgraded;

Solum Mount Charm

– When being off road, your mount dash works better;

Redono Mount Charm

– Your mount dash recharges faster.
By choosing what New World mount buffs to use, you can significantly increase your mount's efficiency and make it even more useful. For example, gaining the Cleansing status can be extremely beneficial if you get hit first and experience any debuffs you want to get rid of. The same goes for Redono Mount Charm, as it allows you to use your mount dash much faster, especially if you manage to get your hands on the item of legendary quality.
How New World Mount Customization Works
Despite having only three mount types to choose from at the moment, the devs offer a large variety of customization alternatives to make your mount truly exceptional.
Here is a list of New World mount customization options to choose from:
Decoration & Armor.

Elevate your mount's appearance and character by adorning it with stylish decorations and resilient armor. These items can be unlocked through various in-game activities such as fishing and faction missions;

Personalized Names.

Infuse a distinctive identity into your mount by assigning it a one-of-a-kind name;

Vibrant Dyes & Skins.

Inject vibrancy into your New World adventures by choosing from a wide range of dyes for both your mount and its equipment. Experimentation is key to finding the perfect color scheme that aligns with your personal style;

Mount Gear.

Within New World, a dedicated mount gear tab offers slots for specialized equipment and item enhancements. Outfit your mount with both functional and aesthetic upgrades, enhancing your exploration across the game's diverse landscapes.
We are sure the developers are already working on adding even more customization features in the future. So, make sure to check for updates by visiting this article from time to time.
Conclusion
As our New World mounts guide draws to an end, we would like to sum up the information given in the text above. We hope you had a nice time reading this article and learned a lot about the long-anticipated feature – New World mounts.
Within these pages, we have covered what mounts in New World are, how the mount leveling system works, and shared details on the riding mechanics too. On top of that, we have provided information concerning newly implemented Riding Trade Skill, mount buffs, and customization options. Make sure to stay with us, as we will keep updating this article if any changes occur. May luck always be on your side and we will see you in Aeternum!
F.A.Q.
How do you get a mount in New World?
To unlock mounts in New World, you need to meet certain requirements. For example, to get Horses, you need to reach level 25, to unlock Dire Wolves – level 45, and for Lions – you must be level 65.
Does New World have mounts?
With the introduction of the Rise of the Angry Earth expansion, players can now enjoy three mount types in New World. They are Horses, Dire Wolves, and Lions.
How to unlock a mount in New World?
Depending on what mount you are looking forward to unlocking, the process looks a bit different. For example, to unlock Horses, you must be at least level 25 and finish the Change of the Wild quest.
Will there be more mounts in New World?
The devs have already confirmed that they are working to add more mount types to the game in the future.
How do I use mount in New World?
To summon your mount, press "X" button and wait for 2 seconds before you can start riding it.
How much is New World expansion?
The latest expansion Rise of the Angry Earth costs $29.99. However, you can also get it if buying the Elysian Edition bundle of the game.
When is New World mounts release date?
Mounts will become available in the game once the Rise of the Angry Earth expansion is out, which is set on October 3.