In our comprehensive Diablo 4 Stronghold guide, we will delve into the dark and treacherous world of Diablo 4 to uncover the hidden Strongholds scattered throughout Sanctuary. As players brave the depths of these formidable fortresses, they will face ruthless enemies and encounter valuable rewards.
Whether you seek powerful artifacts, rare loot, or simply desire to conquer every Stronghold in your path, this article will provide you with the necessary knowledge to succeed. Prepare to embark on an epic journey as we explore various Diablo 4 Stronghold locations and unravel the bountiful rewards that await the intrepid adventurers.
If you struggle to clear out a particular Stronghold or have no friends to complete it with, we have you covered. Check out our Diablo 4 Stronghold Carry service and let our professional players do the job for you. We offer the best market price and guarantee the fastest result.
IMPORTANT NOTE: At SkyCoach, you can also Buy Diablo 4 Boost at the lowest prices and with the fastest delivery. You can make your first purchase even CHEAPER if you find our special PROMO CODE (highlighted in green) hidden in this article and get a 20% DISCOUNT.
Check out our most popular
Diablo 4 Boosting services

offered at the best market price:
What are Strongholds in Diablo 4?
In the world of Sanctuary, danger lurks in every corner. As you venture through its diverse regions, you may come across a foreboding sight - a red skull marking on your minimap and a prominent notification on your screen. This ominous symbol signifies the presence of a Stronghold nearby.
These Strongholds represent areas of fierce resistance, where formidable foes have taken hold. They serve as a challenge for players to conquer and provide an opportunity to reclaim the land for the people of Sanctuary. Whether you choose to face the daunting task alone or gather a party of brave adventurers, your mission in every Diablo 4 Stronghold is to eliminate all enemies and fulfill the objectives within.
To keep track of your progress and determine the number of remaining Strongholds in a specific region, such as the Fractured Peaks or any other, simply access the Renown menu. From there, you can strategize your approach and embark on the journey to liberate Sanctuary, one Stronghold at a time.
Before rushing into another Stronghold, do remember Diablo 4 Stronghold levels scale with you. However, they will not be of the same level as you are. In fact, they will always be 1-2 levels higher than you are. That is why all Strongholds you will encounter represent a true challenge and should never be underestimated.
If you wish to level up quicker and skip this endless grind, our Diablo 4 Powerleveling service is always there for you. Our professional players will boost your character in a blink of an eye. All that comes at the most attractive price and with a guaranteed result.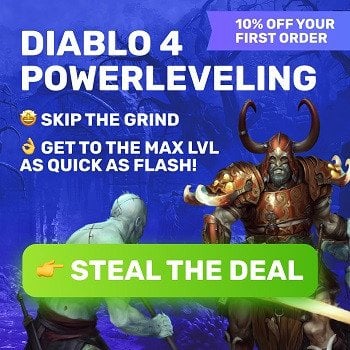 How Many Strongholds are in Diablo 4?
Here is a small table providing detailed information on how many Strongholds you can currently find in Diablo 4. BLOG20
| | |
| --- | --- |
| Region Name | Strongholds |
| Fractured Peaks | 3 |
| Dry Steppes | 3 |
| Hawezar | 3 |
| Kehjistan | 3 |
| Scosglen | 3 |
As you can see, there are three Strongholds in five in-game regions, making it 15 in total. Consider clearing out them all, as they have unique rewards that are worth every effort invested. Do not know what rewards are waiting for you? Keep reading further, as we are about to dive into this topic!
Diablo 4 Stronghold Rewards
Defeating the enemies and reclaiming a Stronghold goes beyond just the thrill of victory. It also brings other Diablo 4 Stronghold rewards and benefits for players within the realm of Sanctuary. Not only will you receive 100 Renown, but most importantly, you will create a safe haven where merchants and townsfolk can return, offering their valuable services.
Additionally, a newfound waypoint will be established, providing convenient fast travel options and unlocking access to previously unexplored areas. This allows players to venture further and uncover the secrets of the surrounding regions with greater ease.
The 100 Renown points earned from clearing a Stronghold are instrumental in propelling players to the next tier of rewards. Do remember that progressing through the Renown system will provide you with the following rewards:
XP;

Gold;

Paragon Points;

Skill Points;

Potion Charges.
Furthermore, liberating Strongholds often leads to the discovery of multiple dungeons located nearby. These dungeons hold the promise of more formidable challenges and the chance to acquire even more powerful loot. Considering these enticing benefits, it is highly advantageous to tackle Strongholds as soon as they are discovered throughout Sanctuary.
If you still lack gold even after clearing the toughest Strongholds, we have a solution for you. You can always Buy Diablo 4 Gold with our company's help at the most attractive price and with the fastest delivery guaranteed. Become richer and buy everything you ever dreamed of!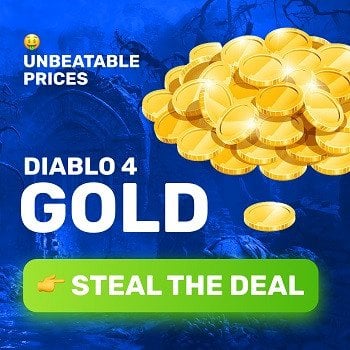 Diablo 4 Stronghold Locations
The following section of our guide will have all Diablo 4 Strongholds explained. We have listed all Strongholds you can currently find in the game. On top of that, we provide you with a brief description of every Stronghold, allowing you to prepare for the fight in advance.
Diablo 4 Stronghold Locations – Fractured Peaks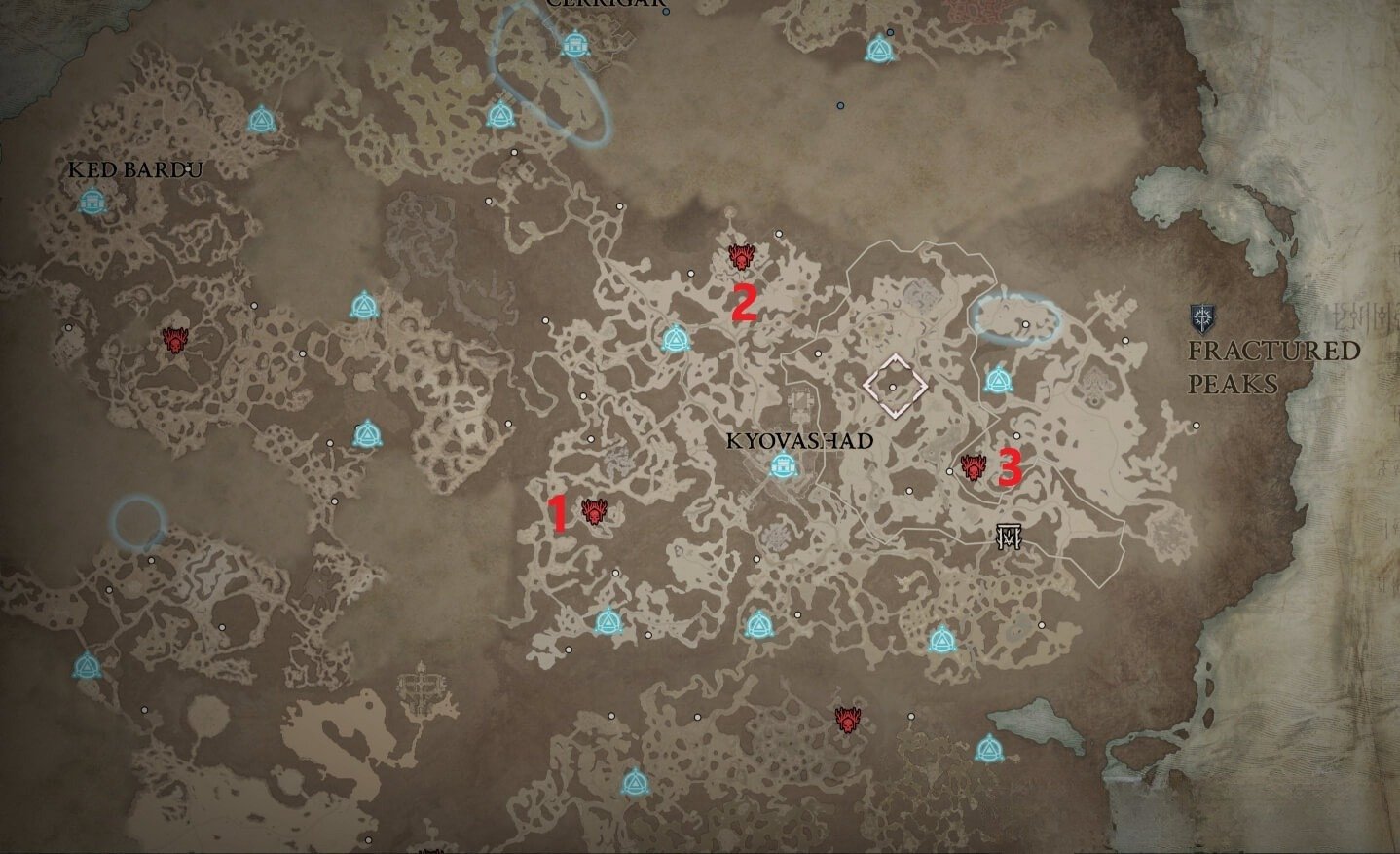 Nostrava

is located in the southwestern part of the region, not that far from the starting town called

Nevesk.

It is relatively easy to complete and can be cleared out solo. Once this Stronghold is liberated, it will become a haven for vendors;

Kor Dragan

can be found in the northern part of the region. This Stronghold is full of vampires who can quickly move around the battlefield and always try to attack you as a group. Dealing with them is not a big deal even if you are a few levels behind;

Malnok

is situated in the eastern part of the region. It is highly recommended to drink

Cold Resistance Elixir

before venturing into this Stronghold. The latter is full of ice enemies who will constantly slow you down and deal overwhelming damage if you neglect the appropriate elixir.
Diablo 4 Stronghold Locations – Dry Steppes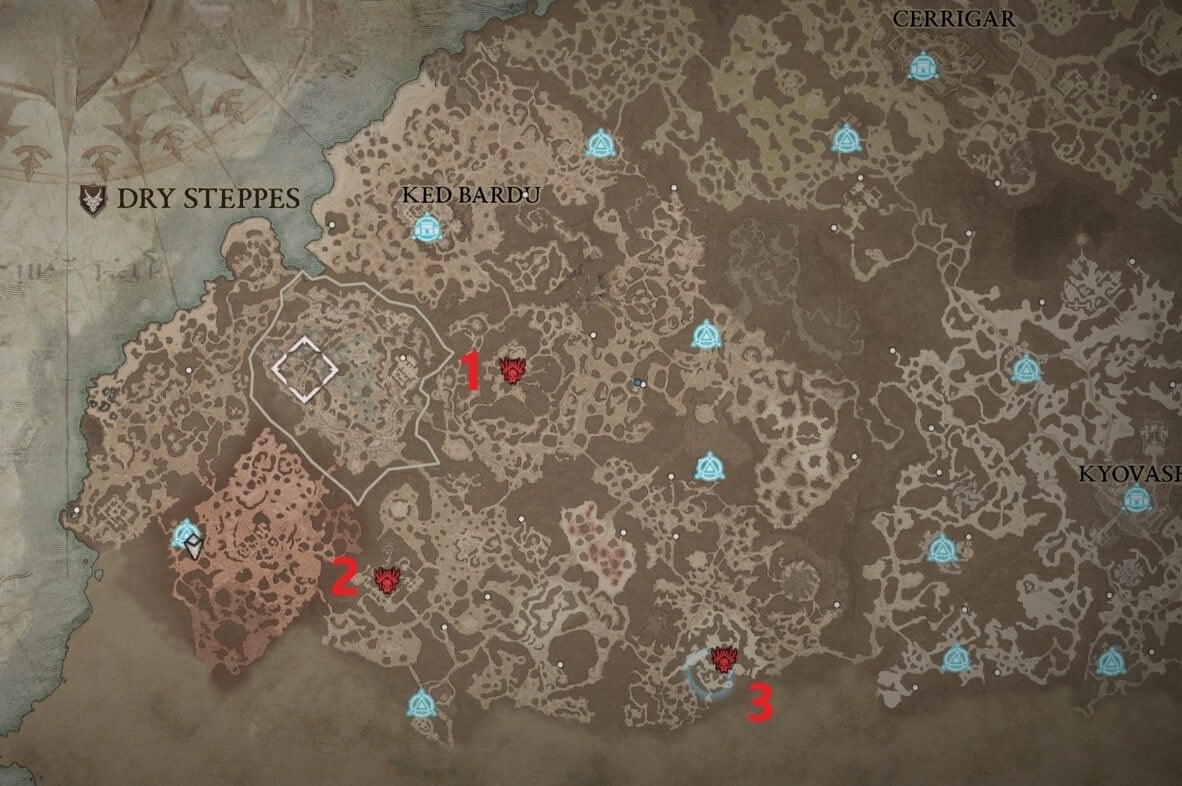 The Onyx Watchtower

can be found in the center of the region, south of the main town called

Ked Bardu.

Despite being more challenging to complete, players have several ways to enter and escape this Stronghold, meaning you can run away from the fight if your

HP

level gets critically low;

Temple of Rot

is considered to be one of the most difficult Strongholds in Diablo 4 and is situated right near the

Fields of Hatred

zone. It features poisonous enemies and a dangerous boss fight;

The Ruins of Qara-Yisu

is located in the southwestern part of the region and is relatively easy to complete.
Diablo 4 Stronghold Locations – Hawezar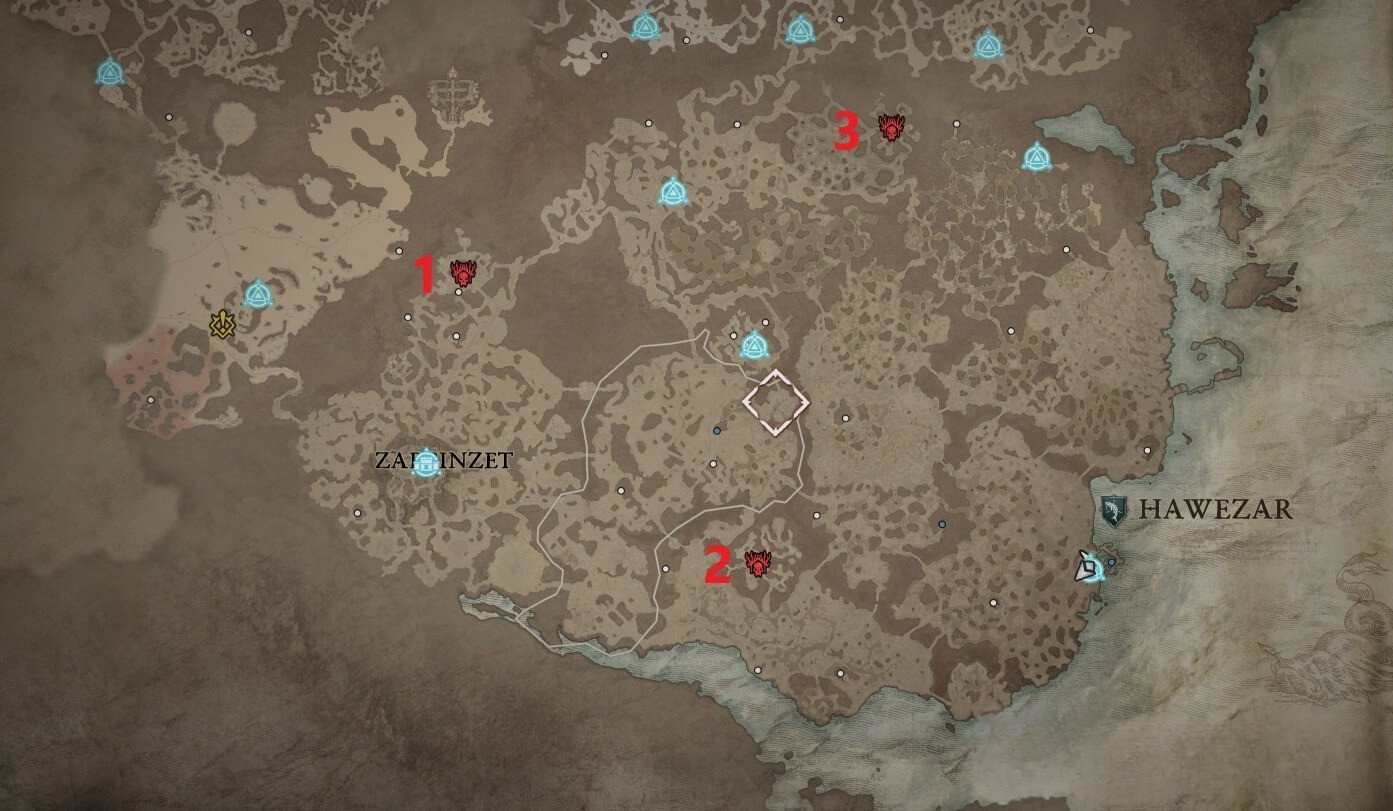 Crusader's Monument

is situated in the northern part of the main town called

Zabinzet;

Vyeresz

is located in the middle of a dangerous swamp, which can be found in the very southern part of this region;

Eriman's Pyre

can be found in the northern part of the region and features tons of enemies dealing

Fire

damage.
Diablo 4 Stronghold Locations – Kehjistan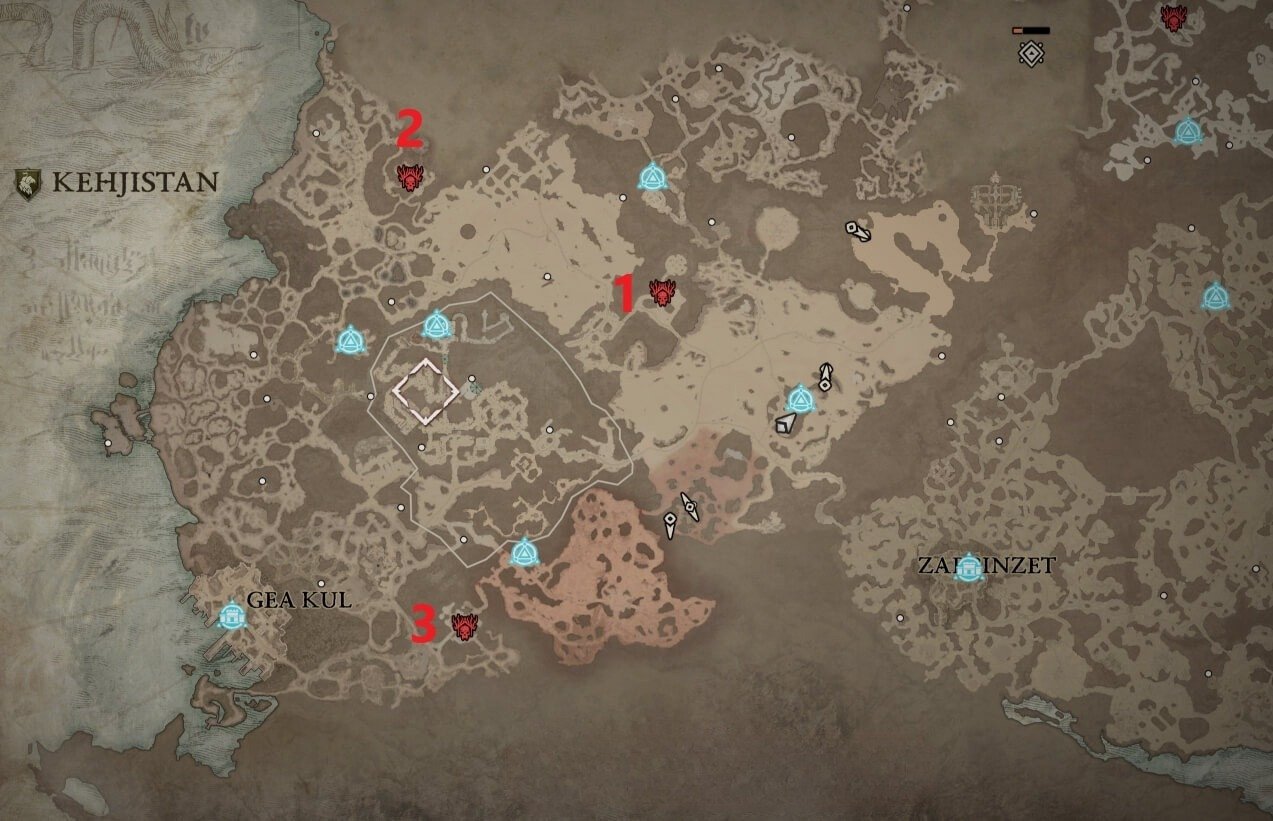 Alcarnus

becomes available right after you enter the region and is found in its very center. It features challenging tasks and a difficult boss fight at the end;

Altar of Ruin

is situated in the northwestern part of the region and is known for the fact that it is quite difficult to get to;

Omath's Stronghold

is the farthest Stronghold in this region, as it is located in the very southern tip of Kehjistan.
Diablo 4 Stronghold Locations – Scosglen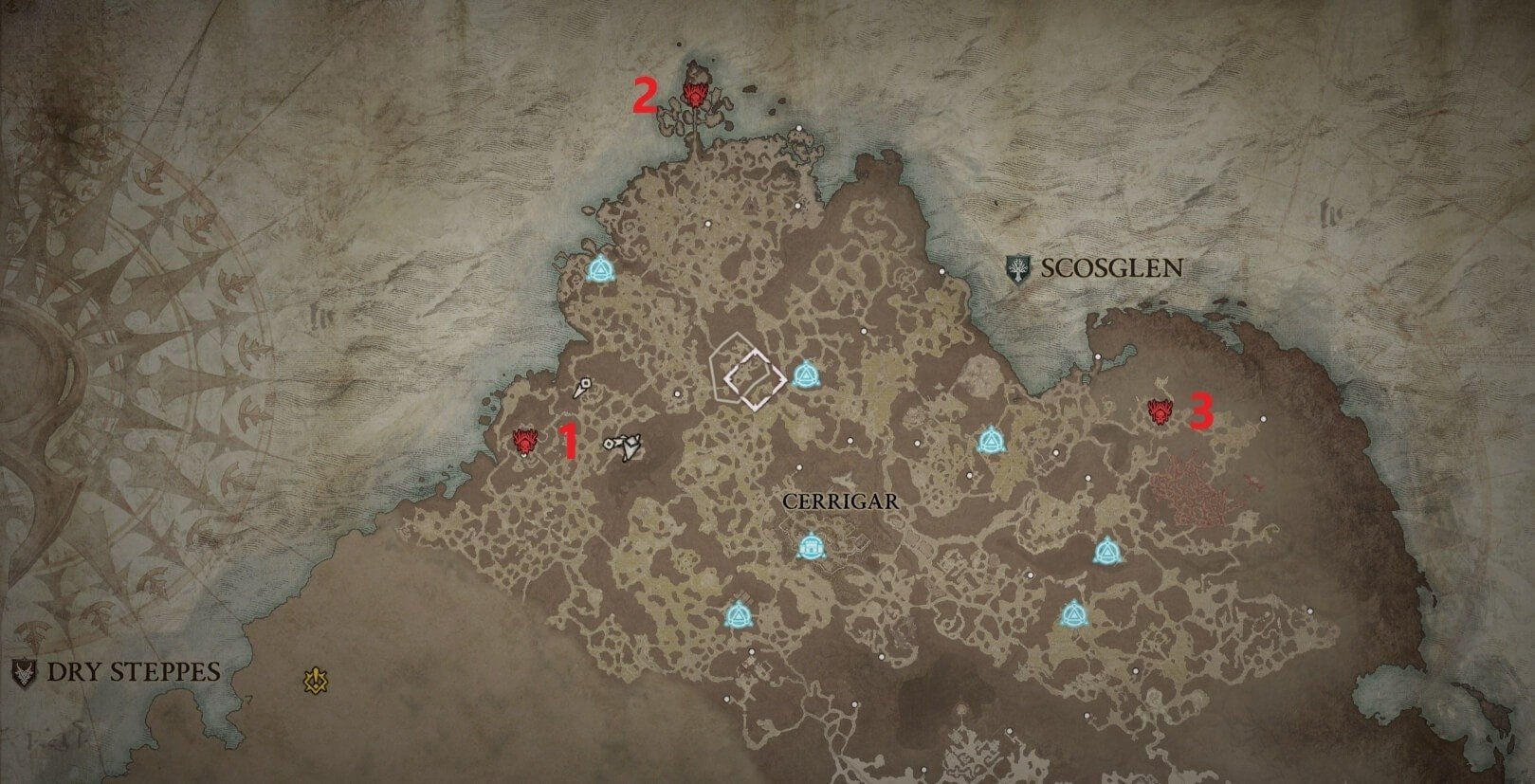 Tur Durla

can be found in the western part of the region, near the Dry Steppes region;

Hope's Light

is situated on the peninsula that is located on the northern tip of the region. Getting there is a challenging process, as there are no waypoints nearby;

Moordain Lodge

is located in the northeastern part of the region, not that far from the red swap you encounter during the main storyline.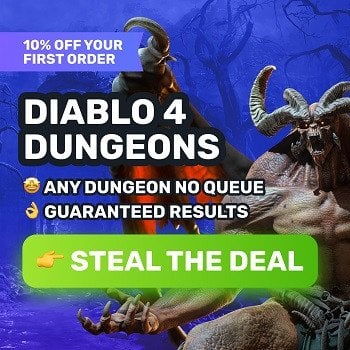 Conclusion
Fellow adventure seekers, this marks the end of our Diablo 4 Stronghold guide. By uncovering the locations of Strongholds, players can embark on challenging quests to reclaim these areas, not only earning substantial rewards but also establishing safe zones with valuable services and waypoints.
The guide emphasizes the importance of tackling Strongholds promptly, as their conquest opens up new opportunities for fast travel and exploration. The rewards earned, including Renown points and access to additional dungeons, propel players towards higher tiers of progression, enhancing their power and capabilities.
Make sure to stay with us, as we will keep updating this article if any changes occur. Good luck and see you in Sanctuary!
F.A.Q.
How many Strongholds are in Diablo 4?
In Diablo 4, you can find 3 Strongholds in every region, making it 15 in total.
What are Strongholds in Diablo 4?
Strongholds in Diablo 4 are fortified locations filled with demons and other monsters. By liberating Strongholds, you can receive unique rewards such as Renown and establish a safe hub with new vendors settled in there.
Where are the Strongholds D4?
We have listed all Diablo 4 Strongholds in our guide, marking every one of them on the map and providing you with a detailed description of each.