Welcome to the ethereal realm of Tarisland, where divine power meets unwavering faith. In our Tarisland Faith Priest guide, we embark on a spiritual journey through the immersive gameplay, mystical abilities, and diverse builds of this specialization, known for their devastating power as well as healing capabilities.
Whether you are an experienced servant of light searching for advanced strategies or a novice devotee stepping into the sacred world of Tarisland, this comprehensive article will be your guiding light, providing the knowledge and skills needed to become a benevolent and indispensable force in the realm. Join us as we delve into the sacred arts and mystical traditions that define Faith Priest Tarisland role as a guardian of hope and restoration in Tarisland.
IMPORTANT NOTE: Apart from learning everything about the Faith Priest spec, you can also Buy Tarisland Boost from SkyCoach. We offer a wide range of products at the lowest market price and with the fastest delivery. You can make your first purchase even CHEAPER if you find a special PROMO CODE (highlighted in green) hidden in this article and get a 20% DISCOUNT.
Check out some of our most popular
Tarisland Boosting

services below:
Faith Priest Pros & Cons
In case you are completely new in the game and have no idea what the Priest class is capable of, let us provide you with the most essential Faith Priest pros and cons so that you understand whether this spec is even worth trying or not. Before we jump into the topic, it is important to mention that the Faith spec is focused on dealing damage while its counterpart spec named Pray is centered around healing and supporting allies.
We will start with Faith Priest Pros, which are as follows:
Easy to Learn

– Unlike the majority of ranged

DPS

specs, Faith Priest is a bit easier to learn. The reason for this is that you have only one mechanic to build your playstyle around and you can deal consistent damage with pretty much every skill in your arsenal;

Simple Rotation

– As a rule, range casters are known for versatile and hard-to-learn rotations but this is not the case with Faith Priest. You basically have only one efficient and devastating rotation we are going to share further in this guide;

Playable Solo

– The class's second spec is named

Pray

and it only works when playing with a team. However, if you decide to opt for the Faith specialization instead, you become an independent player and can deal with the dangers of the Tarisland world on your own.
As for Faith Priest Cons, they include the following points:
Weak Survivability

– Similarly to other ranged casters, Faith Priest struggles a lot when it comes to survivability. In most cases, you will die in a second after a melee fighter comes close enough to you. A perfect example of a strong counter of yours is

Assassin;

Limited Mobility

– You are not likely to escape in case you end up next to a melee enemy since you do not have any tools for this. The only thing that can help you get in a comfortable range again is your Light Impact ultimate that knocks back enemy targets within

4 meters;

Faith Sigil Mechanic

– While it can be considered as a strong side, your

DPS

always depends on how much your

Faith Sigil

mechanic is charged. This can be done with your Torment ability, which you will have to use a lot and this can be quite tiresome.
To sum it up, the Faith Priest spec proves to be quite a balanced option for those who prefer to play as a ranged DPS. To master it completely, you will need to spend quite some time getting used to correct positioning as well as learning the most common ability rotations.
How to Play Faith Priest in Tarisland
While your general gameplay does not look too different from other range-casting damage dealers, this part of our Faith Priest DPS guide will help you grasp the basics of playing this spec even if you have not had any experience before. Since your primary goal is to deal consistent damage while also staying alive, we will provide you with essential tips on doing that below.
Here is a quick guide on how to play Faith Priest in Tarisland:
Learn the Faith Sigil Mechanic

– This is your main spec's feature and the source of consistent damage. It works quite simply since you just need to have enough

Faith Sigil

charges before activating your Holy Missile ability to deal tons of damage;

Buff Allies

– Enhance your team's performance by applying beneficial buffs. These can boost damage output, increase resistance, or improve critical rates. Be aware of the needs of your team and adapt your buffs accordingly;

Positioning Matters

– Position yourself strategically on the battlefield. Stay behind your team to minimize the risk of being targeted by the enemy. Be ready to adjust your position to reach teammates in need of healing or support;

Manage Your Mana

– Both healing and damaging abilities consume quite a lot of mana. Keep an eye on your mana pool and manage it efficiently. You might need to use mana-restoring items to maintain your healing capabilities since they consumed a doubled amount;

Do Not Forget About Healing

– While your primary role is to deal damage, you can use the same skills

(e.g. Torment and Holy Missile)

to heal your allies. This can often save your party member's life, especially when participating in high-level raids and dungeons.
As it turns out, playing as Faith Priest revolves around both dealing damage and keeping your teammates alive. Keep that in mind since you act as a versatile character and can be useful in completely different fight scenarios. BLOG20
Faith Priest Abilities Tarisland
Now, we are going to take a close look at what Tarisland Faith Priest abilities you are going to have at your disposal in case you choose to play this spec:
Every time you cast Torment, you light up a Faith Sigil. When all 5 Sigils are lit, your next Holy Missile turns into Divine Barrage. These 2 skills have their cooldown calculated independently. You also have a bonus aura called Vitality, which increases Main Attributes by 6% during raids.
Evoke your faith to strike a target, inflicting Magic damage equivalent to 67% of your attack power plus an additional 52 points. It is important to note that the healing effect is halved, and the mana cost is doubled when this ability is employed on a teammate.
Furthermore, Torment gains an 8% boost in its base damage, and every third instance of damage dealt with this ability receives an additional 8% increase in potency.
Unleash a Holy Missile aimed at a target, delivering a formidable dose of Magic damage equal to 140% of your attack power, amplified by an additional 106 points. Do keep in mind that when casting this spell on a teammate, the healing effect is diminished to 50%, and the mana cost is doubled.
Imbue a target with Holy Light, causing them to suffer Magic damage equivalent to 106% of your attack power, supplemented by an additional 80 points. This infusion also subjects the target to Holy Light corrosion, leading to continual Magic damage of 6% of your attack power plus an extra 27 points every second for a duration lasting 57 seconds.
Shatter the target's defenses with a mighty blow, inflicting Physical damage amounting to 307% of your attack power, accompanied by an extra 230 points. This strike also elevates your combo rate by 4% plus an additional 10 points for a duration of 30 seconds.
Initiate the detonation of Holy Light at a designated location, resulting in Magic damage equivalent to 52% of your attack power plus an additional 41 points. Notably, each time this skill connects with a target, the cooldown timer will be diminished by 1 second.
Empower a teammate with the infusion of Faith, enhancing their capabilities for the subsequent 12 seconds. This boost grants the teammate a 15% increase in speed and elevates their attack power by an impressive 48 points.
Faith Priest Ultimates Tarisland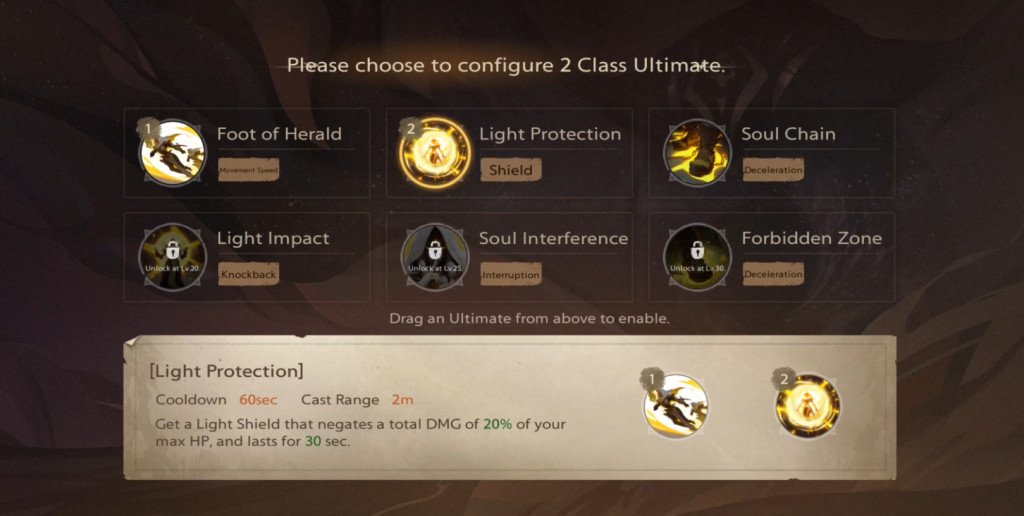 As with any other classes and specs, you have 6 Tarisland Faith Priest ultimates to choose from. Every one of them serves its own purpose from enhancing your movement speed to providing you with an ability to knock back nearby enemies and more.
Foot of Herald

– Experience the divine blessing of the Divine Envoy, which elevates your movement speed by a remarkable

70%

for a duration of

8 seconds;

Light Protection

– Acquire a radiant shield that can absorb a significant portion of damage, equal to

20%

of your maximum

HP.

This protective barrier persists for a duration of

30 seconds,

safeguarding you from harm during critical moments;

Soul Chain

– Enforce a Soul Chain on the target, resulting in a deceleration effect equivalent to

50%

for a span of

5 seconds;

Light Impact

– Unleash the radiant force, creating a powerful shockwave that sends enemies within a

4-meter

radius hurtling backward. The impact extends up to a distance of

8 meters

from your position, effectively pushing back your adversaries;

Soul Interference

– Swiftly disrupt the target's incantation by tampering with their soul, causing an immediate interruption of their spellcasting;

Forbidden Zone

– Enforce a deceleration effect that hinders the target's movement for a duration of

5 seconds.
While the decision of what ultimates to pick comes down to your preferences and playstyle, we would highly suggest that you go for Light Protection and Light Impact to increase your survivability rate. These are probably the best Faith Priest ultimates you can choose no matter what your playstyle is centered around.
Best Faith Priest Builds
Speaking of what can be called the best PvE Faith Priest build and the one for PvP, the answer is going to be pretty much the same. Why? Because no matter what build you opt for, it will revolve around stacking your Faith Sigils and dealing immense damage with your Holy Missile. Sometimes, you will be using this to heal allies in case of emergency.
The chances we will see other strong Faith Priest builds in the future are high but today we only have the following one:
With that build in mind, we will provide you with a few most common rotations you will be using to deal the maximum damage possible further in this guide.
Best Faith Priest PvE Build
In case you are looking for the best Tarisland Faith Priest PvE build, the Holy Missile one is what crosses our mind first. It boasts a pretty straightforward mechanic, which is easy to understand and use in various encounters. In fact, it suits both purposes – healing and dealing damage. The only downside here is that you constantly need to spam Torment to charge your Faith Sigils, otherwise, this build makes no sense.
However, the suggested option would also act as a great Faith Priest raid build since you can deal plenty of damage against a solo target, which is what you need when raiding. To make things better, you can also save your ally's life in case your main support cannot handle it.
Here is a list of talents you should be focusing on when playing the Faith Priest Holy Missile build:
Talent

Description

Enh Torment
Torment deals

8%

more base damage. Every 3rd damage dealt is increased by

8%.

Redemption
Upon impact, Torment has a

15%

chance of making the target take

Magic

damage equal to

1.6%

of your attack per second for

8 seconds.

This effect can stack up to

3 times.

Divine Force
Casting

Holy Missile

or

Divine Barrage

makes your next

Torment 3%

more likely to land a combo upon dealing damage, and increases its damage by

3%.

This effect stacks up to

2 times.
However, it often happens that you cannot beat a particular boss no matter how hard you try or what build you use. The main reason here can be your less experienced teammates or a lack of cooperation. Therefore, we offer you to Buy Tarisland Raid Boost from SkyCoach to get even the mightiest bosses slain in a blink of an eye. We guarantee the best market price and the fastest completion time!
Best Faith Priest PvP Build
In case you are more of a fan of fighting other players rather than hunting for mobs, the Holy Missile variety can be called the best Tarisland Faith Priest PvP build as well. The reason is the same, as it still does tons of damage, offers an easy-to-execute rotation, and can save an ally in case you need it.
We are not going to describe what talents you should be using with this build particularly for PvP encounters since they are basically the same. While some changes can be made, you will not lose a single bit of your damage if you keep them like in the table we have provided above.
While it might be tempting to try to win every single Battleground you are taking part in, your victory mainly depends on your team anyway. However, you can get the best rewards and always be a victor in case you Buy Tarisland PvP Boost from us and trust this job to our PROs. We offer fair prices and guarantee the fastest results!
Faith Priest Best in Slot Gear Tarisland
As we await further revelations about equipment mechanics in Tarisland, we regrettably lack the specific insights to provide at this moment. Nevertheless, rest assured that we are committed to keeping you informed, and our article will be promptly updated as we uncover Faith Priest best in slot gear options. This forthcoming update will illuminate the armor, weaponry, and accessories that maximize both damage output and survivability, ensuring you are well-equipped for your chosen role.
Although precise details remain elusive, it is evident that Faith Priests will greatly appreciate enhancements in pure Attack and Critical Hit stats. Whether you focus on single-target or AoE damage in your playstyle, these attributes will be your prime focus, and you will explore various avenues, including gear selection, to bolster them.
Faith Priest Rotation Tarisland
At the beginning of our guide, we mentioned that Tarisland Faith Priest rotation can hardly be called a difficult one. In this part of the article, we will provide you with the two possible alternatives you can use to ensure you deal the maximum damage output. Do keep in mind that both of them suit perfectly PvE and PvP types of content.
Basic Rotation:

Stack Faith Sigils with your

Torment

until max and release them with

Holy Missile

to deal damage or heal an ally if necessary;

Enhanced Rotation:

Start with

Holy Energy

followed up with

Persistent Belief.

After that, goes

Agony Trial

and

Holy Missile.

To finish your target, keep pressing

Torment

to stack more Sigils and then use Holy Missile again.
This is basically it since you do not have many choices concerning possible rotations. The reason for this is that your playstyle is all about stacking Faith Sigils and releasing them when the time comes.
Faith Priest Leveling Tarisland
Thanks to your Holy Blast ability, you can deal decent AoE damage along with a single-target one. Therefore, the entire Tarisland Faith Priest leveling process will not be that difficult once you learn the rotations we have provided above. In most cases, a mob will not be able to reach you since you will kill them by this time.
As you advance in leveling your Faith Priest, you will experience a noticeable ease in overcoming adversaries, including formidable bosses. The journey toward mastery is generously rewarded with equipment and crafting materials acquired from conquering dungeons and defeating world creatures. These valuable resources empower players to boost their character's attributes, resulting in increased effectiveness in battles and an amplified mastery of magical abilities.
Conclusion
To sum it up, our Tarisland Faith Priest guide has illuminated the divine path of this revered specialization, equipping you with the wisdom and strategies required to become a beacon of hope and devastating power in the mystical realm of Tarisland. From mastering the intricacies of gameplay and sacred abilities to crafting versatile builds that fulfill unique roles, you have journeyed through the sacred art of Faith Priest.
Whether you embrace the role of a dedicated healer or fierce caster, Faith Priest offers an array of playstyles to explore. In the heart of battle, you wield the power of faith and restoration, ensuring your team's survival and victory. With this article as your guide, you stand ready to embark on a spiritual odyssey, spreading light and solace in the enchanting world of Tarisland. May your path be illuminated with faith, and your journey filled with compassion and triumph.
F.A.Q.
What is the best Priest spec in Tarisland?
In case you wish to act as a primary damage dealer, destroying your foes from afar, you should definitely opt for the Faith specialization of the Priest's class.
Is Faith Priest good in Tarisland?
Absolutely! Faith Priests are known for easy-to-learn rotations, which can punish your enemies from a distance. At the same time, you can heal up your allies if the situation requires it.
Is Faith Priest hard to play Tarisland?
Faith Priest remains one of the easy specializations to master, especially if compared to other range casters. The reason for this is that its abilities are straightforward and rotations can be mastered easily.
What is the best spec for Priest PvP Tarisland?
Depending on the preferred playstyle, you can opt for being the main damage dealer or healer. In case you like the first option, you should go for the Faith specialization we have described in detail in our guide.
Is Faith Priest good in PvE Tarisland?
This is a great choice since you can deliver tons of damage against solo targets, which is what you appreciate the most while raiding.
Which Priest spec is best for PvE Tarisland?
If you wish to destroy the mightiest bosses with the power of Light, then you should undoubtedly choose the Faith spec for this purpose.
How do I maximize DPS Faith Priest Tarisland?
The key to success lies in mastering the rotations we have given above, as well as wearing BiS gear, and opting for the strongest talents to make your build perform even better.