In the intense realm of Call of Duty Modern Warfare 3 Zombies mode, obtaining the Ray Gun Schematics is a coveted feat that elevates your gameplay to new heights. In this guide, we will delve into the strategies and steps explaining how to get Ray Gun Schematics in MW3, unlocking its devastating potential against the hordes of the undead.
Whether you are a seasoned player seeking an edge or a newcomer eager to master the art of survival, understanding the path to securing the Ray Gun is crucial. Join me as we navigate the intricate terrain of MW3 Zombie mode to unravel the secrets behind this legendary weapon.
Before we delve into the topic, we would like to share the easiest way to get the Ray Gun Schematics. At SkyCoach, you can Buy Ray Gun Schematics Unlock and obtain this weapon forever. Our PROs will take care of this tedious job and help you forget about endless farming. We offer cheap prices and guarantee results!
IMPORTANT NOTE: Apart from learning everything about Ray Gun Schematics, you can also buy CoD MW3 Boost from SkyCoach. We offer a wide range of products at the lowest market price and with the fastest delivery. You can make your first purchase even CHEAPER if you find a special PROMO CODE (highlighted in green) hidden in this article and get a 20% DISCOUNT.
Check out some of our most popular
CoD MW3 Boosting

services below:
What is Ray Gun in MW3 Zombies?
Before explaining what the Ray Gun Schematics in MW3 Zombies are, it is essential to find out why players are so hyped about this gun. The iconic Ray Gun, a staple from the Mystery Box in Call of Duty Zombie mode, stands as the most renowned wonder weapon. Fueled by enigmatic technology, it empowers fans to obliterate hordes of zombies round after round.
Across the series' iterations, the Ray Gun remains the beloved choice among players in the relentless fight against the undead. Its dominance extends to Modern Warfare 3, where its capability to dispatch enemies in a single shot reigns supreme.
With its inherent splash damage, it is capable of striking multiple zombies simultaneously, rendering it a formidable force. Through strategic upgrades, it transforms into an unparalleled zombie-slaying tool, solidifying its status as a lethal asset in the battle for survival.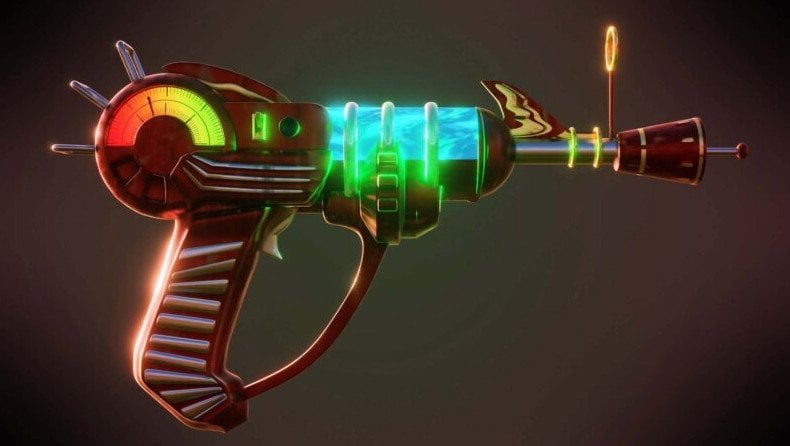 How to Get Ray Gun Schematics
In this part of our Ray Gun Schematics guide, we will provide you with detailed instructions to ensure you acquire this gun forever. Once you do this, you will be able to spawn with this weapon every time.
Here is a step-by-step guide on how to get Ray Gun Schematics in MW3:
Complete contracts in the

Red Zone

of the map, also known as

High Threat Zone;

By finishing these contracts, you will earn a

Reward Rift;

Looting this Rift has a chance to get the desired plans to craft Ray Gun.
However, the contents of the Rift are entirely unpredictable, making it a matter of chance. This means that multiple contract completions might be necessary before stumbling upon the coveted schematics needed to assemble Ray Gun.
To ensure you keep this schematic forever and can craft this gun any time you need it, you need to exfil with the schematic in your Rucksack.
Now that you know how to get the Ray Gun in MW3, you just need to pray to RNGesus and hope you can acquire this Wonder Weapon as soon as possible. This may take you plenty of attempts but the result is definitely worth it. BLOG20
How to Craft Ray Gun Wonder Weapon
Congratulations on acquiring the schematics! It is high time to delve into how to craft Ray Gun in MW3 Zombies:
Navigate to the

Gear Tab

within the game interface;
Access your

Rucksack

and select a slot;
Locate the

Schematic Crafting

feature located at the bottom of the menu;
Within the menu, choose the

Wonder Weapons

tab;
Initiate the crafting process for the Ray Gun by selecting it from the options available and clicking on it to begin the crafting sequence.
After this, you will be able to Ray Gun every 48 hours without any other items required for this. Just make sure you do not have a cooldown and you can create this weapon to destroy all the enemies on your way.
How to Kill Mega Abomination in MW3 Zombies
You might be wondering in what way killing Mega Abomination is connected to the question of how to unlock the Ray Gun in MW3, and we are here to explain the situation. As of the moment of writing this article, Mega Abomination is the strongest boss you can encounter in the Red Zone. Slaying this mighty enemy is one of the best ways you can use to get Ray Gun Schematic in the long run.
Below, you can find a quick guide on how to kill Mega Abomination in MW3 Zombies:
Step

Description

Essence Gathering

Your first task is to acquire 10,000 Essence, which is usually done through completing Contracts. We highly recommend to focus on the following ones:

Eliminate the Bounty;

Outlast;

Raid Weapon Stash.

Finding Vehicle
Get yourself any vehicle to move around the map faster. Avoid an

ATV

and try to get any other alternative apart from this one.
Urzikstan
Open your map and mark a Buy Statin located in the Red Zone in the middle of

Urzikstan.

Buying Juggernaut Killstreak
Once you are there, purchase a

Juggernaut Killstreak

from this station.
Slaying Mega Abomination
When you have your Juggernaut suit active, start dealing the maximum damage to

Mega Abomination

and do not be afraid to take damage from the boss in return. The suit will protect you for quite a lot of time.
In most cases, you will be able to defeat this powerful enemy all alone if you follow the instructions described in the table above. Once you do this, there is around a 5% chance to get the Ray Gun Schematics, which is not that much and you might need to repeat these steps over and over again.
Conclusion
Mastering the acquisition of the Ray Gun Schematics in CoD MW3 Zombies mode opens a door to unparalleled power against the undead. This guide has unveiled the strategies and steps necessary to obtain this coveted weapon blueprint. From navigating the Red Zone contracts to the unpredictable yet rewarding Rifts, the path to crafting the Ray Gun involves perseverance and strategy.
Armed with this knowledge, you are poised to elevate your gameplay, turning the tides of battle with this legendary and devastating weapon. Embrace these techniques, refine your approach, and claim the Ray Gun Schematics to become an unstoppable force against the zombie onslaught. Good luck, survivor!
F.A.Q.
How do you get schematics in MW3?
To get schematics, you need to complete contracts scattered around the map. No matter if you are playing in Tier 1 or Tier 3 difficulty zones, you can find something to challenge yourself and be rewarded for this.
Where is the Ray Gun schematic in MW3?
You can only get the Ray Gun Schematic by completing contracts in High Threat Zone.
How powerful is the Ray Gun?
Ray Gun can one-shot most zombies in MW3, which makes it incredibly powerful and desired among players of all levels.
How to craft the Ray Gun wonder weapon?
Get to the Schematics Crafting section in the main menu;
Find the Wonder Weapons section;
There, you can craft Ray Gun every 48 hours without any items required.
How to unlock the Ray Gun in Modern Warfare 3 Zombies?
To ensure you unlock Ray Gun once and forever, you need to find its schematic, which drops after completing contracts in Red Zone of the map.
Is the Ray Gun good in Zombies?
This is the most overpowered and desired weapon you can currently find in MW3 Zombies mode.
What are the chances of getting Ray Gun MW3 Zombies?
Your chances of getting Ray Gun come down to 5% or around this mark, meaning you might need to complete plenty of high-difficulty contracts before you get this Wonder Weapon.