In the history of Destiny, Solstice has taken a place far from being the last among all events. There are many reasons for this - starting from unique armor sets, the upgrading of which can take many hours, to the weapons and overall style of the event itself.
In our Destiny 2 Solstice 2023 guide, we will tell you how to quickly and efficiently level up armor sets for all characters, how the mechanics of the event work, and what Solstice of Heroes weapons god rolls you can obtain through farming.
Check out our most popular
Destiny 2 Boosting

services

offered at the best market price:
Destiny 2 Solstice Armor and How to Upgrade It Fast
During the very first conversation with Eva Levante, you receive a complete set of armor for your character. However, you only get its initial first. The final form of Destiny 2 all Solstice Armor has two distinct features - high stats and a glowing color corresponding to your subclass.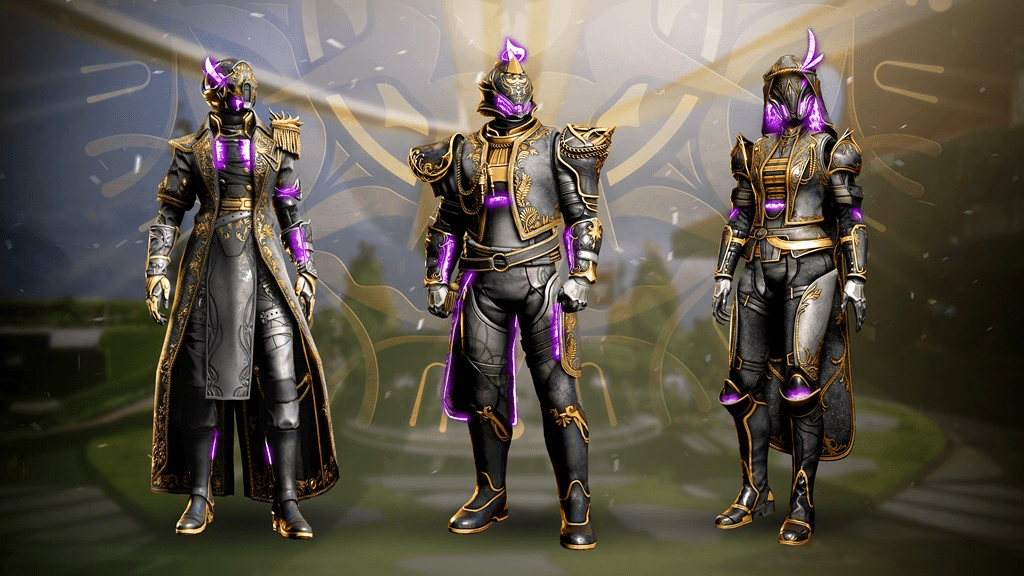 To obtain the glowing effect, you will have to complete absolutely all Destiny 2 Solstice challenges, as only through them, you can obtain "kindling" - the event currency that allows you to upgrade your armor to its glowing form.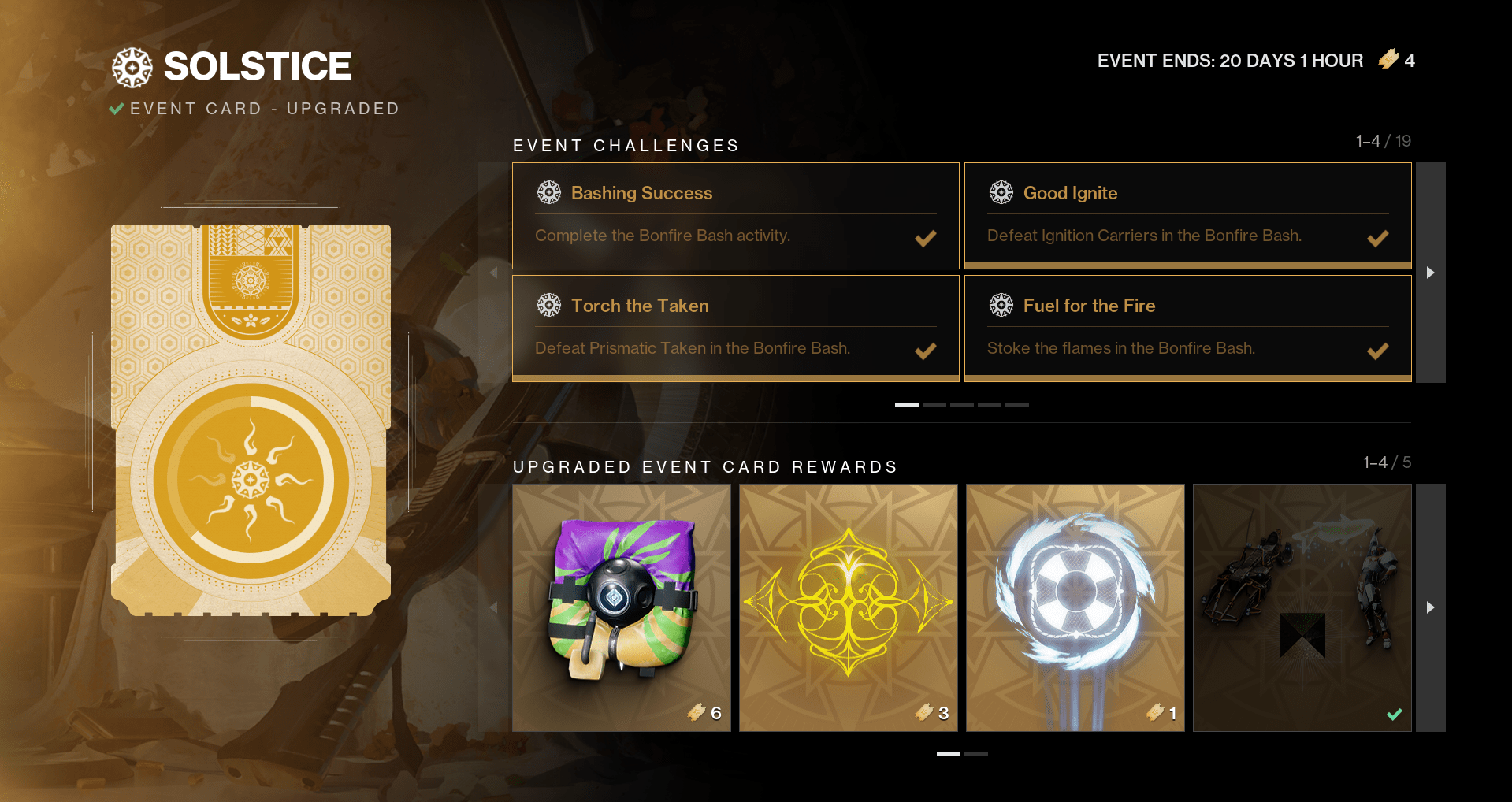 All Destiny 2 Solstice of Heroes challenges are quite simple and understandable, but nonetheless, they can be quite routine. Fortunately, you will not have to complete them on each of your characters. It will be enough to do them on one character to obtain the Glowing Solstice of Heroes 2023 Armor for all the others.
№

Challenge Name

Description

1
Good Ignite
Defeat

Ignition Carries

in the

Bonfire Bash

2
Torch the Taken
Defeat

Prismatic Taken

in the

Bonfire Bash

3
Fuel for the Fire
Stoke the flames in the

Bonfire Bash

4
Ash Tray
Collect

x350

Silver Ash
5
Fuel for the Fire II
Stoke

x70

Flames in the

Bonfire Bash

6
Fuel for the Fire III
Stoke

x100

Flames in the

Bonfire Bash

7
Like Wildfire
Defeat targets anywhere in the system
8
Superlative
Defeat targets with Super abilities
9
Forged in Flame
Defeat

10

Opposing Guardians

10
Hand Lighter
Defeat Targets with Hand Cannons, Shotguns, and Rocket Launchers
11
Burn them Down
Defeat

40 Bosses

anywhere in the system
12
Raking the Coals
Complete playlist activities to earn Silver Leaves
13
Dare to Dream
Complete runs of the

Blind Well

or

Dares of Eternity

to earn Silver Leaves
14
Brightfall
Complete

Vanguard Ops

or

Nightfall

to earn Silver Leaves
15
Fires of Completion
Complete 10 matches in

Crucible or Gambit

16
A Spark in the Dark
Complete rounds of

Altars of Sorrow

or

Salvage

17
In the Hot Seat
Complete activities on

Neptune
The only problem you may encounter is increasing the stats of the armor, specifically by farming Silver Ash. The fastest way to obtain it is by farming Altars of Sorrow, particularly completing the final stage of this public event, which rewards you with the largest amount of Silver Leaves.
By the way, Silver Leaves are a secondary currency used during the Bonfire Bash activity. Upon completing the Bonfire Bash, a certain amount of your Silver Leaves will be converted into Silver Ash, which you can use to upgrade the attributes of the Solstice 2023 Armor.
If you have no time to farm the event currency or simply wish to speed up this process, you can always rely on our Destiny 2 Solstice Currency Farm service. By ordering it, you can surely get any amount of Silver Leaves or Ash. We offer fair prices and guarantee the result!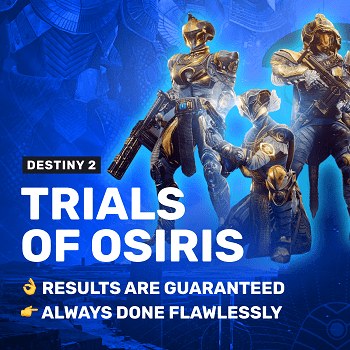 Destiny 2 Solstice Rewards and How to Get Them
It is worth noting that the armor and cosmetic items you can obtain in the event pass are not the only rewards worth your attention.
Equally important event trophies include the weapons that are available for a limited time, much like any other event-specific weapons.
This year, the Destiny 2 Solstice 2023 event arsenal has been expanded with a new strand rocket launcher - Crowning Duologue, perhaps the most beautiful legendary rocket launcher in the entire game.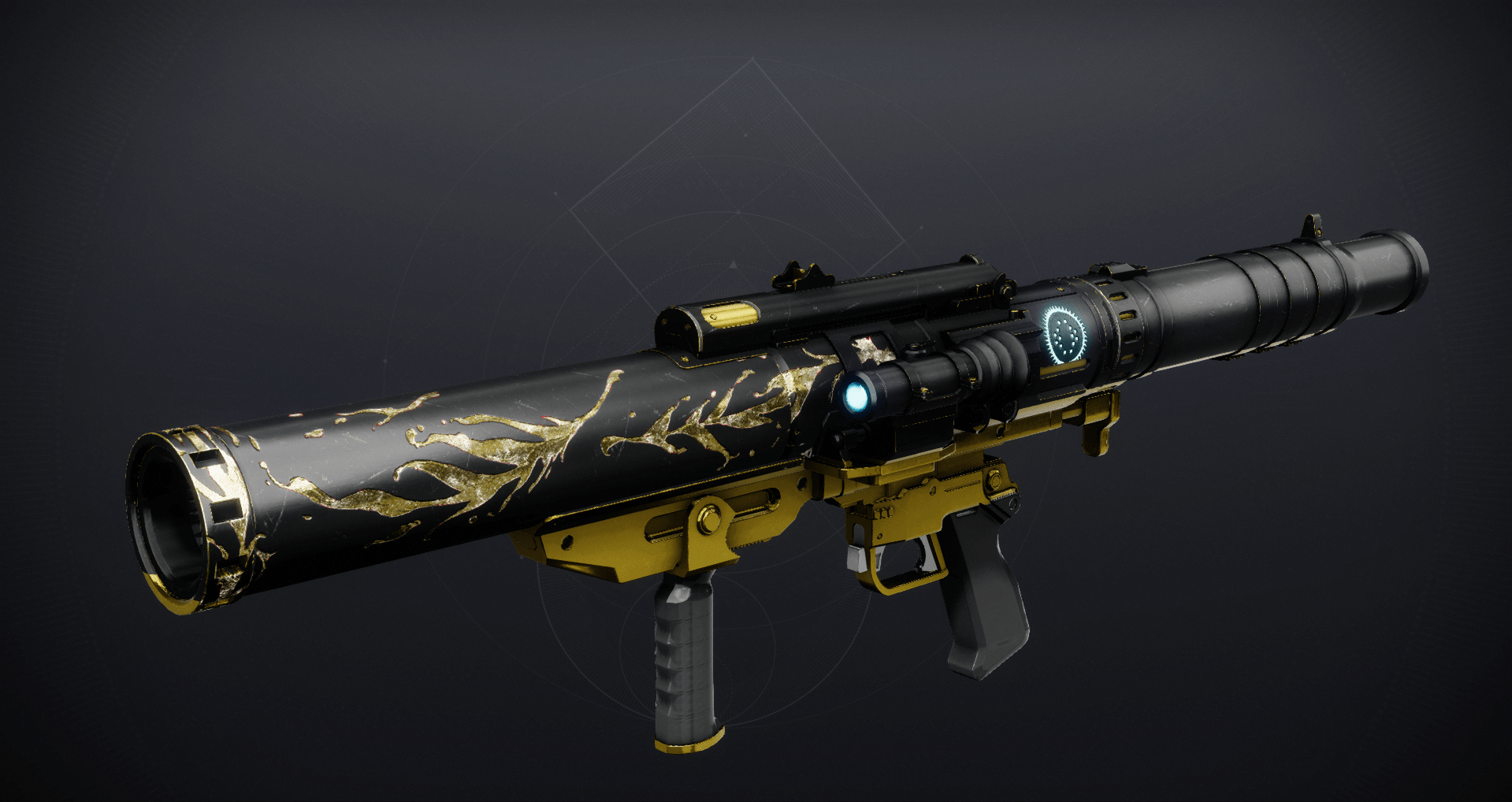 To our great disappointment, the appearance is the only notable aspect of this weapon, as its perk set significantly lags behind other rocket launchers and consists of the following options:
Compass Rose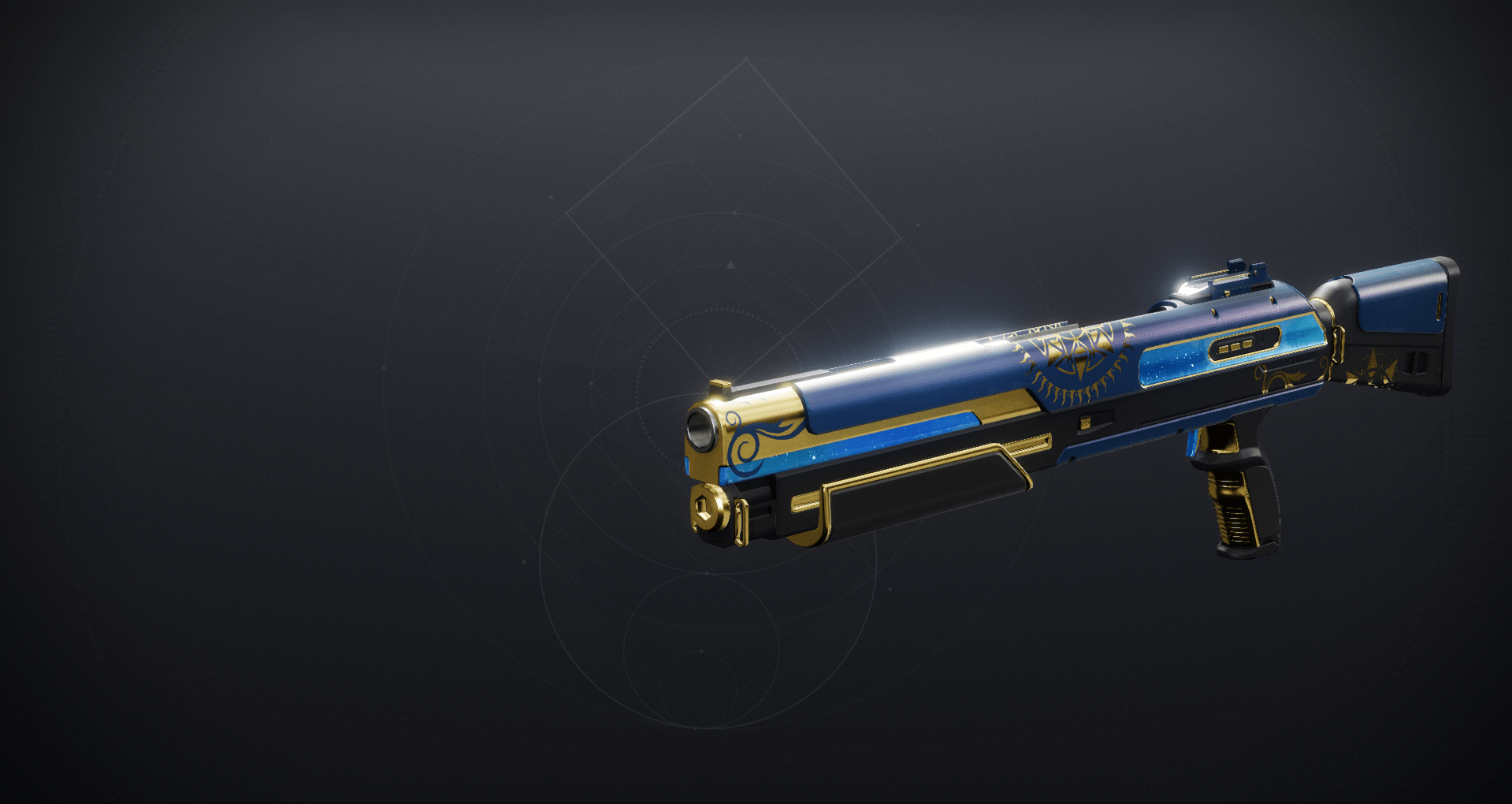 This is one of the best event weapons and possibly the main gun on the list of Solstice of Heroes rewards that you need to obtain. There is not much to say here - it has decent base stats, excellent perks for both PvP and PvE, and its relative ease of acquisition has made it extremely popular.
Best 3rd Slot Perks:

Quickdraw, Lead From Gold, Grave Robber;

Best 4th Slot Perks:

Snapshot Sights, Vorpal Weapon, Incandescent, Cascade Point, Trench Barrel;

God Roll:

Quickdraw + Snapshot Sights (PvP), Lead From Gold + Trench Barrel (PvE).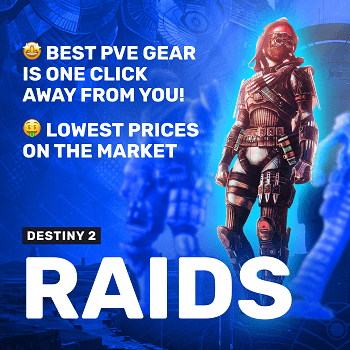 Something New
This is one of the most controversial guns of this event, which you should still consider farming, especially with the upcoming Hand Cannon buff. Something New has some pretty good perk combinations that can work well with Stasis builds and provide a comfortable PvP experience.
However, you can also find Round Robin in the game. It is the same 120-hand cannon but with Strand damage and the possibility of obtaining enhanced perks, which, in some instances, outshines Something New.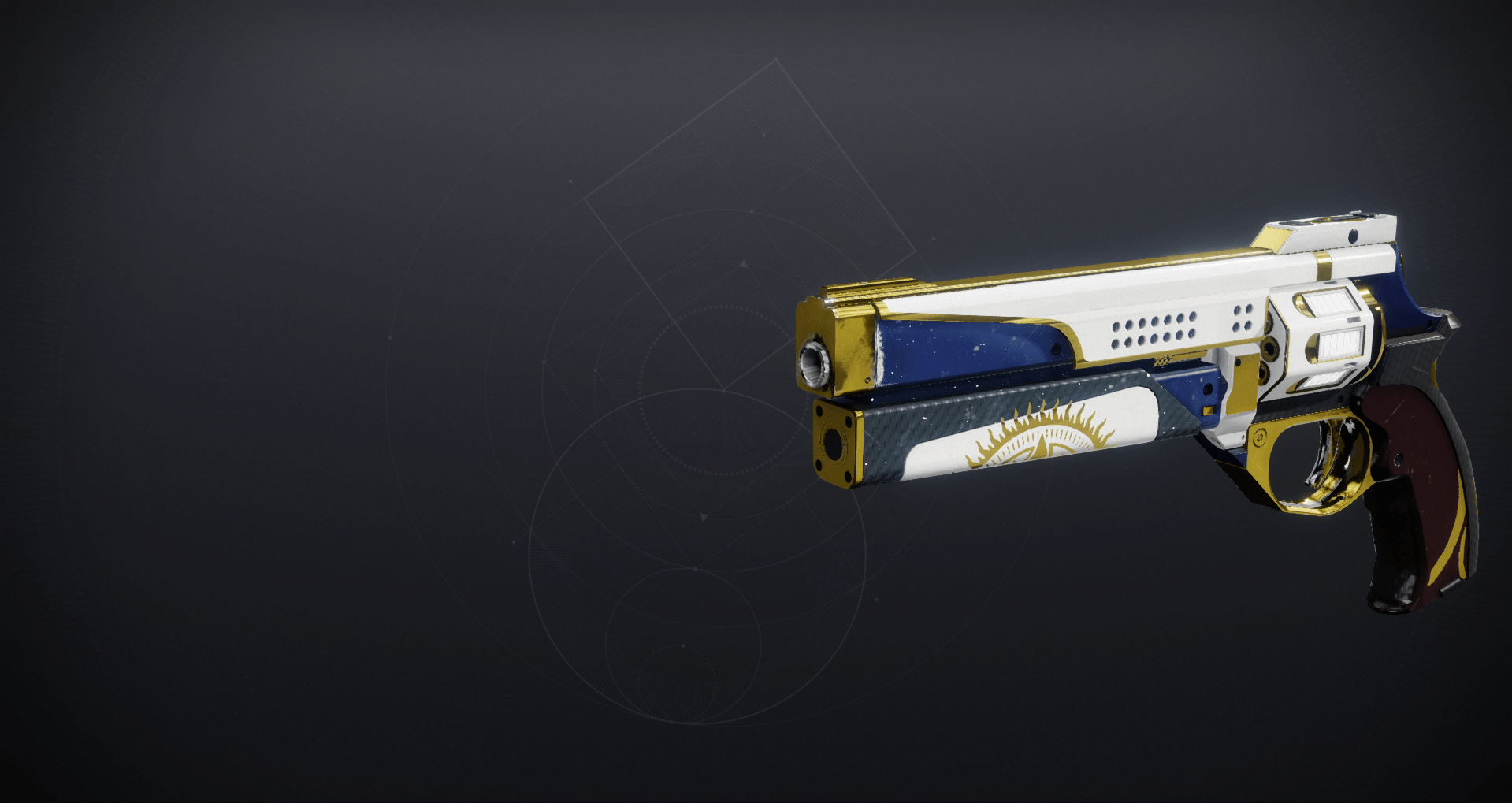 As for obtaining these guns, it can be both an easy and quite frustrating experience at the same time. On the one hand, it is simple because they are farmed in the event activity and do not require you to be a too-skilled player. On the other hand, it is difficult because their drop is absolutely random at the end of this activity.
Moreover, the RNG God may not be on your side, as you have an equal chance of getting either armor or one of the three guns, which significantly affects their drop rate.
If you have no desire to test your luck and want to obtain a god roll for any legendary weapon, our Destiny 2 Legendary Weapons Carry service can help you acquire absolutely any gun in the game with the desired perks in the shortest possible time. We offer the best market price and guarantee the result!
Conclusion
Let us be honest, Destiny 2 Solstice Armor 2023 is worse practically in all aspects than its predecessors from 2022 or 2021, with only certain pieces of the Hunter armor standing out and being memorable.
Regarding the event weapons, they do add some meaning to the farming process, compensating for the somewhat lackluster armor of this season.
Nonetheless, if you were looking for a reason to return to the game during the off-season, this event might be the perfect opportunity to expand your collection with new armor and weapons, as well as experience the joy of the Solstice celebration.
We hope that our Destiny 2 Solstice of Heroes guide has been useful to you, and you have learned something new from it. Good luck and we will see you in the game!
F.A.Q.
How to get Solstice Armor Destiny 2 2023?
To begin with, you will need to talk to Eva Levante in the Tower. After that, to fully upgrade the armor, you will need to complete all the event challenges, which you can find in the event card.
How do you get Silver Leaves Solstice?
Silver Leaves can be obtained from absolutely any activity in the game. However, the fastest way to acquire them is by completing Altars of Sorrow.
How long does Solstice event last?
Solstice of Heroes 2023 will last until August 8, 2023.
How do you get glowing Solstice armor?
To obtain the glowing effect for the armor, you need to upgrade it using 6 Kindling (for 1 armor piece), which you can obtain by completing event challenges.
What is Destiny 2 Solstice?
Solstice is a time-limited event, celebrating the summer solstice and allowing players to get exclusive armor pieces and weapons.
How do you get Solstice armor?
To get Solstice armor, you need to complete the Bonfire Bash activity or purchase it from Eva.