The legendary and much beloved by all players in-game activity finally returns. Of course, we are talking about the Mage Tower challenge. The main mechanic stays pretty much the same, as you still face off against 7 various encounters. Defeating your role-specific boss grants you a unique reward that changes your character's appearance.
Just like in the previous expansion, you are to talk to War Councilor Victoria who is waiting for you at Deliverance Point. Doing so will teleport you to a special location where you will meet your enemy. If you are not a fan of long flights or do not want to use several portals, get yourself Dalaran Hearthstone to travel to your destination quicker.
This article is devoted to Demonology Warlock Mage Tower in Dragonflight, as there are a few subtle changes you should be aware of. In general, your primary mission has not changed at all. You still fight against three bosses at a time. However, you are using new gear, trinkets, and other stuff added in the latest expansion.
IMPORTANT NOTE: At SkyCoach, you can also Buy WoW Boost at the lowest prices and with the fastest delivery. You can make your first purchase even CHEAPER if you find our special PROMO CODE (highlighted in green) hidden in this article and get a 20% DISCOUNT.
Check out some of our most popular
WoW Boosting services

below:
Demonology Warlock Mage Tower Challenge Info
The encounter you are to withstand is called The God-Queen's Fury. It is available for several DPS classes and their specializations. As we have already mentioned, you have to defeat three bosses (Sigryn, Jarl Velbrand, and Runeseer Faljar) who will try to attack you simultaneously. During this encounter, you have no one to rely on. The only thing that will help you stay alive is Orb of Valor. The latter spawns randomly and heals you once picked up. Unlike in other encounters, it does not despawn. It means you can take your time and wait for the right moment before using it.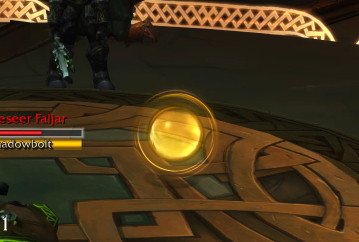 Before you take your first attempt, you should know that this encounter is tough. We actually mean this since it tests your ability to dodge a variety of deadly spells and deal with multiple enemies. Rushing into a fight without thorough preparation is pointless. Further in this article, we will share our Demonology Warlock Mage Tower strategy that works perfectly for players of any skill level.
If you still do not feel confident after reading our guide, you can always order our Timewalking & Mage Tower Boost services. It is the easiest and fastest way to pass any class challenge. Our professional players will take care of it in the shortest time for you. We offer fair prices and guarantee the result. Upon completion, you can enjoy your well-deserved rewards.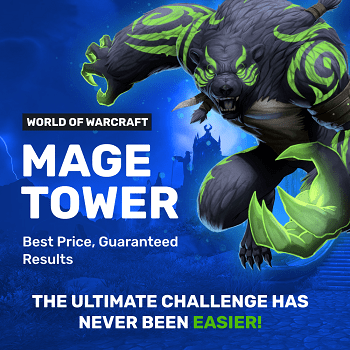 Best Gear for Demonology Warlock Mage Tower
The main idea of this challenge is to make all players equal. It tests your personal skills, not farming and grinding ones. Therefore, your equipment will be temporarily downscaled to ilvl 120 once you enter the arena. The same feature goes for your character, as it will become level 45 when fighting the bosses.
When attempting to pass Demonology Warlock Timewalking Mage Tower, you should not rely on your gear level. Instead, focus on what stats it provides since they play a key role. In most cases, you want to cast spells at maximum speed and have your primary stat increased to the limit. All the mentioned things allow you to deal the highest DPS and significantly increase your chances of winning this battle.
There is also a positive side of you not being dependent on equipment that much. It means you can use practically any gear to overcome this encounter. No overpowered weapons or armor pieces are required for this. The result is based solely on your skill and strategy. BLOG20
If you fail to pass the encounter with your current equipment, here is a tip. When it comes to Demonology Warlock Mage Tower gear, there is no better option than the provided-below alternative. We highly recommend that you spend some time fighting these Raid and Mythic+ bosses to get at least a few of the items mentioned in the table. The more of them you acquire, the higher your chance to succeed.
If you consider getting the mentioned set a too difficult task, you can try your luck at Mythic+ content. Nonetheless, we assure you that it is going to be even harder. Therefore, it is better to farm the desired equipment pieces from the Raid bosses. After all, a lot of players manage to complete this activity without having any special gear parts. It is more about having a well-tested strategy and being skillful enough.
Apart from the main equipment, it is worth mentioning what Demonology Warlock Mage Tower Trinkets you should use. Your primary goal is to wear those that increase your Haste and Crit stats. On top of that, you should choose the ones with active abilities allowing you to deal extra damage.
When hunting for Raiding gear, you cannot hope for a positive outcome without a reliable team. If you are never lucky with your party members yet still wish to get the deserved rewards, we are here for you. By ordering our WoW Raid Boost services, you can be sure our pro players will get any item for you. You no longer have to worry about the team, as we will take care of any situation.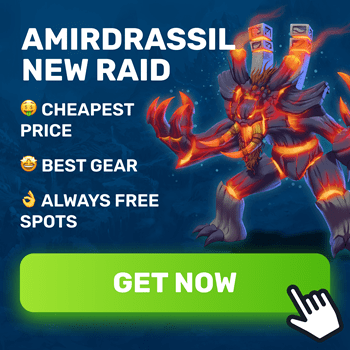 Demonology Warlock Mage Tower Best Enchants & Gems
This part of our Demonology Warlock Mage Tower guide is devoted to another crucial topic. Your preparation cannot be considered successful if you miss out on correctly chosen enchants and gems. They are your key to winning this encounter since your equipment level stops being that important. Check out the following table to see what options suit you perfectly.
Equipment Slot

Best Alternative

Provided Bonus

Weapon
Sophic Devotion/ Wafting Devotion
Both options deserve your attention. You are to choose whether you focus on increasing your primary stat or

Haste.

Cloak
Homebound Speed
Grants you

Speed

stat, which is what you need to move around the arena faster.
Chest
Waking Stats
Provides you with extra

Intellect,

which is an optimal choice for dealing more damage.
Bracers
Devotion of Speed/ Eternal Intellect
Again, both alternatives are great. It is up to you whether you need extra

Speed

or want to focus on dealing extra damage.
Legs
Frozen Spellthread
Grants you additional

Intellect

and a bit of

Stamina,

nothing to complain about.
Boots
Plainsrunner's Breeze
Radically increases your

Speed,

which is a perfect choice for dodging bosses' spells and moving faster.
Ring
Devotion of Haste
Provides you with extra

Haste

to cast your spells faster. This is the secondary stat you need most.
In any case, you want to prioritize your primary stat, which is Intellect. As for the most important secondary stats, they are Haste and Crit. Prioritizing them maximizes your DPS potential. Keeping in mind the fact you are to defeat three enemies, this is what you need.
Moving further, we would like to mention the Demonology Warlock Mage Tower recommended gems that look as follows:
Keen Ysemerald grants you a decent

Haste

and

Mastery

boost. Both stats are a perfect choice for this encounter;
Keen Neltharite focuses on the same stats. The only difference is that it prioritizes

Mastery

over

Haste;

Fierce Illimited Diamond is the number one alternative since it grants extra

Intellect

and

Haste.

Both stats directly influence your damage output.
To get prepared thoroughly, you will have to spend a bunch of gold. If you do not have enough in-game currency, it is not the end of the world. You can always Buy WoW Gold with our company's help to afford any item you need for this toughest encounter. The service provided is safe and legit. We guarantee reasonable prices and the fastest delivery time.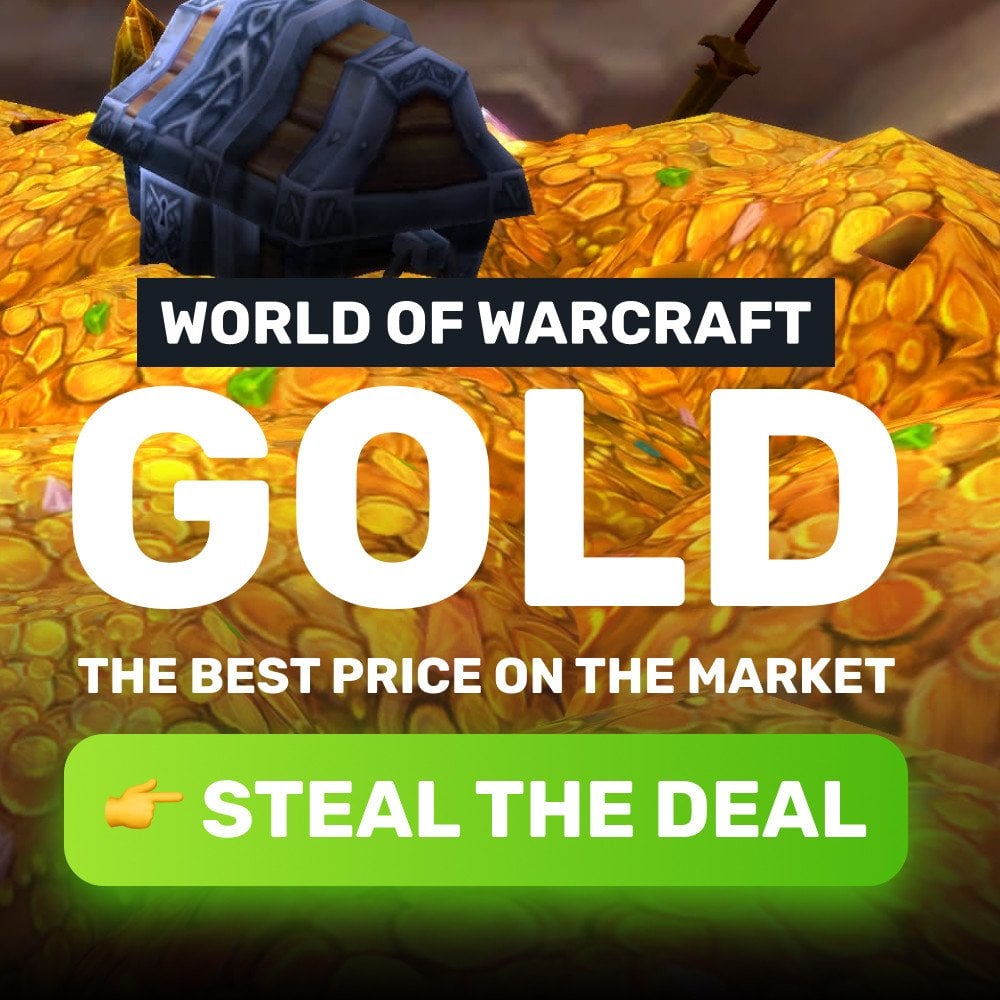 Demonology Warlock Mage Tower Best Consumables
Your chances of achieving victory in the Mage Tower challenge highly depend on what consumables you use. Check out the following alternatives that work best for this encounter. You can try your own options but these ones are usually irreplaceable:
Demonology Warlock Mage Tower Best Talent Build
When it comes to a talent setup, players tend to try their own variations. However, we would like to share the most balanced and time-tested alternative. Check out our Demonology Warlock Mage Tower 10.2 talent build that includes the following points.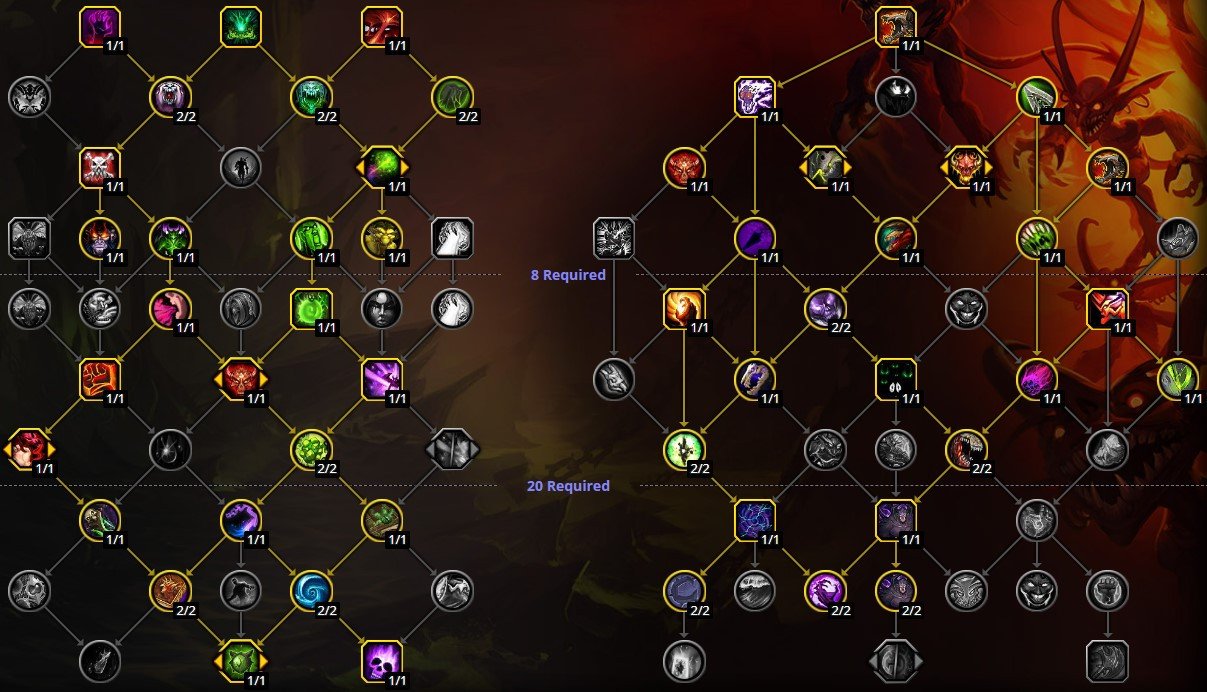 You can easily export this build directly to your game by copying this code:
B4PAAAAAAAAAAAAAAAAAAAAAAIHAaBAJIAAAAAgkIRSSigQSSLRaESUEaCJJhECaAAAAAA
If you decide to change any of the mentioned talents, you can experiment with that. Still, we highly recommend leaving the Doom talent for any build. This is your key talent, as it damages all three bosses at once. To get all the mentioned talents, you need to the level's cap first. To speed up this process, you can order WoW Powerleveling services. Our team of professional players will do the whole grinding and farming stuff for you. We guarantee the result and fastest completion time.
Sigryn Mage Tower Fight Strategy
Despite fighting three bosses at once, Sigryn is your primary target. She is the most annoying and challenging enemy in this battle. Two other NPCs are just her henchmen who are relatively easy to deal with. In this paragraph, we will provide Demonology Warlock Mage Tower tips that will help you defeat all of them and get the desired reward.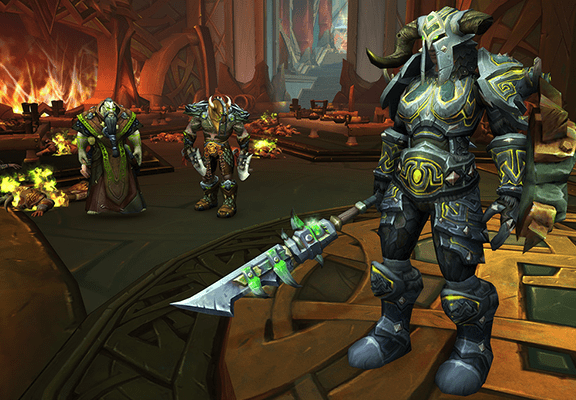 Starting with the easiest target, it is Jarl Velbrand who specializes in dealing melee damage. Your primary tool when fighting him is kiting and dodging spells. He constantly uses Hurl Axe to catch you. However, this spell is easy to avoid and does an insufficient amount of damage if you get hit by it. Another ability is Berserker's Rage, which is super easy to kite since it decreases his own movement speed. The only spell you should be afraid of is Bladestorm. Make sure to interrupt it before you get pulled to the boss' location.
Up next, we have Runeseer Faljar who is a more dangerous opponent compared to the previous one. His Shadowbolt cannot be interrupted and you will often get hit by it. During the fight, you will notice randomly spawning Runic Detonation. To avoid taking any damage from this spell, make sure to stand on these runes before they shrink. His Ancestral Knowledge is the most dangerous ability that takes a long time to cast. It should be your primary target to interrupt. However, you cannot do this while the boss is shielded.
Finally, you are to defeat Sigryn who has a range of deadly spells. Her Throw Spear deals an insufficient amount of damage and can often be left unnoticed. Speaking of Dark Wings, you should always stand in the gap zone to prevent damage done by Val'kyr. The most dangerous ability of hers is Blood of the Father, which should always be interrupted with any CC. You should also be aware of Advance, which can easily disorient you.
Answering the question of how to do the Mage Tower as Demonology Warlock, it is about positioning and constant movement. Your goal is to dodge as many spells as possible and deal maximum DPS along the way. It is unlikely you can win this battle after the first attempt. Practicing is the only way to succeed in the long run.
A lot of players wonder whether Demonology Warlock Mage Tower nerf can happen since the Doom ability is a bit too overpowered for this encounter. Of course, it deals overwhelming damage to all bosses simultaneously. However, this is just the game's mechanic and it works as intended. So, the awaited nerf is unlikely to happen in the upcoming patch.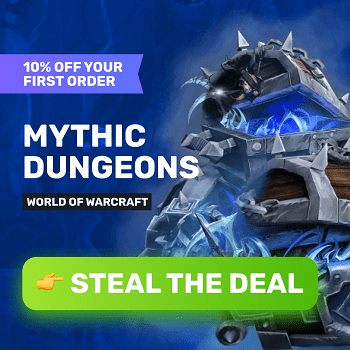 Demonology Warlock Mage Tower Rewards
If you manage to take over in this encounter, you will be granted a unique Demonology Warlock Mage Tower appearance. This transmog set looks amazing and proves the fact that you have passed the challenge successfully.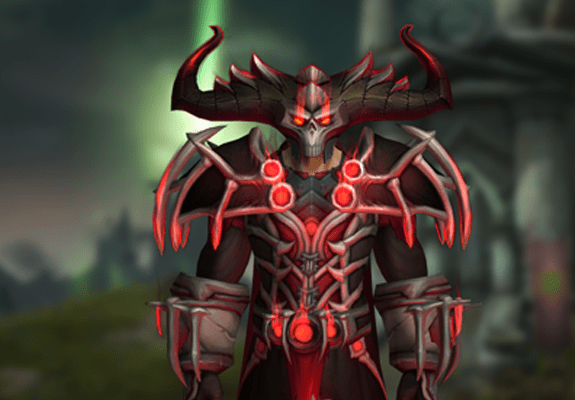 If you decide to go further and claim victory in all 7 encounters, you will be rewarded with Soaring Spelltome. This is a unique mount that represents an open book your character stands on. Considering this is a ground mount, using it is not that practical, but you can keep it for your collection.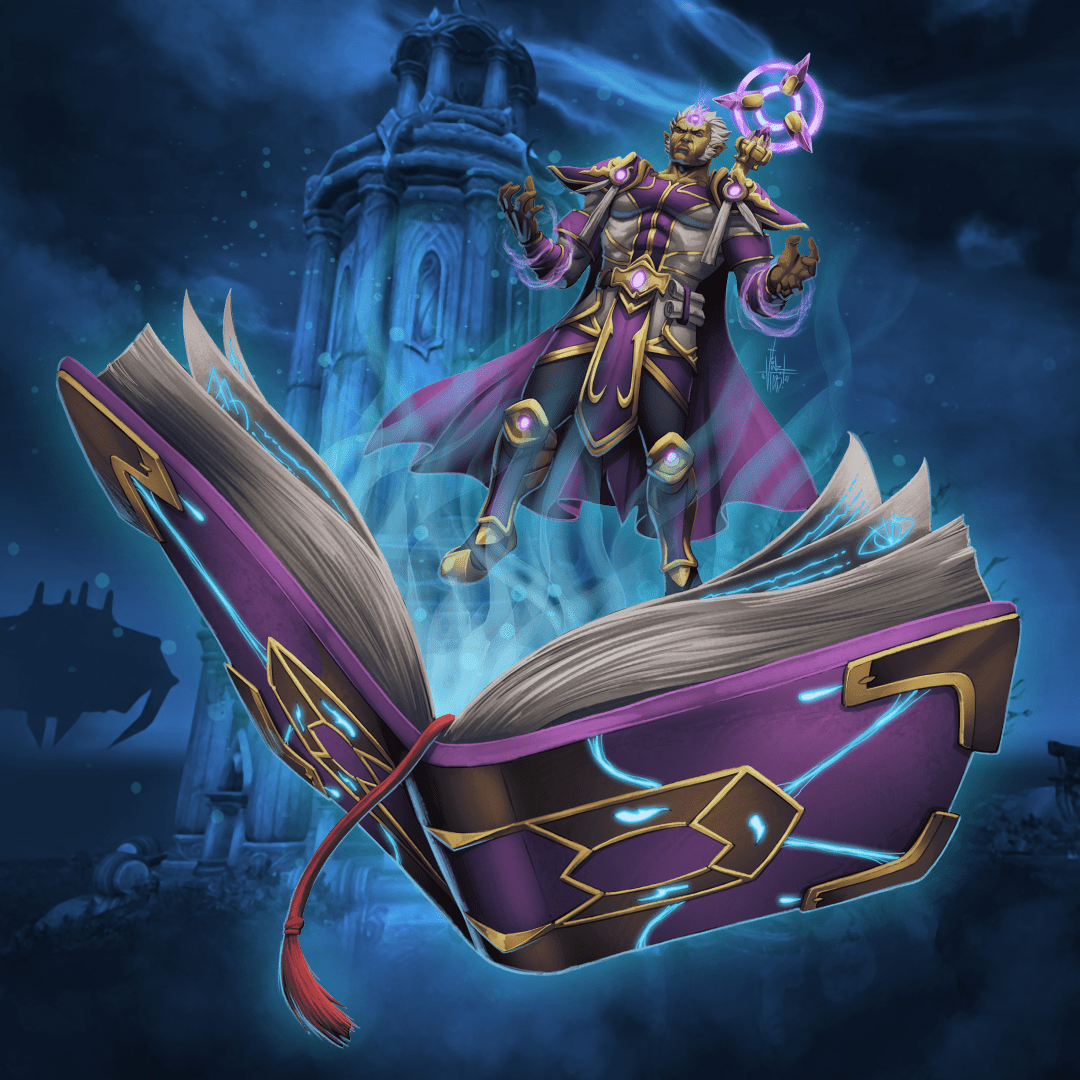 If you are not sure you can pass all the encounters on your own, we have the solution just for you. By ordering our World of Warcraft Boosting services, we can complete any Mage Tower challenge for you. It takes minimum time and we guarantee the result. Our team of professionals will do their best for you to enjoy the desired reward.
SkyCoach Boosting & Coaching Services
The SkyCoach team is a team of avid gamers who are always ready to help you. We have been on the market for more than 5 years and know what we are talking about. Our range of services is practically unlimited. Apart from boosting, we offer coaching services to make you an actual professional in the game you like.
When reading the article, you have noticed what service we offer for World of Warcraft in particular. Trust us, we can help you with other famous online titles as well. We always guarantee the fastest completion time, provide cashback on all orders, and offer fair prices. You can contact our 24/7 support to learn any details you are interested in.
An example of our services is Mythic Carry boost where our professional players help you clear out any dungeon. No matter how difficult it is, consider the job done already. The only thing you are left to do is to enjoy the loot and keep exploring the continent further.
Final Words
This brings us to the end of our guide. We hope you have learned a lot about this exciting encounter and are ready to accept the challenge. Completing it is a perfect way to gain unique rewards and prove yourself that you are a worthy Demonology Warlock player. Make sure to stay with us, as we will keep updating this guide if any changes occur.
F.A.Q.
What reward do Demonology Warlocks get from Timewalking Mage Tower?
The most wanted reward you can get your hands on is a class-specific set. It looks amazing and cannot be compared to any other item present in the game.
What are the best Demonology Warlock talents for Mage Tower?
Make sure to read a separate paragraph in our guide where we explain what talents work perfectly for this encounter. If you are a beginner, we highly recommend that you leave it unchanged.
How do you increase damage as a Demonology Warlock in Mage Tower?
This specialization strongly relies on demons summoned. They are your primary damage dealers. On top of that, your Doom deals overwhelming damage to all bosses simultaneously.
Is Demonology Warlock good for Mage Tower?
This is a great damage-dealing specialization with decent mobility to survive this encounter. Thanks to the demons you summon, this challenge is relatively easy to pass, as you are not fighting all alone.