Path of Exile Orbs Explained
In Path of Exile, you will have access to a special type of item called orbs. They are used for crafting as they can change various characteristics of the items you create. There are really a lot of various orbs in the game, but only three of them are considered to be the game's main currencies:
Chaos Orbs

are one of the most commonly used, and are used to reroll the modifiers on a rare item. If you were to compare Chaos Orbs to in-game currencies in, say, World of Warcraft, then Chaos Orbs would be your copper coins.
Exalted Orbs are another valuable currency item, which adds a new affix to a rare item. These are more expensive and are the most common currency used when players are trading small items to each other.
Divine Orbs are used to reroll the values of all random explicit modifiers of an item. These are the most valuable orbs in the game and all players actively use them to buy or sell powerful gear.
Other types of orbs, like Chromatic Orb, using which you can randomly change the colors of sockets in a piece of equipment, ot Orbs of Regret, which allows you to refund a passive skill, are also quite valuable but have a very limited use in player-to-player trading operations.
Of course, knowing the right way to farm any of the three main currencies is hugely important in the end-game, because all builds in Path of Exile are hugely gear-dependent (some of them will not even work properly without the right gear) and your freshly leveled up character are not going to have a lot of valuable orbs at his disposal if you play the actual league.
So, how do you farm those currencies? Good question! If you seriously want to farm yourself plenty of PoE Exalted Orbs, Chas Orbs, or Divine Orbs, here are some pretty obvious, but still useful tips, that will surely help you along the way:
Play the game regularly: The most basic way to farm Exalted Orbs is to play the game regularly. By completing quests, defeating bosses, and opening chests, you can obtain rare items that can be sold for valuable in-game currencies via vendor recipes.
Farm high-level maps: One of the best ways to farm Exalted Orbs is to farm high-level maps. The higher the level of the map, the greater the chance of getting valuable items, including in-game currencies.
Trade with other players: Finally, trading with other players is another way to obtain Exalted Orbs. If you manage to find a really powerful piece of equipment (like the Headhunter or Mageblood Leather Belts), or plenty of currency items, you can try to sell them to other players in exchange for Exalted or even Divine Orbs. Keep an eye on the current market prices and don't be afraid to haggle to get the best deal.
Now, let us talk about every main Path of Exile currencies in detail.
See some of our most popular
Path of Exile

services below:
Chaos Orbs Farming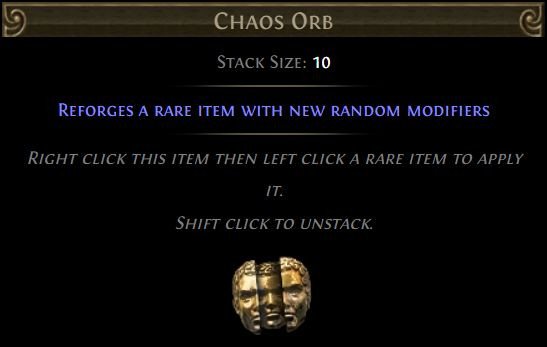 Chaos Orbs in Path of Exile serve multiple purposes besides being a standard currency in the player-driven economy. These small gold spheres can be used to reroll modifiers of rare items. This currency is not as valuable as the other two, but still can be useful even in the later game stages.
Chaos Orbs are an essential ingredient for crafting the best gear. However, they are mostly used as a currency, allowing players to purchase all kinds of small items in the game if they have enough of them.
Additionally, players should not underestimate the importance of Chaos Orbs when it comes to rerolling rare items' modifiers. As different builds and equipment loadouts may significantly change a character's stats priority, Chaos Orbs can play a crucial role in obtaining the desired results.
So, how do you farm Chaos Orbs in Path of Exile?
Acquiring Chaos Orbs in Path of Exile can be a challenging task due to their low drop rate, but there are still ways to get them. One way is to kill rare and unique monsters in certain zones:
The first zone where Chaos Orbs can drop is

The Prisoner's Gate,

where rare and unique monsters can drop them.
In

The Ship Graveyard

(11 levels higher), magic, rare, and unique monsters have a chance to drop Chaos Orbs.
From

Merveil's Cavern

(level 12) onwards, any monster can drop Chaos Orbs, but the chances are still very low.
If you are looking for a more in-depth guide, explaining how to farm Chaos Orbs, we have prepared one for you.
Chaos Orbs Vendor Recipes
Another way to acquire Chaos Orbs is by using vendor's recipes. Trading with NPCs in Path of Exile is different from traditional monetary systems, as they offer you items in exchange for your gear. To get one Chaos Orb, you will need to trade in a set of rare equipment with a 60-74 item level. The set should include:
Two one-handed weapons (or one two-handed weapon or two shields);
Helmet;
Body armor;
Gloves;
Boots;
Two rings;
Amulet;
Belt.
The gear must be within the item level range of 60-74, and not higher. Killing rare and unique monsters in level 58 zones or magic, rare, and unique monsters in level 59 zones are good ways to acquire the required gear.
There are also two other Chaos Orb recipes, but they are not commonly used. One recipe requires unidentified gear with an item level of 60-74, while the other requires unidentified and 20% quality gear of the same level range. However, these recipes are difficult to execute and require specific gear, making them less popular among players.
While using vendor recipes can be a reliable method to acquire Chaos Orbs, it is not the most efficient one in the long run. As your character becomes stronger and you start clearing Tier 8 and higher maps, killing monsters in high tier maps is considered the best way to farm Chaos Orbs. Using vendor's recipes can be helpful at the start of a league when prices for rare items are low, but this method has a limited efficiency window. Buying Chaos Orbs from other players is often the most viable option for those who want to get the best gear available in Path of Exile.
Exalted Orbs Farming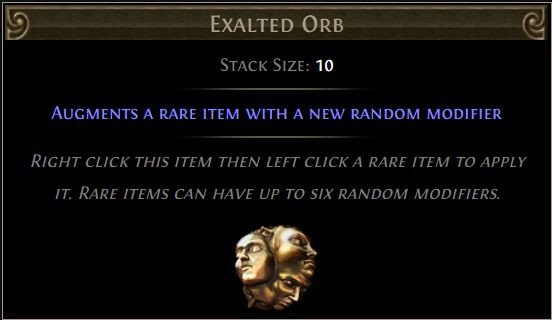 Exalted Orbs are one of the most common currency items in Path of Exile. They are used for crafting high-end rare items, as well as for trading other valuable items. As a result, many players are always looking for ways to farm Exalted Orbs. While purchasing Path of Exile Exalted Orbs using SkyCoach is the fastest method, players can also farm PoE Exalted Orbs in-game. Check out our PoE Currensy offers now!
Here are some ways to obtain them:
Monster Drops

Exalted Orbs

have a low chance of dropping in almost any area, but the probability is significantly higher in high-tier maps. However, the drop rate is not guaranteed even on Tier 8 and above maps. As such, players should adjust their loot filters to highlight

Exalted Shards

to avoid missing them among other drops. So, if you play the game regularly you should be able to get a decent amount of

Exalted Orbs

without spending too much time.
Exalted Shard Recipes
Instead of using the PoE

Exalted Orb

recipe, which is not recommended due to its high cost, players can use

Exalted Shard

recipes, as overall it would be a more beneficial way to farm the currency. However, these recipes can also be challenging to complete. To obtain two

Exalted Shards,

players need a full set of identified rare items with the same influence. Meanwhile, a full set of unidentified rare items with the same influence will yield four

Exalted Shards.

Divination Cards

Players can also trade various Divination Cards for Exalted Orbs. There are several cards that offer a chance to get Exalted Orbs or an immediate reward. These include:

The Hoarder (1x Exalted Orb);
The Saint's Treasure (2x Exalted Orbs);
Abandoned Wealth (3x Exalted Orbs);
Brother's Stash (5x Exalted Orbs);
Alluring Bounty (10x Exalted Orbs);
Emperor's Luck (a chance to get 5x Exalted Orbs or other currency);
The Void (a chance to get Exalted Orbs or other rewards).
Note that since the drop rate of Exalted Orbs in Path of Exile is quite low (below 1%), if players opt not to purchase Exalted Orbs PoE, you should prepare yourself for an extended and arduous farming process. That is why so many players want to buy PoE Exalted Orbs from our platform. And you can also do so, if you contact our Customer Support team they will help you get your orbs in no time and for a reasonable price!
Exalted Orbs Value
The value of Exalted Orbs varies depending on the current state of the game economy, but they are consistently priced relatively high. Typically, players will need around a couple of hundred Exalted Orbs to purchase decent gear that can prepare their character for the first stages of PoE end-game content.
Exalted Orb Vendor Recipes
When it comes to Exalted Orb vendor recipes, there are only two options available:
The first recipe involves trading one

Mirror of Kalandra

for 2x

Exalted Orbs,

5x

Regal Orbs,

and 1x

Divine Orb.

However, this recipe is not recommended since the value of a single

Mirror of Kalandra

is much higher than the combined value of these items.
The second recipe involves acquiring a

Gilded Fossil

from the

Azurite Mine,

which has approximately a 1/23 chance of adding the implicit modifier "Item sells for much more to vendors". This modifier allows you to sell the item to vendors for 1

Exalted Orb.

However, this method is not considered reliable for farming

Exalted Orbs.
Alternatively, you can utilize Exalted Shard recipes to obtain Exalted Orbs. You will need 20 Exalted Shards to acquire one Exalted Orb. These shards can be acquired by completing the following two recipes:
Recipe #1:

Collect a full set of identified rare items with the same influence, which includes 2 one-handed weapons (or 1 two-handed weapon or 2 shields), 1 helmet, 1 body armor, 1 pair of gloves, 1 pair of boots, 2 rings, 1 amulet, and 1 belt. This recipe will reward you with 2x

Exalted Shards.

Recipe #2:

Collect a full set of unidentified rare items with the same influence, which includes 2 one-handed weapons (or 1 two-handed weapon or 2 shields), 1 helmet, 1 body armor, 1 pair of gloves, 1 pair of boots, 2 rings, 1 amulet, and 1 belt. This recipe will reward you with 4x

Exalted Shards.
While these recipes offer a chance to obtain Exalted Orbs, it's important to note that the requirements for Recipe #2 can be challenging to collect, and the value of this method is questionable due to the need to sell unidentified items.
In summary, farming PoE Exalted Orbs requires patience, effort, and a bit of luck. By collecting monster drops, using Exalted Shard recipes, and trading Divination Cards, players can increase their chances of obtaining these valuable currency items.
Divine Orbs Farming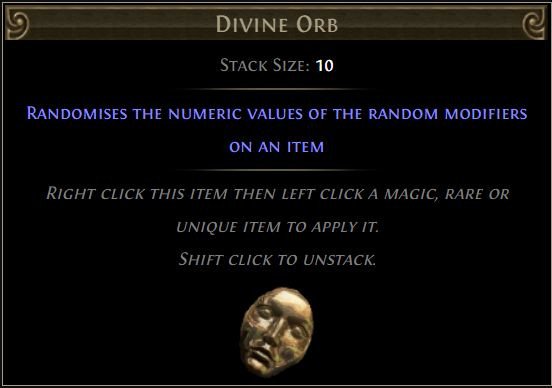 In Path of Exile, Divine Orbs have a crucial role in enhancing equipment. Their primary use is to re-roll the explicit modifiers on an item, making them extremely valuable if you have found a piece of equipment that can be of great use for you but it has wrong stats for your build.
By using a Divine Orb, you can change the item's stats, potentially making it much more powerful. This has made them a popular choice for players looking to improve their unique items in the game.
Recently, Divine Orbs have become even more valuable due to changes in the game's economy. With the Lake of Kalandra League, Exalted Orbs, which were once the gold-standard currency, are now more easily obtained, and some crucial item upgrades now require Divine Orbs instead.
This shift in the game's economy has made Divine Orbs more potent as a circulating medium in the player-driven economy of the game. So, if you're looking to enhance your equipment or trade with other players, Divine Orbs are definitely worth considering.
There are several methods available:
Farming maps or other end-game content;
Using vendor recipes;
Trading with other players.
However, these options can be time-consuming and rely heavily on luck. For those who want a faster and more reliable option, online trading platforms like SkyCoach are a popular choice. We offer the lowest prices and fastest delivery times in the market, ensuring you get the items you need in a timely manner. Our customer service team is available 24/7 to assist you with any questions or concerns.
If you are looking for a more in-depth guide, explaining how to farm Divine Orbs, we have prepared one for you.
Divine Orbs Vendor Recipes
Since the release of the Lake of Kalandra league, there are only a few Divine Orbs vendor recipes left:
The Sephirot
This vendor receipt will give you 10

Divine Orbs.

Emperor's Luck
With this vendor receipt you will get x5 random currencies, so here you have only a chance to receive

Divine Orbs.

The Void
This involves exchanging for a random divination card set.
Mirror of Kalandra
This is a downgrade recipe, which will give you 1

Divine Orb

along with other currencies in exchange for the most valuable item in the game. No point using it whatsoever.
Conclusion
The economy of Path of Exile is a complex and constantly evolving system. Players can earn currency by trading, farming, or using vendor recipes, and then use that currency to buy or craft powerful items. However, the value of items and currency is not fixed and can fluctuate greatly based on supply and demand. The game's developers constantly introduce new leagues, items, and mechanics that can significantly affect the economy. As a result, players must stay informed and adapt to changes if they want to succeed in the game. Overall, the dynamic and player-driven economy is one of the unique features that sets Path of Exile apart from other ARPGs and keeps players engaged for countless hours.
F.A.Q
When to start using orbs PoE?
If you want to use orbs in PoE as a tool for crafting, you will definitely need some experience, as the crafting system in this game is a whole game in itself. However, you can start to buy some gear using orbs at your disposal once you reach 70 level.
What is the best way to farm Exalted Orbs?
There is no one definitive answer to the question of the best way to farm Exalted Orbs in Path of Exile. However, some effective methods include farming high-level maps and boss fights, completing prophecies, running divination cards, and using strongboxes. It's important to note that farming Exalted Orbs requires a significant amount of time and effort, and there is always an element of luck involved. Additionally, some players choose to trade their items and currency for Exalted Orbs rather than farm them, as this can be a quicker and more reliable way to acquire them.
How do you get orbs in Path of Exile?
As already stated above, you can either get thom as a random drop from practically any enemy in the game, use vendor recipes (which is often not worth the effort), sell some equipment to other players and get our orbs from that, or, which is the most quick and efficient way, buy any Path of Exile currency from us!
In addition to our fast and reliable service, we offer 100% safety and best prices on the market. Our employees are required to follow strict security measures to ensure the safety of all our services. We also guarantee that our clients will receive what they ordered and offer a money-back guarantee in rare cases where something goes wrong.
What is the most valuable orb PoE?
The most valuable orb in Path of Exile is, without any doubt, Divine Orb. Only 20-30 of those is enough to buy really good end-game level gear.