Welcome to the comprehensive PoE Chaos Orb farming guide, where we will cover all the tactics and secrets, allowing you to get as much of this currency as possible. As the ever-evolving world of Wraeclast continues to challenge and captivate adventurers, the pursuit of wealth and power remains a constant endeavor. In this article, we will delve into the most effective and cutting-edge methods for getting Chaos Orbs, the coveted currency that drives the gears of trade and progression in the game.
Whether you are a seasoned exile seeking to refine your strategies or a newcomer eager to learn the ropes, this guide will equip you with the latest insights, strategies, and tactics tailored to the dynamic landscape of Path of Exile. Prepare to navigate the intricate web of map clearing, crafting, trading, and exploring league mechanics as we unravel the secrets behind mastering Chaos Orb farming.
Check out some of our most popular
PoE Boosting services

below:
Why Are Chaos Orbs Important?
First of all, we have to find out why all players are obsessed to learn about the best way to farm Chaos Orbs and why this currency matters so much. To begin with, Chaos Orbs have been used as the trading item in PoE for quite a long time now. Apart from being a versatile currency, you can use to buy literally everything, it is also used for the following purposes:
Rerolling modifiers on rare gear;

Adding mods in the crafting bench;

Adding Zana mods in the map device;

Rerolling maps.
And once again, you can use it to buy the items you cannot get through crafting. So, now you understand why Chaos Orbs are so vital in the game and what purposes they serve.
Even though they are hard to obtain, Chaos Orbs still have a higher drop rate compared to Divine ones, for example. By making rough calculations your chances of getting a Chaos Orb are approximately 1.652%. While it seems like nothing, it is noticeably higher compared to 0.055% when we are talking about Divine Orbs.
Since this currency have so many uses, it is no wonder why so many players wish to know how to farm Chaos Orbs in PoE quickly and effectively.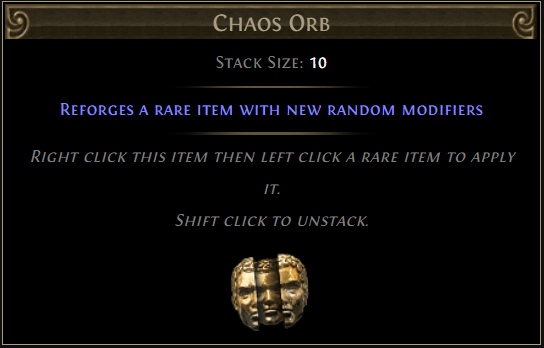 The Best Ways to Farm Chaos Orbs PoE
This and all the following subsections of our guide are devoted to describing the most efficient methods and strategies you can apply to make the process of farming Chaos Orb easier and more profitable. Before we share our thoughts on this topic, let us tell you about the best way of farming Chaos Orbs you can use right now.
On our website, you can Buy Chaos Orbs and get them delivered in a blink of an eye. We offer the cheapest price you can find on the market and the service provided is completely safe. So, why waste your precious time when you can purchase the currency instead? Go ahead and check the offer we have prepared for you!
Efficient Map Clearing
When we are talking about how to farm Chaos Orbs in PoE, efficient map clearing is the first thing that crosses our minds. It revolves around carefully selecting maps that suit your build's strengths and weaknesses. Choose maps with high mob density and straightforward layouts to maximize your clear speed.
Utilize movement speed enhancing items, skills, and flasks to traverse the map quickly. AoE skills can help you eliminate groups of enemies efficiently. Implementing a loot filter is crucial; it will highlight valuable items while filtering out low-value ones, saving you time and inventory space.
Item Farming
Embrace the potential of league mechanics to maximize your item farming efforts. Engage in the following mechanics to ensure you get the most Chaos Orbs:
Incursion

features a range of temples for intense monster-packed encounters;

Delve

has a ton of options for valuable currency drops;

Legion

encounters boast battles that yield a plethora of items ready to be converted into Chaos Orbs.
Currency Drops and Item Flipping
Valuable currency items like Exalted Orbs and Divine Orbs can be traded directly for Chaos Orbs. Keep an eye out for these high-value items while farming or trading with other players. Engage in item flipping by identifying items listed at lower prices than their market value, then reselling them at a profit. Study price trends and market demands to make informed decisions about which items to purchase and flip.
We understand how hard and tricky it is to predict the cost of the main in-game currencies. However, we can assume that you might get 1 Divine Orb for 100 Chaos Orbs after the new league starts. Of course, this price will change radically from time to time, depending on the market flow. So, always monitor the market before buying or selling stuff not to lose profit.
Do not forget that you can also exchange these currencies in a reversed way. So, if you already own some Divine Orbs, they can be easily exchanged for Chaos Orbs. If you do not, then you can always Buy Divine Orbs with our company's help as well. We offer fair prices and guarantee the fastest delivery time.
Crafting and Selling Items
Crafting involves creating items with specific affixes that cater to popular builds. Research which affix combinations are in demand, and use Chaos Orbs to reroll the modifiers on your items until you achieve the desired outcome. Once you have crafted valuable items, list them at competitive prices to attract buyers. Consistent and successful sales can lead to a steady influx of Chaos Orbs.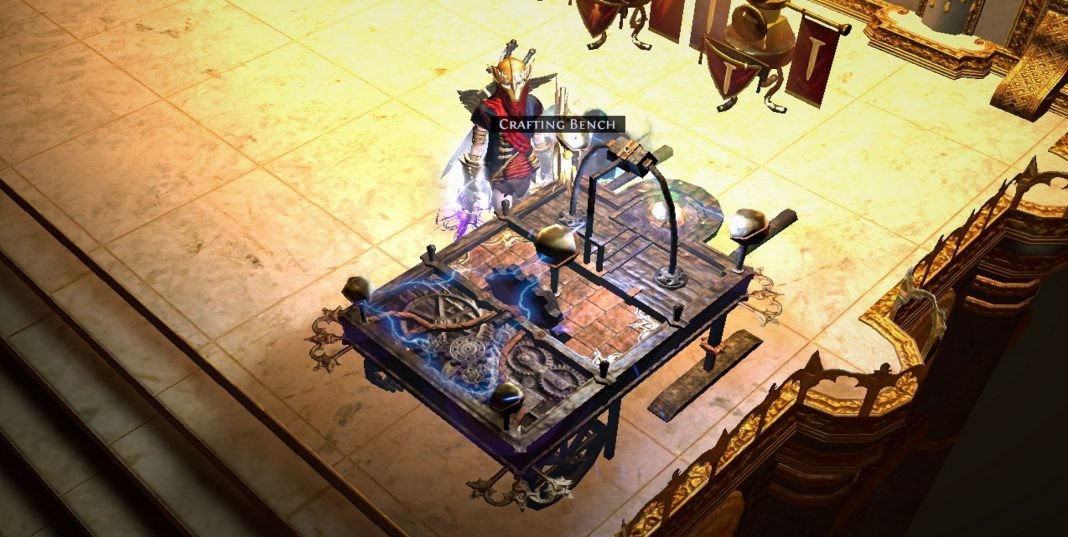 Vendor Recipes
Explore the vendor recipes that can be utilized to convert your surplus items into Chaos Orbs. Pay attention to specific item combinations that grant this valuable currency. Organize your inventory effectively to capitalize on these recipes during your farming sessions.
By putting a Rare item in each slot when trading with a vendor lets you earn 1 Chaos Orb. Moreover, you can get 2 Chaos Orbs if those items are unidentified. At the same time, all these items should be above ilvl 60. Otherwise, you will receive Chance Orbs instead of Chaos ones.
Speaking of other vendor recipes, we have included them in a table for your convenience.
| | | |
| --- | --- | --- |
| Crafting Material | Amount | What You Get |
| Chaos Shard | x20 | x1 Chaos Orb |
| Rain of Chaos | x8 | x1 Chaos Orb |
| Three Faces in the Dark | x7 | x3 Chaos Orb |
| Chaotic Disposition | x1 | x5 Chaos Orb |
| The Wrath | x8 | x10 Chaos Orb |
| Emperor's Luck | x5 | x5 Random Currency, including Chaos Orb |
| The Void | x1 | Random divination card set exchange |
Farming Divination Cards
Identify locations with high drop rates for valuable Divination Cards that can be traded in for Chaos Orbs when a set is complete. Farm these areas efficiently by planning your routes and optimizing your clear speed. Keeping track of drop rates and understanding the card combinations needed for Chaos Orbs is essential for maximizing your returns.
To get access to more of these locations, you definitely need a higher character level. So, by using our PoE Powerleveling service, you can trust this routine job to our professional players. They will gladly boost your character to the highest threshold, and this will take us a minimum time to complete your order.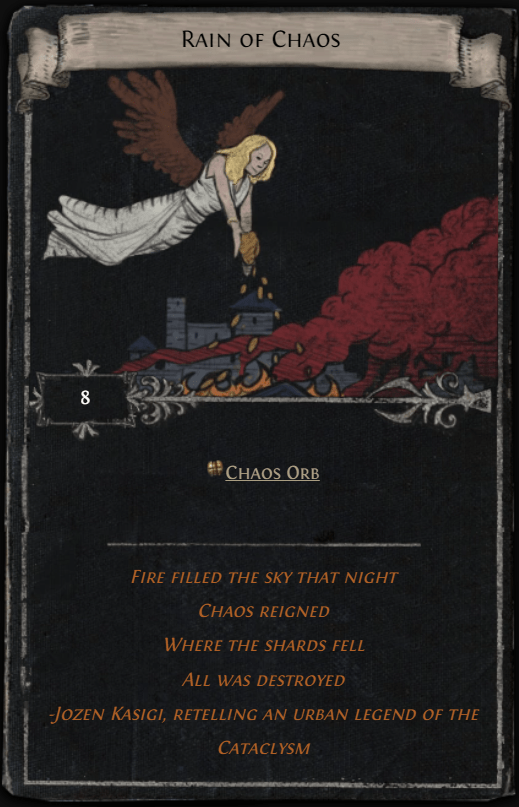 In the screenshot above, you can see one of many examples of Divination Cards you can farm for. In this particular case, you need to gather 8 of them to exchange for 1 Chaos Orb.
Participate in Leagues and Events
League mechanics and events often introduce unique rewards, including Chaos Orbs. Engage actively in league content to complete challenges and earn these rewards. Staying informed about the league mechanics and the available rewards will help you maximize your Chaos Orb gains while exploring new content.
Those players who are aware of this feature usually go for Expedition, the mechanics added back in the 3.15 patch. At the onset of each new league, an opportunity arises to engage in targeted monster farming across designated locations. To partake in this endeavor, you must strategically position explosives in proximity to remnants and Runic Monster markers. Upon vanquishing all adversaries within your path, your efforts shall yield a bountiful assortment of valuable loot as your just reward.
Conclusion
Fellow adventure seekers, this brings us to the end of our PoE Chaos Orb farming guide. In the ever-evolving landscape of Path of Exile, the strategies and methods for Chaos Orb farming are subject to change with each update. As you embark on this journey of accumulation and mastery, remember to adapt, learn from the community, and always stay informed about the latest strategies and opportunities for amassing Chaos Orbs in PoE.
F.A.Q.
What are Chaos Orbs in PoE?
Chaos Orbs are used to reroll the characteristics of a chosen Rare piece of gear. Its another use lies in the fact that you can trade it for powerful items when trading with vendors.
Why are Chaos Orbs so valuable?
The answer is simple – it is the most versatile currency you can find in PoE. Chaos Orbs are used literally for anything you can only think of, starting from buying stuff and ending up with rerolling modifies, adding mods in the crafting bench, and so much more.
What is a Chaos Orb worth PoE?
It is practically impossible to predict the Chaos Orb worth at the beginning of a new league. However, we can suggest it is going to be 100 Chaos Orbs = 1 Divine Orb.
How do you farm Chaos Orbs PoE?
Currently, you can farm Chaos Orbs by using the following methods:
Efficient Map Clearing;
Item Farming;
Currency Drops and Item Flipping;
Crafting and Selling Items;
Vendor Recipes;
Farming Divination Cards;
Participate in Leagues and Events.
Where to get Chaos Orbs PoE?
The most straightforward methods of getting Chaos Orbs are to slay monsters, open chests, and destroy containers you encounter while traveling.
How do you farm Chaos Orbs in Path of Exile?
You can sell ilvl 60+ items to vendors to get a Chaos Orb guaranteed. Additionally, you can farm Divination Cards, participate in league mechanics, and so much more.