Mastering the art of wealth and power in the ever-engaging world of Path of Exile requires a deep understanding of its intricate mechanics. Among the most coveted and sought-after resources within the game are Divine Orbs – mystical items with the ability to reroll the modifiers of the equipment.
In this PoE Divine Orb farming guide, we delve into the strategies, techniques, and insights that pave the way for a successful farming journey of this currency. Whether you are a seasoned exile or just embarking on your adventure, this text will illuminate the path to accumulating these invaluable orbs and harnessing their potential to elevate your gameplay.
IMPORTANT NOTE: At SkyCoach, you can also Buy PoE Boost at the lowest prices and with the fastest delivery. You can make your first purchase even CHEAPER if you find our special PROMO CODE (highlighted in green) hidden in this article and get a 20% DISCOUNT.
Check out some of our most popular
PoE Boosting services

below:
Why Are Divine Orbs Important?
Before we get straight to the topic and share the best way to farm Divine Orbs, let's figure out why this currency is so vital. As we have already mentioned, Divine Orbs are used to reroll modifiers on your gear. While it is a completely random process, it can only be done thanks to this currency. What's more important, you have a pretty decent chance to roll better characteristics.
You also have to keep in mind that Divine Orbs can only be applied to items of the following rarities:
Magic;

Rare;

Unique.
Before you rush into the game and try to get the best reroll, let us warn you about one thing. Divine Orbs are used to modify VALUES within a certain affix. So, you cannot jump higher than the set threshold. For example, you cannot get more than +55 Strength from rerolling the specific affix for Headhunter.
Recently, Divine Orbs have become an unspoken in-game currency among all players. There are 3 reasons for this:
Divine Orbs

CANNOT

be purchased from vendors;
Divine Orbs have an extremely low drop chance, which is about

0.055%

if you are just farming mobs;
A previously widespread currency,

Exalted Orbs,

was replaced with Divine Orbs in most crafting metamods.
All these and other smaller factors have made Divine Orbs' prices go higher and higher. Now, this currency is really expensive and a lot of players are trying to learn how to farm Divine Orbs in PoE effectively.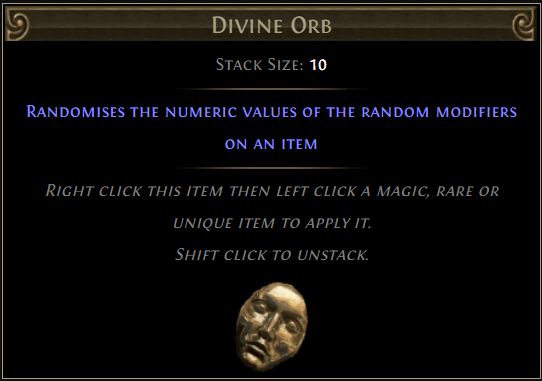 The Best Ways to Farm Divine Orbs PoE
In the following sections of our guide, we will cover all the possible methods you can use to make your Divine Orb farming smoother and quicker. However, before we begin, we would like to share the most efficient way of becoming richer in the game. BLOG20
By choosing SkyCoach, you can Buy Divine Orbs at the cheapest price. We can get as many Divine Orbs as you wish in the shortest time. On top of that, we guarantee the fastest delivery and always do our best to offer a fair price. Even at the league's start, you can rely on us and get a ton of this currency with no problem.
Mapping & Boss Farming
When asking the question of how to farm Divine Orbs in PoE, engaging in high-tier maps and targeting specific bosses can yield this currency as part of the loot drops. Completing maps with increased item quantity (IIQ) and item rarity (IIR) modifiers can increase your chances of obtaining valuable drops, including Divine Orbs. Bosses in certain maps, such as The Doctor in the Spider Forest map, have a higher likelihood of dropping Divine Orbs due to their rarity.
If you are tired of farming the same boss over and over again, here are a few more examples for you:
This is a unique map that leads to a challenging encounter with Atziri, Queen of the Vaal. Atziri is a multi-phase boss fight that demands strong mechanics and gear from players. Along with unique items and other valuable loot, Atziri has a chance to drop Divine Orbs. This makes her a popular target for farming Divine Orbs, especially for players who are looking for a particularly challenging encounter with the prospect of lucrative rewards;
This one is part of the Tier 16 Elder Guardian maps. Defeating the Guardian of the Minotaur in this map has a chance to drop valuable items, including Divine Orbs. The Minotaur boss is known for its formidable health pool and challenging mechanics, making the encounter both rewarding and engaging. Players who specialize in taking down the Elder Guardians often focus on farming these maps to obtain not only Divine Orbs but also other high-value items and map drops.
Delving into the Azurite Mine
Encounters in the Azurite Mine provide opportunities to obtain valuable items, including Divine Orbs. Delving into challenging areas can yield impressive rewards, as the deeper levels of the mine often contain more valuable loot. While delving requires Azurite and can be resource-intensive, it is a reliable method for obtaining Divine Orbs and other high-value items.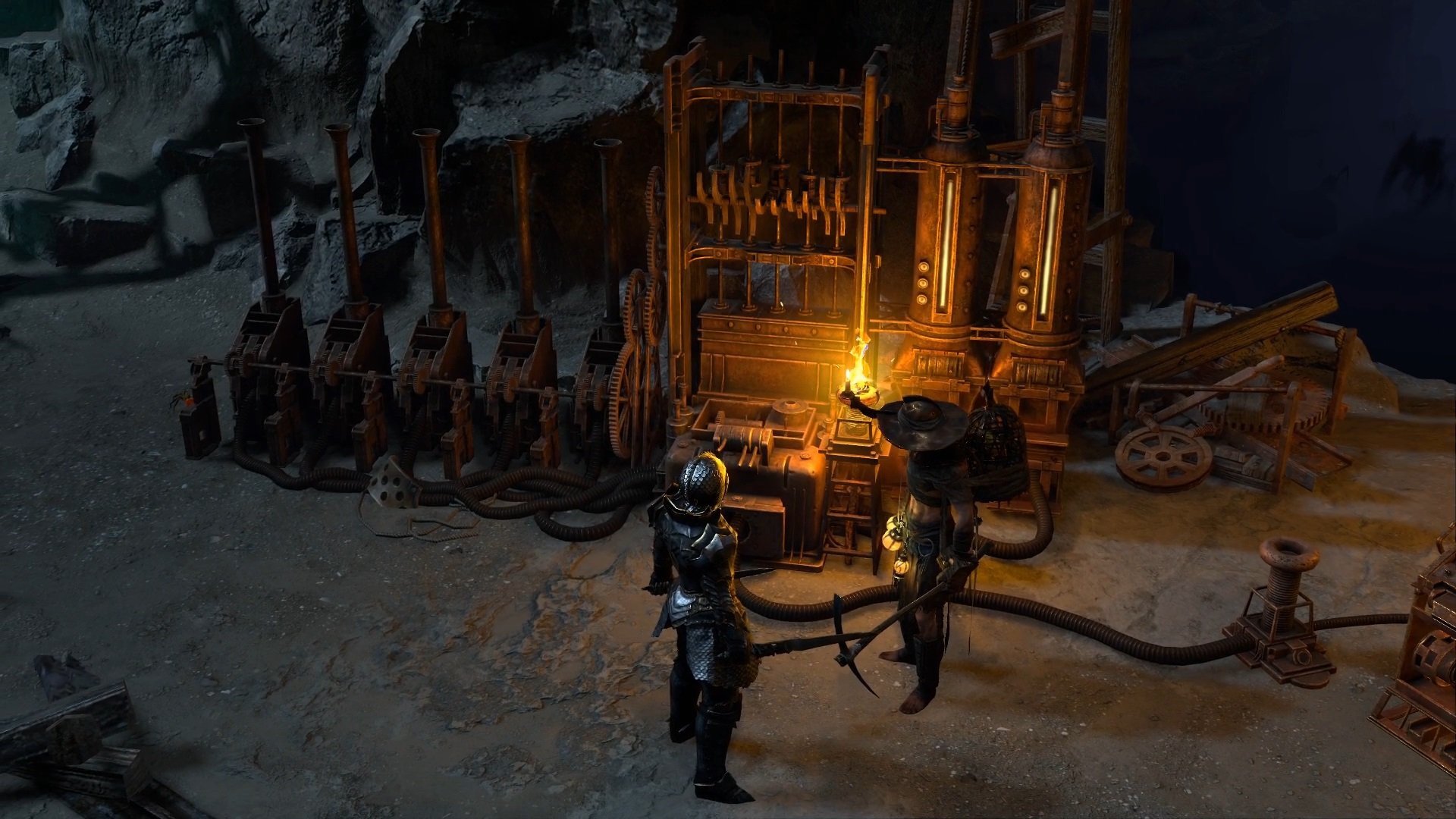 Endgame Conqueror & Maven Content
Another great method we would like to share when it comes to PoE Divine Orbs farm is Conqueror and Maven encounters. As you progress through the Atlas of Worlds and conquer each region, you will face the Conquerors of the Atlas – powerful bosses guarding the Watchstones that shape your endgame experience. These Conquerors have a chance to drop valuable items, including Divine Orbs.
Defeating them also contributes to the Maven's Invitation, a progression system that culminates in encounters against the powerful entity known as Maven. Successfully completing Maven's challenges and encounters can yield substantial rewards, with Divine Orbs potentially being part of the loot pool. Engaging with the Conqueror and Maven content not only offers Divine Orbs but also contributes to your mastery of endgame mechanics.
If you wish to get to the endgame sooner and see how you are coping with the most challenging activities, we have a solution for you. By ordering our PoE Powerleveling service, you can be sure our professional players will boost your character in a blink of an eye. We offer the best market price and guarantee the fastest completion time.
League Mechanics & Events
Depending on the current league mechanics or special events, certain activities may yield Divine Orbs or items that can be traded for them. Participating in league-specific content can provide unique opportunities for acquiring Divine Orbs.
An example of such mechanics is Expedition added back in the 3.15 patch. At the start of every league, you can farm monsters in specific locations. To do this, you need to place explosives around remnants and Runic Monster markers. After you have slain every enemy you encountered, you will be rewarded with valuable loot.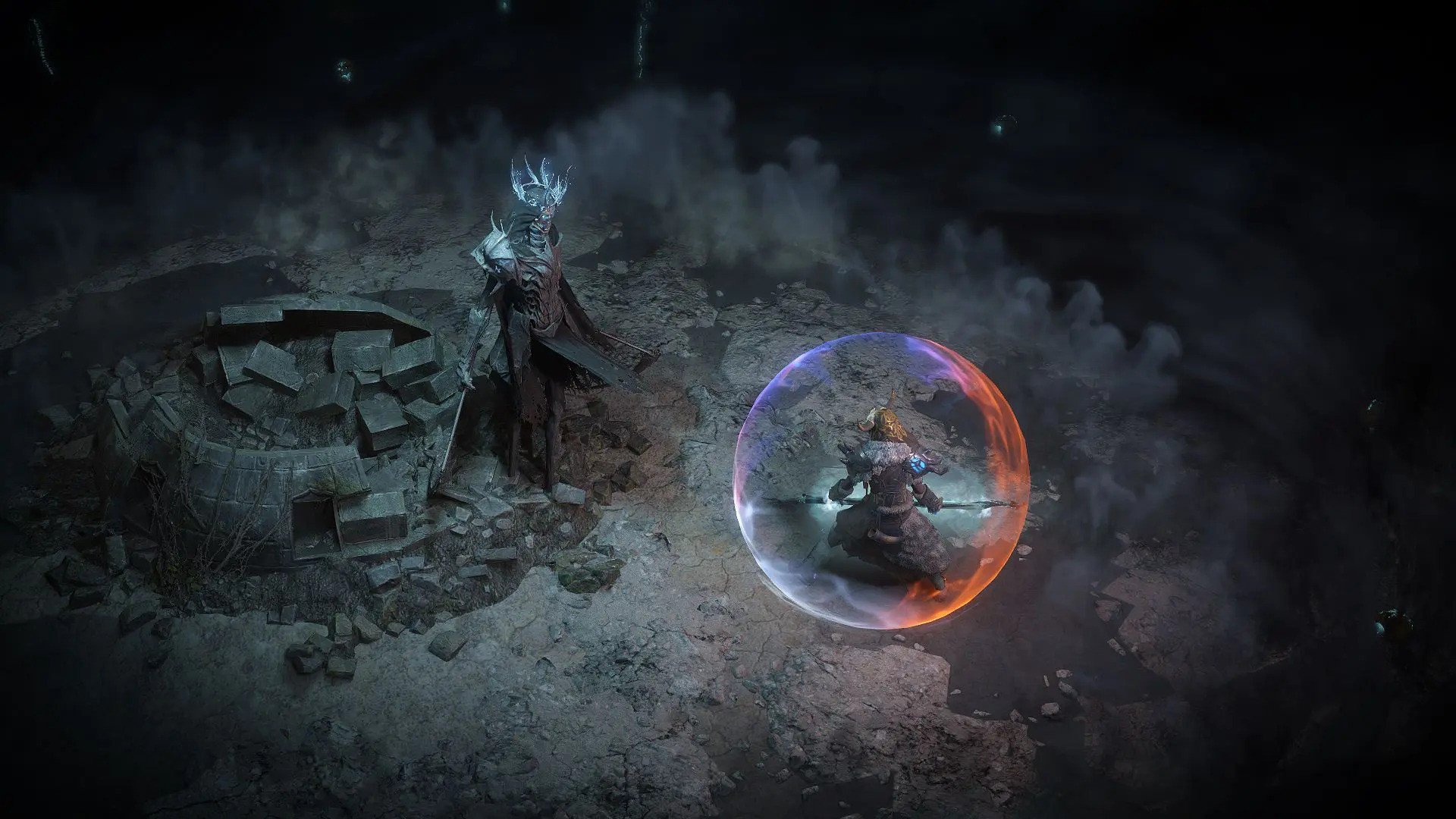 Farm The Sephirot
The Sephirot is a divination card that, when collected in sets of eleven, can be traded for a bundle of ten Divine Orbs. But a lot of players have no idea where they can get this card from. So, make sure to check the following table, answering this question.
| | | |
| --- | --- | --- |
| Crafting Material | Amount | Description |
| The Gambler | x5 | Random divination card |
| Stacked Deck | x1 | Random divination card |
| The Void | x1 | Random divination card set exchange |
The Sephirot also drops from certain monsters, namely:
Dominus, Ascendant;

Excellis Aurafix;

The Hallowed Husk;

The Hallowed Husk;

The High Templar.
Farm Prophecy Chains
Prophecies are unique quests that can be triggered by consuming Silver Coins. Some prophecy chains have Divine Orbs as a final reward. These chains often involve completing specific objectives or defeating certain bosses, leading to a guaranteed Divine Orb upon completion. By actively pursuing and completing these prophecy chains, players can ensure a consistent source of Divine Orbs, adding an element of predictability to their farming strategy.
Due to the predictability element, this might be one of the if not the most reliable sources of getting your hands on this currency. So, make sure to try this method if you are still wondering how to get Divine Orbs in PoE with a higher drop chance.
Boss & Unique Monster Farming
Certain bosses and unique monsters in Path of Exile have a higher likelihood of dropping valuable currency items, including Divine Orbs. Examples include unique map bosses like:
Elder Guardians;

Shaper's Guardians.
They can drop Divine Orbs alongside other valuable items. Identifying these high-priority targets and focusing on farming them can provide a reliable stream of Divine Orbs, especially when combined with modifiers that increase item quantity and rarity.
Trading for Divine Orbs
Trading is a fundamental aspect of the Path of Exile economy. Accumulating currency items such as chaos orbs, exalted orbs, and other valuable commodities enables players to engage in currency trading. By utilizing the in-game trade system or external trading websites, you can exchange your excess currency for Divine Orbs. Keeping an eye on the current exchange rates and market trends is crucial for optimizing your trades and obtaining Divine Orbs efficiently.
It is particularly difficult to predict the Divine Orb price you can buy it at the beginning of the league. However, we can assume it is going to be around 1 Divine Orb = 100 Chaos Orbs or around this mark. Do remember, this tendency can change every day or even more often. So, make sure to check the current exchange rates to buy Divine Orbs at the best prices.
At this point, you might wonder where you can get this number of Chaos Orb. Here comes SkyCoach again, as we are always there to help. You can Buy Chaos Orbs quickly and safely by using our services. We guarantee the cheapest price you can only find on the market and the fastest delivery time.
Crafting & Flipping Items
Engaging in crafting and flipping items involves manipulating the in-game economy to generate profit. Crafting high-demand items with specific modifiers or attempting to create valuable meta-crafting bases can lead to significant returns, including Divine Orbs.
Additionally, flipping items involves identifying undervalued items on the trade market and reselling them for a higher price. Successfully crafting or flipping items requires a keen understanding of market trends, item values, and crafting mechanics, making it a more advanced but potentially lucrative approach to obtaining Divine Orbs.
Conclusion
Fellow heroes, this brings us to the end of our PoE Divine Orb farming guide. Remember that Divine Orb farming, like any aspect of Path of Exile, requires a combination of patience, knowledge, and adaptation. The efficiency of each method can vary based on factors such as your character's build, gear, and the current state of the game's economy. Experiment with different approaches and adapt to the evolving game environment to maximize your Divine Orb acquisition potential.
F.A.Q.
What are Divine Orbs in PoE?
Divine Orbs are used to reroll the characteristics of a chosen piece of gear. It also acts as one of the in-game currencies you can buy various stuff for.
Why are Divine Orbs so valuable?
To begin with, Divine Orbs cannot be purchased from vendors and they have a super low drop rate when farming for them. On top of that, there are not that many sources you can get Divine Orbs from, and most of them require spending a ton of time just to get a bit of this currency.
What is a Divine Orb worth PoE?
It depends on the meta flow and the way the in-game market feels. However, we can assume that 1 Divine Orb = 100 Chaos Orbs in patch 3.22.
How do you farm Divine Orbs PoE?
Currently, you can farm Divine Orbs by using the following methods:
Mapping & Boss Farming;
Delving into the Azurite Mine;
Endgame Conqueror & Maven Content;
League Mechanics & Events;
Farm The Sephirot;
Farm Prophecy Chains;
Boss & Unique Monster Farming;
Trading for Divine Orbs;
Crafting & Flipping Items.
Where to get Divine Orbs PoE?
We have described every way you can get Divine Orb from in our article. Make sure to read it and you will find the method that suits you best.
How do you get rare Divine Orbs?
This currency drops from monsters, chests, and destructible containers. On top of that, we have enlisted a ton of other methods you can use to get Divine Orbs.
How do you farm Divine Orbs in Path of Exile?
You can farm the Sephirot, Prophecy Chains, and powerful bosses. These are only 3 of many methods we have described in our Divine Orbs farming guide.