Eternity's End
Finally, the new chapter of the Jailer's story is here! All Heroes of Horde and Alliance should make themselves ready for the new exciting journey through the ancient plane of Zereth Mortis in pursuit of the evil that Jailer is about to bring upon all existence.
The lands of Zereth Mortis stand out with their truly unique visual style unlike any other place in Azeroth or Shadowlands. The unearthly feeling of strangeness will bewitch anyone who steps upon the waters, sands, or meadows of this mysterious land. It may seem serene and full of infinite calmness at first glance, but beware, for the Jailer has already set foot here, and the evil things may creep around every corner.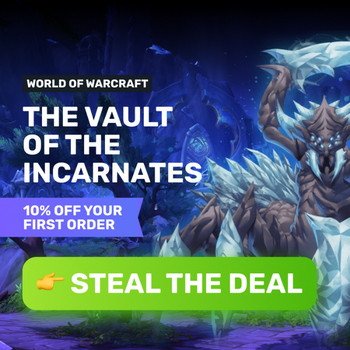 What to Expect in Patch 9.2?
In short terms – a lot. Blizzard's employee confirmed in interviews that Eternity's End Shadowlands will be the last season in Shadowlands. It's the grand finale if you will. But, by analyzing their sayings, there still could be more content to come.
Regarding WoW 9.2 Legendary changes, various interviews with the game developers reveal that any player will be able to wear a Covenant Legendary plus any other Legendary. Also, the new Legendary Currency will come from Zereth Mortis and not from Torghast as it was before.
Now let us speak about the main additions that are going to be present in the WoW Patch 9.2.
First, and most interesting, there'll be an obvious addition of the new Eternity's End raid content called the Sepulcher of the First Ones. There you'll finally face the Jailer and his minions and make an end to his evil reign.
Second, there'll be new beautiful gear sets with a clearly distinct appearance unlike anything released to the game before. Many players would be extremely glad to know that these sets will have two-piece and four-piece set bonuses. Yes, just like in good old times.
There will be a whole new region for you to explore and clear from Jailer's filth – the arcane Zereth Mortis, a place which is the inception of all existence, with a new faction of strange intelligent creatures called the Enlightened, not all of whom are quite believe that the Heroes of Azeroth are here to help them.
You'll also be able to collect scattered bits of lore and uncover the mysterious musical language of the denizens of Zereth Mortis which grant you access to a range of new activities, quests, events, and valuable rewards.
Other Changes
PVP Season 3;
Mythic+ Season 3;
New WoW 9.2 Dungeon among Mythic Keystone content - Tazavesh: this will be separated into two different dungeons as part of the Seasonal content;
Various 9.2 Professions WoW, Soulbinds, Conduits changes;
Dancing mini-game at the Darkmoon Faire;
New Mounts, Pets, quest lines, and more.
Unfortunately, for now, there is no information about WoW 9.2 class changes or Eternity's End buildings. But we will update this page as soon as new data is released.
Patch 9.2 Release Date
The first wave of hype around the upcoming WoW 9.2 update began on November 5, when the first bits of information became available at Blizzard CDN. Since then the rumors were beginning to spread across the community, but the exact release date still hasn't been confirmed.
So the only way we can discuss the WoW 9.2 release date is purely by speculating. Blizzard hasn't said a word. We can say though that usually, it takes about a month from the moment the first information became available to the actual release. This, of course, is not reliable information, but we can expect the patch to go live somewhere between late December 2021 and late January 2022. We will keep track of the news and let you know as soon as there is something to tell about the Shadowlands 9.2 release date.
Shadowlands Patch 9.2: Cinematic
There's a detailed cinematic with developers' commentary regarding all the incoming Shadowlands 9.2 changes. There isn't much information aside from what has been already said above. Bits of the story here and there, cool visuals, and developers' expressions about what you should expect from the upcoming update.
But you'd better see it for yourselves:
9.2 PTR Patch Notes
At last Shadowlands Eternity's End PTR build is live. For now, we can't say anything about class changes but one thing is certain – there are going to be a lot of huge and minor rebalances. But the most interesting of it is what are these new tier-bonuses are. Below we placed a more or less detailed description of them.
Death Knight
| | | | |
| --- | --- | --- | --- |
| Set-bonus | Blood – Endless Rune Waltz | Unholy – Harvest Time | Frost – Arctic Assault |
| Two-piece | Your Hearth Strike now increases your Strength by 1% and Dancing Rune Weapons' duration by 0.5 seconds. The effect lasts for 10 seconds after your Dancing Rune Weapon expires. | Every 5th Scourge Strike applies Soul Reaper on your target. This effect grants 20% attack speed increase to your pet for 10 seconds. | 8% Critical Strike increasing while Remorseless Winter is active. |
| Four-piece | If you parry an attack you'll automatically unleash a Hearth Strike and your Dancong Rune Weapon summons two Weapons instead of one. | An Army of the Dead ghoul summons whenever Soul Reaper's secondary effect is triggered. | Glacial Advance fires at your target by Consuming Killing Machine. |
Demon Hunter
| | | |
| --- | --- | --- |
| Set-bonus | Havoc – Deadly Dance | Vengeance – Burning Hunger and Rapacious Hunger |
| Two-piece | Blade Dance and Death Sweep damage increased by 20%. | Every bit for damage dealt by your Immolation Aura has a 10% chance to generate a Lesser Soul Fragment. |
| Four-piece | Every 5th Blade Dance or Death Sweep casting with no cost and cooldown. Every empowered Blade Dance or Death Sweep has a 15% chance to be free of cost with no cooldown. | Every consumed Lesser Soul Fragment grants you 2 seconds of Immolation Aura (or extends an existing Immolation Aura by 2 seconds). |
Druid
| | | | | |
| --- | --- | --- | --- | --- |
| Set-bonus | Balance - Celestial Pillar and Umbral Infusin | Feral - Hearth of the Lion and Sickle of the Lion | Guardian - Architect's Design and Architect's Aligner | Restoration - Renewing Bloom and Ephemeral Blossom |
| Two-piece | Every Lunar Eclipse creates a Fury of Elune with 25% effectiveness, which will follow your target for 8 seconds. | Berserk cooldown reduces by 0.5 seconds for each combo point spent. | Using Barskin activate Berserk for 4 seconds. | Swiftmend has an additional healing effect of [ 21% of Spell Power ] for each HoT on the target. |
| Four-piece | Starsurge and Starfall cost reduced by 20% while in an Eclipse. | At the end of Berserk you lacerate all enemies around you, dealing [ 700% Attack Power ] Bleed damage over 10 seconds. | While in Berserk, you radiate around you [ 45% of Attack Power ] Cosmic energy damage around you and heal yourself for [ 61% of Attack Power ] every 1 second. | Swiftmend heals 4 nearby targets for 25% of its healing effect. |
Hunter
| | | | |
| --- | --- | --- | --- |
| Set-bonus | Beast Master – Killing Frenzy | Survival – Mad Bombardier | Marksmanship – Focused Trickery |
| Two-piece | Each Frenzy stack of your pet has increased your Kill Command critical strike chance by 15%. | 40% chance of 100% cooldown reduction of your next Wildfire Bomb when your Kill Command resets. | Trick Shots also increase the damage of affected shots by an additional 30%. |
| Four-piece | Every critical strike of your Kill Command increases your next Cobra Shot's damage and cooldown reduction by 40%. | Wildfire Bomb's damage increases by 30%. The damage of Wildfire Bomb empowered by Mad Bombadier increases by 80%. | When you have spent 80 Focus you receive 2 charges of Trick Shots. |
Mage
| | | | |
| --- | --- | --- | --- |
| Set-bonus | Arcane – Lucidity | Fire – Fiery Rush | Frost – Frost Storm |
| Two-piece | Increases all Arcane damage against enemies affected by Touch of the Magi by 18%. | Combustion duration increased by 2 seconds. | With active Icy Veins all your spells have a 25% chance to unleash a Comet Storm upon your target. This cannot happen more than once in 30 seconds. |
| Four-piece | If you consume 8 Clearcasting your next Touch of the Magi will be instant, will last 6 seconds, and incur no cooldown. | While your Combustion is active you're burning for 2% of your maximum health every 1 second, but your Fire Blast and Phoenix Flames recharge 100% faster. | If your Comet Storm hits an enemy, this enemy will take 2% increased damage from your Frost Spells, up to 10%, for 8 seconds. |
Monk
| | | | |
| --- | --- | --- | --- |
| Set-bonus | Brewmaster | Mistweaver | Windwalker |
| Two-piece | Igniting a target with your Breath of Fire causes it to deal 4% less damage to you. | Residual healing effect of your Essence Font lasts 2 seconds longer. | Fists of Fury damage increases by 40%. |
| Four-piece | Breath of Fire makes your next Tiger Palm or Blackout Kick, which increases Shuffle duration and Brew cooldown reduction by 100%. | Consuming Thunder Focus Tea summons a Progenitor Rune of Healing, which buff all healing inside its area of effect by 123. | Every 11th, 12th, and 13th offensive abilities deals additional damage. |
Paladin
| | | | |
| --- | --- | --- | --- |
| Set-bonus | Holy – Dawn Will Come | Retribution – Ashes to Ashes | Protection – Glorious Purpose |
| Two-piece | Word of Glory causes a double-cast of Light of Dawn, which heals 50% more. This cannot happen more than once in 30 seconds. | Every buff from Art of War gives you Seraphim for 2 seconds. | Shield of Righteous increases your block chance by 4% for 15 seconds up to 3 times. |
| Four-piece | Each target, affected by Light of Dawn reduces the cooldown of Avenging Wrath by 2 seconds. | Art of War has a 50% chance to reset the Wake of Ashes cooldown. | If you block an enemy's attack with a 33% chance you'll strike him with Judgment. |
Priest
| | | | |
| --- | --- | --- | --- |
| Set-bonus | Shadow – Darkened Mind and Living Shadow | Discipline – From Dusk and Til Dawn | Holy – Knowledge and Conversation |
| Two-piece | Gives you an additional 15% chance to trigger Dark Thoughts from each Shadow DoT on your targets. | Power Word: Shield and Shadow Mend with a 15% chance make your next Shadow Mend instant cast with no cost. | Holy Words begin Divine Conversation, which increases the cooldown reduction of the next spell affected by Hole Words by 15 seconds. |
| Four-piece | After you consume Dark Thought you animate your shadow for 8 seconds. Your shadow will follow you and deal [ 138.4% of Spell Power ] Shadow damage to your target. | Casting of Power Word: Radiance triggers the Power of the Dark Side, which causes a 45% increase in the effectiveness of Penance. | Divine Conversation also increases the effectiveness of the next spell affected by Hole Words by 35%. |
Rogue
| | | | |
| --- | --- | --- | --- |
| Set-bonus | Assassination – Grudge Match | Outlaw – Tornado Trigger | Subtlety – Immortal Technique |
| Two-piece | With Shiv's debuff your Bleeds now have a 25% critical strike chance for 9 seconds. | With a 25% chance you'll fire a Pistol Shot after using Main Gauche. | With a 20% chance your Shadowstrike grants you Shadow Blades for 5 seconds. |
| Four-piece | Vendetta increases your Poisons and Bleeds expire rate by 100%. | With a 50% chance your Pistol Shot loads up to 6 Hidden Bullets. After the sixth Hidden Bullet your Between the Eyes resets its cooldown and will cost no energy. | With a 4% per combo point chance any of your finishing moves cast Shadowstrike at up to 5 enemies around you. |
Shaman
| | | | |
| --- | --- | --- | --- |
| Set-bonus | Restoration – Heal the Soul | Elemental – Fireheart | Enhancement – Stormspirit |
| Two-piece | If you cast your Chain Heal on a target affected by your Riptide, Chain Heal's critical strike chance increases by 30% for all affected targets. | With active Fire Elemental your Lava Burst damage increased by 20% and you gain Lava Surge every 8 seconds. | Every Maelstrom Weapon stack spent gives you a 3% chance to summon a Feral Spirit for 9 seconds. |
| Four-piece | Every Chain Heal's critical hit reduces the remaining cooldown of your Spirit Link Totem by 2 seconds. | Using Lava Burst increases your Fire Elemental duration by 1.5 seconds. While Fire Elemental isn't active, spending Maelstorm with a 20% chance reduces Fire Elemental's remaining cooldown by 10 seconds. | Feral Spirit triggers Stormbringer, which resets the cooldown of your Stormstrike, with a 20% chance per attack. |
Warlock
| | | | |
| --- | --- | --- | --- |
| Set-bonus | Destruction – Ritual of Ruin and Avatar of Destruction | Demonology – Ripped for the Portal and Malicious Imp-pact | Affliction – Deliberate Malice and Calamitous Crescendo |
| Two-piece | Rain of Fire or Chaos Bolt with a 20% chance makes your next Rain of Fire or Chaos Bolt free. | Your Call Dreadstalkers with 100% chance summon an additional Dreadstalker. | Your Malefic Rapture damage is increased by 15% with each cast extends the duration of your Corruption, Agony, and Unstable Affliction by 2 seconds. |
| Four-piece | After using the empowered Rain of Fire or Chaos Bolt you summon an Infernal for 8 seconds. | With a 5 % per Soul Shard chance your Hand of Gul'dan summons a Malicious Imp. After death, this creature gives you a Soul Shard and deal [ 19% of Spell Power ] damage to all enemies around your or to your current target. | As long as your Corruption, Agony, and Unstable Affliction are active your Shadow Bolt with a 20% chance makes your nest Malefic Rapture cost no Soul Shard and instant cast. |
Warrior
| | | | |
| --- | --- | --- | --- |
| Set-bonus | Protection – Outburst | Arms – Pile On | Fury – Frenzied Destruction |
| Two-piece | You get a stack of Outburst for every 30 Rage spent. When you have 8 Outburst stacks your next Shield Slam or Thunder Clap effectiveness increases by 200% and Ignore Pain effectiveness by 50%. | The duration of your Colossus Smash and Warbreaker is increased by 3 seconds. | Increases the damage of your Raging Blow and makes it give you an additional charge. |
| Four-piece | When using Avatar you instantly get 8 Outburst stacks. Also, Avatar increases your damage output by an additional 10%, and incoming damage decreases by 10%. | Every 75 consumed Rage increases your next Colossus Smash or Warbreaker effectiveness by 2%, up to 10%. | Now your Raging Blow gives you Recklessness with a 20% chance. |
Note that all the information listed above are still may be changed and is no more than just a PTR build. You may notice that here and there it is incomplete or not entirely self-explanatory. We will change it as soon as new information becomes available.