Fellow heroes, the long-awaited Mage Tower challenge has become available in the 10.0.5 patch once again. This in-game activity offers players to complete 7 boss encounters and get unique rewards for that. Keep in mind that the boss you are going to face depends on what role your specialization executes.
To test yourself, find War Councilor Victoria at Deliverance Point and talk to her to start the challenge. If you wish to shorten the traveling time, just use Dalaran Hearthstone.
Speaking of Guardian Druid Mage Tower in Dragonflight, it is not that different compared to previous expansions. You still have to defeat the same boss on your own and survive throughout the encounter. The only difference is that you are going to use new gear, talents, and so on.
Guardian Druid Mage Tower Challenge Info
The challenge you are going to face is called The Highlord's Return. The latter represents an encounter where you are to defeat two main bosses. It is one of the most difficult in-game activities since you have phases to pass. Once the battle starts, you are to slay Inquisitor Variss and a variety of annoying mobs he summons. Slaying him starts the second and final phase where you fight against Highlord Kruul.
The main encounter's difficulty is remaining on the platform. Both bosses and their assistants will try to throw you off of it. Luckily, you are not and their mob army alone. There will be Velen and Kor'vas Bloodthorn to help you. The first NPC summons Holy Ward every 30 seconds, which lets you heal to full and get rid of all negative effects.
Besides, it disorients all enemies (including the boss) for 5 seconds. The second NPC does nothing apart from a small amount of damage. To pass this encounter successfully, both of them should stay alive or you will have to give it another shot. You can see the way Holy Ward looks like in the screenshot below:
This challenge is one of the hardest in the game. Passing it successfully requires you to watch what debuffs you are suffering from, move constantly, and maximize your damage output. Keep reading further to learn what Guardian Druid Mage Tower strategy works best against each boss.
If you also enjoy other in-game activities like Raiding or Mythic+ content, then you know how difficult it can be to slay a particular boss or pass a certain level. However, these activities are your only way to acquire unique gear that will help you in Mage Tower. If you wish to get it guaranteed, Buy WoW Boost from our company. The team of professional players will take care of any Raid or Dungeon for you. The only thing for you left to do is to enjoy the loot.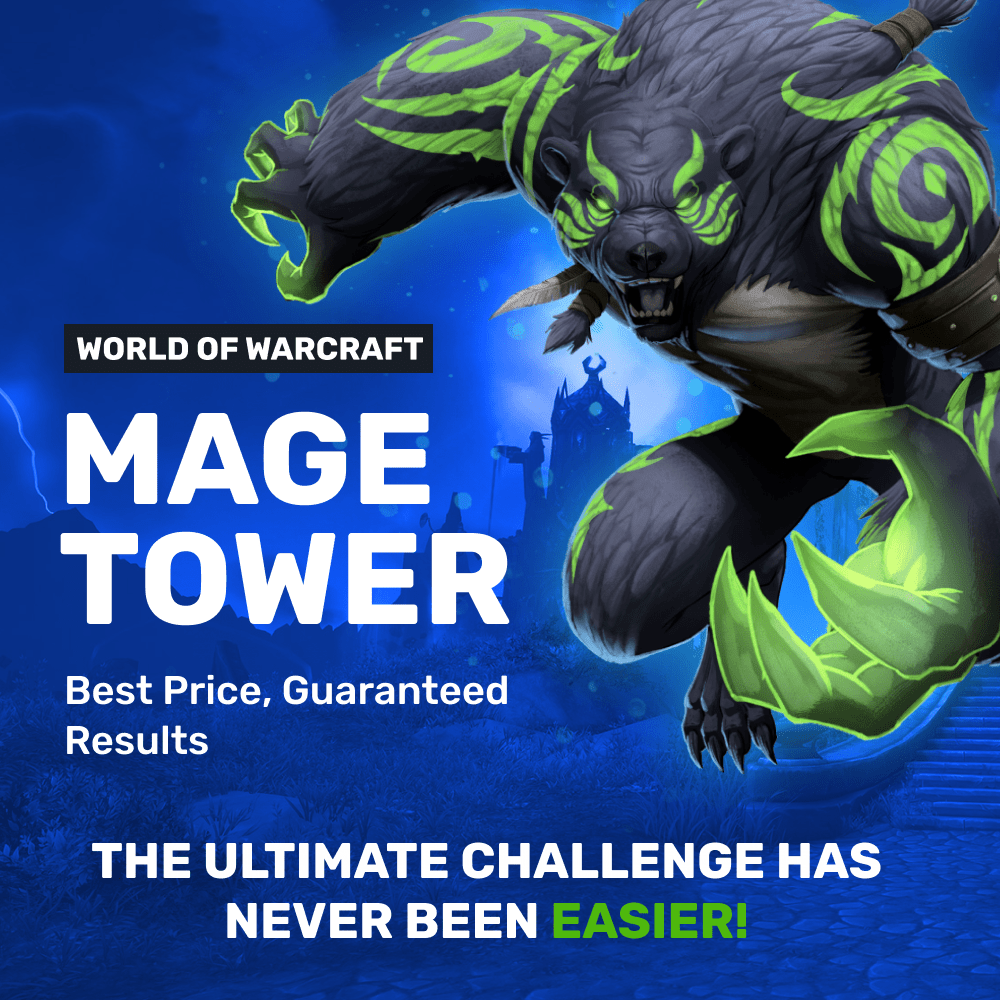 Best Gear for Guardian Druid Mage Tower
As for the equipment you should wear, there are no mandatory gear pieces. The biggest upside of the Mage Tower challenge is that all players become more or less equal when passing it. It is done by downscaling your gear to ilvl 120. On top of that, your character will become level 45 while completing the encounter.
Keeping that in mind, your equipment level does not matter at all. However, the stats it provides is what actually influences your chances of winning the encounter. The same goes for your character's level. You do not have to hit the level's cap to take part in Guardian Druid Timewalking Mage Tower since you will temporarily become level 45 again.
Unlike in previous expansions, you do not have any obviously overpowered items that make the challenge too easy. Here, we are talking about Luffa Wrappings, of course. The latter is not going to work anymore meaning you should pass Guardian Druid Mage Tower without Luffa. Despite this, your Thrash talent still remains your primary weapon in this challenge.
Speaking of what Guardian Druid Mage Tower gear we recommend, it should be Vault of the Incarnates Best in Slot Gear. Let us remind you once again, it is not mandatory to have the full set. You should just wear those parts you can get your hands on. If you have none of the equipment pieces mentioned in our table, try passing the challenge with the gear you currently have. Though make sure you focus on Haste and Versatility stats over others. It will greatly help you complete the challenge with minimum attempts.
While the Raiding set is more or less possible to collect, we cannot say the same about the Mythic+ one. In fact, you do not really need that powerful equipment to complete this challenge. The latter is more about your personal skills and how you can deal with multiple enemies on your own.
Up next, we are going to focus on Guardian Druid Mage Tower Trinkets since they are an indispensable part of your equipment. The best trinkets for us are the ones that increase stats or allow us to deal extra damage. Check out the following table to choose the most suitable alternatives for you.
If you decide to go for collecting the Raiding equipment pieces, you will always have to rely on your party members. It means you cannot be completely sure you are going to get the desired items. To ensure your victory and save your time, you can order our WoW Raid Boost services. Our professional players will take care of any boss for you. We offer reasonable prices and guarantee the result.
Guardian Druid Mage Tower Best Enchants & Gems
In this part of our Guardian Druid Mage Tower guide, we are going to focus on what enchantments and gems you can use. They are a crucial part of achieving victory, as they provide you with tons of extra stats. Keeping in mind the fact that the gear level does not mean anything, this is what you need to succeed.
Equipment Slot

Best Alternative

Provided Bonus

Weapon
Sophic Devotion
Grants you a chance of gaining extra

Agility.

Cloak
Homebound Speed
Noticeably increases your

Speed,

which is what you need to stay on the platform.
Chest
Waking Stats
Permanently increases your

Agility

to deal more damage.
Bracers
Devotion of Speed
Just like the cloak's enchant, it radically boosts your

Speed

to stay on the platform.
Legs
Fierce Armor Kit
Gives you a bit of

Stamina

and

Agility

to survive longer and deal more damage.
Boots
Watcher's Loam
Boosts your

Stamina

to let you stay alive longer.
Ring
Devotion of Versatility
Significantly boosts your

Versatility,

the stat you need most during this encounter.
As you can see, most items are aimed at increasing your Agility (primary stat), Speed, and Stamina. These are the stats you need to deal maximum DPS, move faster around the platform, and survive for as long as it is necessary.
Up next, we have the Guardian Druid Mage Tower recommended gems that include the following items:
No matter what gear you choose to use, you will have to spend some time farming it. However, there is another way for you to get it. Buying WoW Gold from our company is the safest and easiest way to afford the best in-game equipment. We offer fair prices and guarantee the fastest delivery time. No matter what server you are playing on, we are here for you.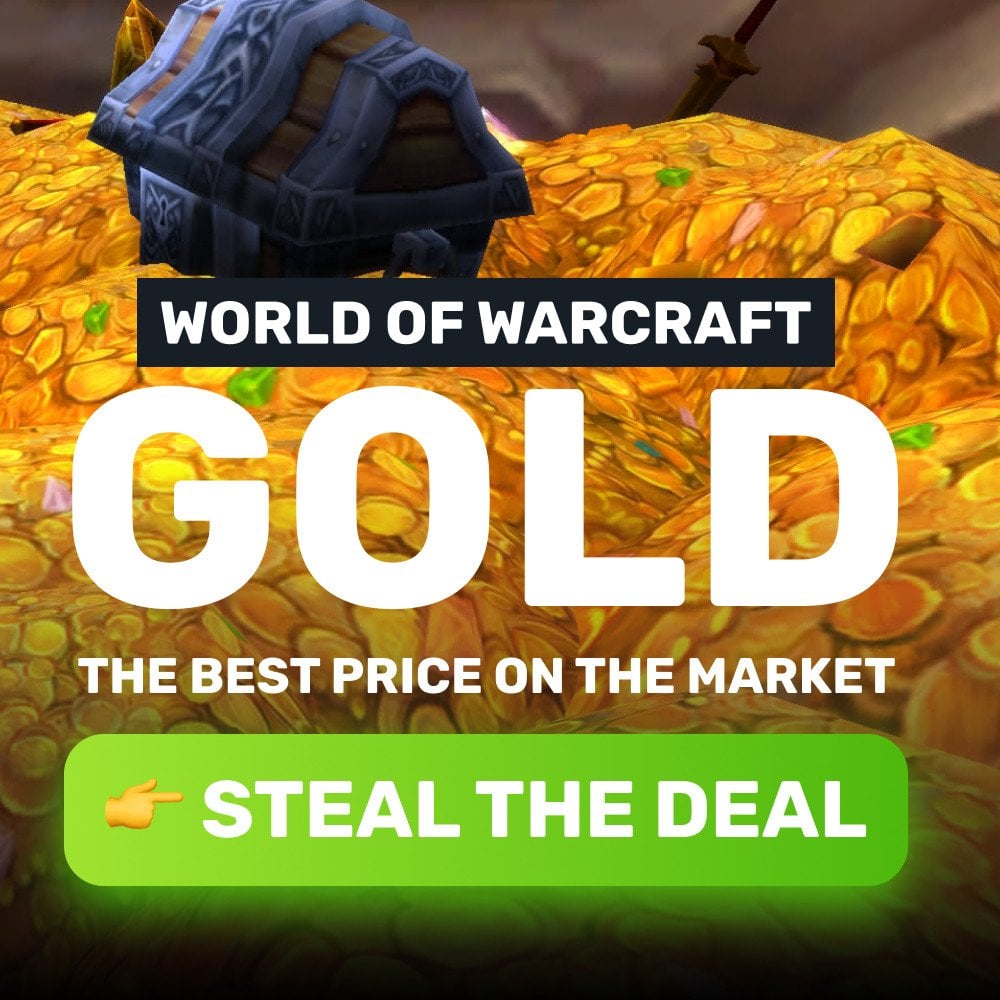 Guardian Druid Mage Tower Best Consumables
Succeeding in the Mage Tower challenge is impossible if you do not use the right consumables. We have prepared the following list to help you achieve victory with minimum attempts.
Guardian Druid Mage Tower Best Talents
You are going to fight the same boss as in previous expansions, however, the new Dragonflight talents system offers a lot of freedom for your talent choices. Of course, you can try your own variations to see what works better for you. However, the recommended talents for Guardian Druid Mage Tower in the 10.0.5 patch look as follows:
You can import this build directly in the game using the following code:
BgGAAAAAAAAAAAAAAAAAAAAAAAAAAAAAAAAAAAAJSiEkIkkkkiESShCASCCSgkkkIJSBQCAAAAAgIgoAA
This is the optimal set of talents for this particular encounter. It combines decent damage output and survivability. To get all of them, you need to reach a particular level. If you are tired of leveling up on your own and would like to save your precious time, we have you covered. By ordering our WoW Powerleveling services, you can be sure your character will be boosted in a blink of an eye.
Inquisitor Variss Fight Strategy
When you enter the platform, Phase 1 of the challenge begins. Here, you are to defeat Inquisitor Variss and 3 types of mobs he constantly summons. His main abilities are Aura of Decay, Drain Life, and Mind Rend. The first two are especially dangerous since you cannot allow yourself to have more than 5 stacks of Aura of Decay. On top of that, you should immediately interrupt his Drain Life or he will heal to full.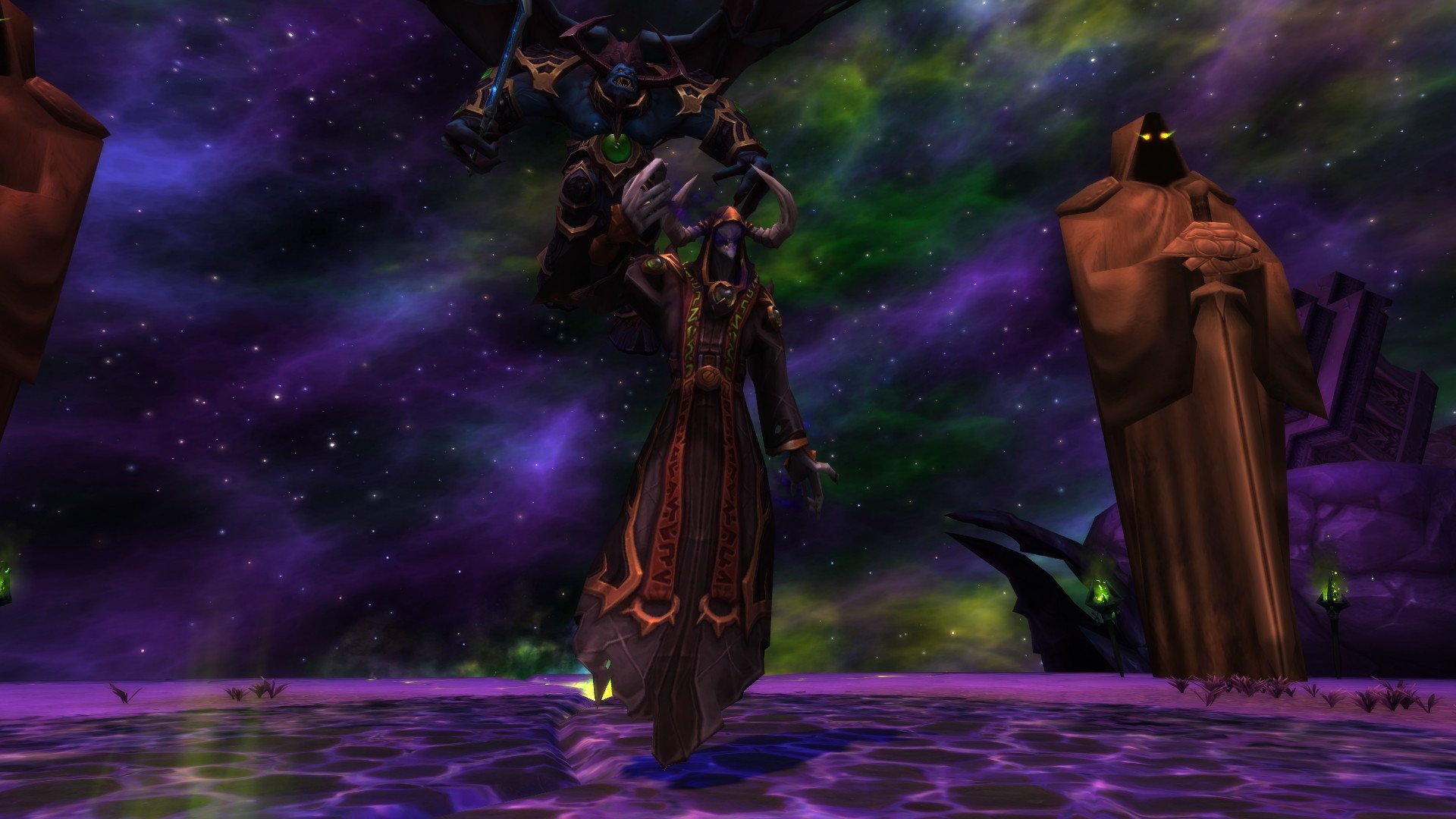 Apart from the boss, you are going to fight Tormenting Eye. This mob can hardly be called dangerous, as it has low HP and is relatively easy to kill. However, you should beware of the Inquisitive Stare ability. The latter can knock you off the platform if you do not face the mob at the end of the cast. Besides, these mobs are immune to physical damage. Therefore, you should use your Moonfire to deal with them quicker.
Up next, we have Smoldering Infernal who can also knock you off the platform with Smash. This mob is also easy to deal with since it has the Fel Resonation debuff that constantly deals damage to the mob itself. You just have to make sure you avoid his main's ability to stay on the platform.
Nether Horror is probably the most dangerous mob you can face during Phase 1. The reason for this is they immediately try to deal damage to Velen when they spawn. Luckily, they have low HP and the entire pack can be easily cleaved down.
Other Guardian Druid Mage Tower tips you should use to pass Phase 1 successfully include:
Do not hesitate to use Holy Ward to interrupt the boss' Drain Life if your own interrupts are on cooldown;
Mind Rend is usually not worth spending your interrupts on;
Protect Velen at any cost;
Deal with smaller mobs before attacking the boss again.
Generally, Phase 1 is all about testing your dodging skills and watching what debuffs you have. It is relatively easy to pass after you make several attempts and see how the strategy works.
Highlord Kruul Fight Strategy
Once you defeat the first boss, Highlord Kruul will fly down to the platform. Once this happens, Tormenting Eye will not spawn. At the same time, two other mob types will stay around. The boss' main abilities are Annihilate, Netherstomp, and Twisted Reflection.
The last one is especially dangerous, as it heals Kruul and should be immediately interrupted if you wish to win this battle. Interrupting it is the answer to the question of how to do the Mage Tower as Guardian Druid since it regenerates an immense amount of the boss' health.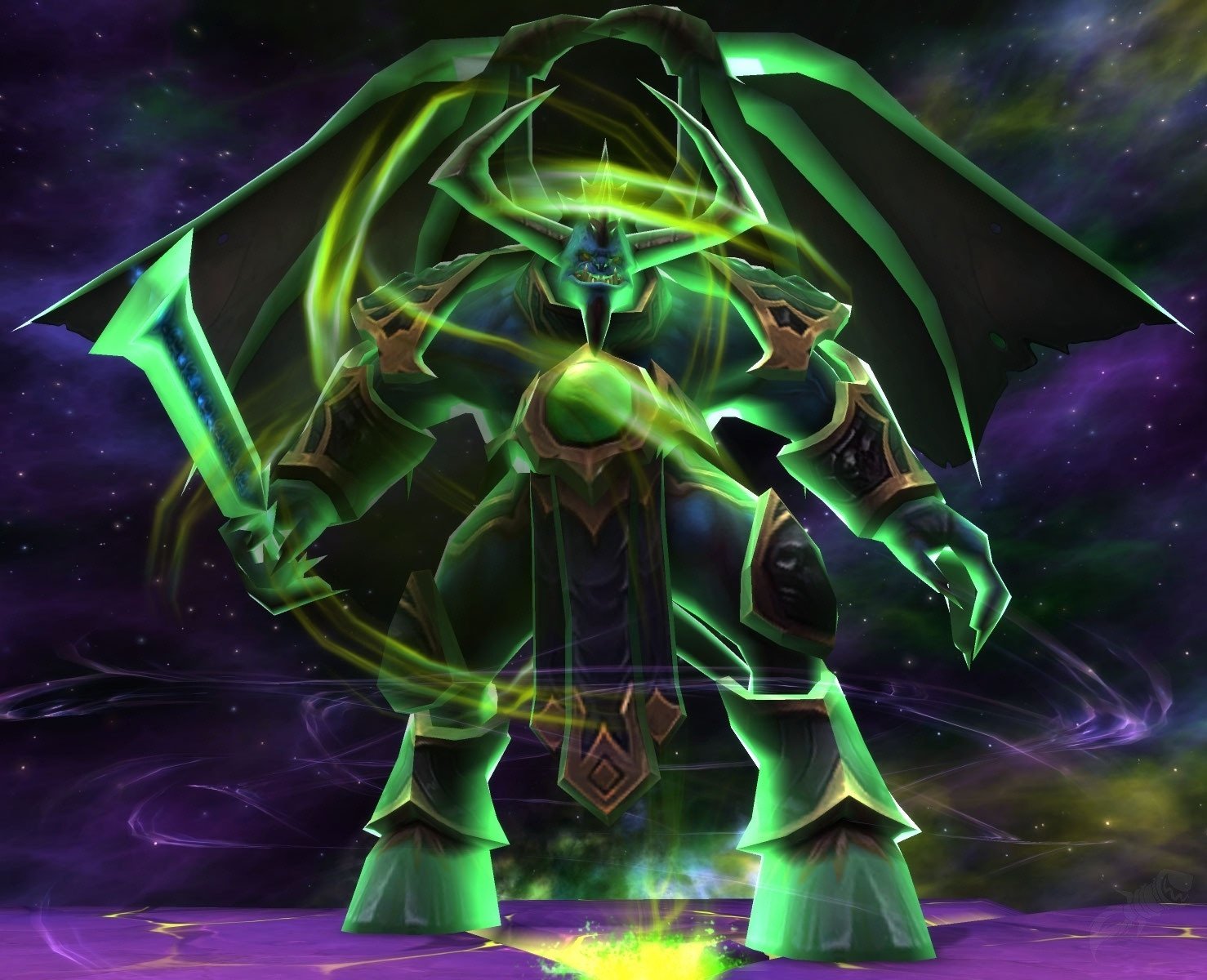 On top of that, you should stay away from purple beams that randomly appear around the boss. Getting hit by them slows you down and starts pushing you off the platform. The abilities that influence your movement speed can help you deal with the debuff. However, it is highly recommended to avoid these beams completely.
Here are a few tips you can use to pass Phase 2 successfully:
Annihilate stacks can become a real pain during this encounter. We highly recommend that you use Holy Ward to reset these stacks. Otherwise, you will start taking too much damage from the boss, especially if the fight lasts too long;
Do not forget to kill Nether Horror to save Velen;
Avoid Netherstomp not to get kicked out of the platform;
Speaking of the possible Guardian Druid Mage Tower nerf, it is unlikely to happen. Despite being one of those specializations that complete this challenge relatively easily, there are other classes that are no worse. In fact, some of them prove to be even stronger.
Guardian Druid Mage Tower Rewards
Upon successful completion of this encounter, the lucky ones will receive a transmog set. The latter depends on what tank spec you have used to pass the challenge. However, the majority of players hunt for a special Guardian Druid Mage Tower appearance. It is called Fel Werebear Druid Form and looks amazingly cool.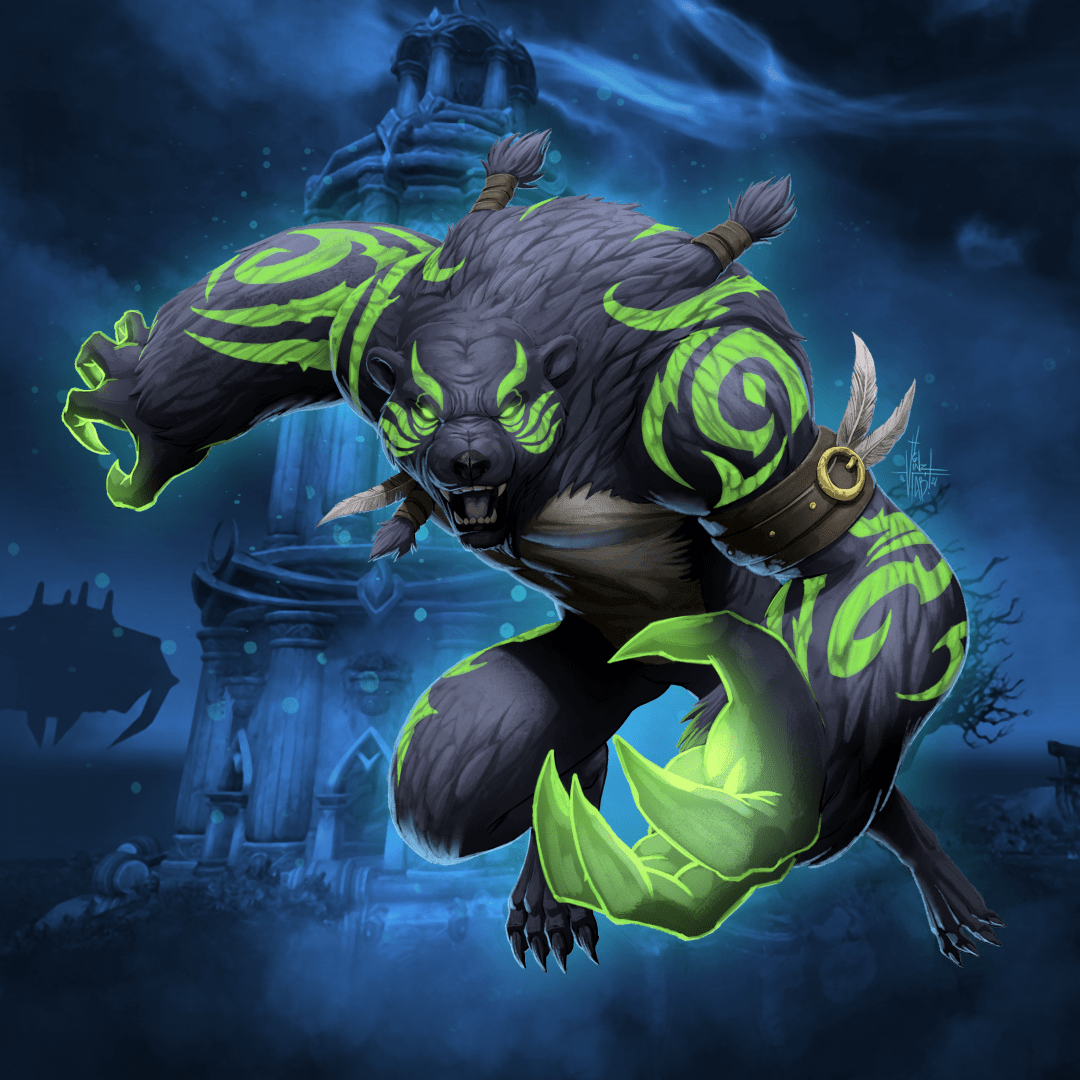 It changes the way your character looks and proves the fact that you have managed to complete one of the toughest in-game challenges. As an extra bonus for passing all 7 encounters of Mage Tower, you can get Soaring Spelltome. The latter is a special mount that looks like an open book your character stands on.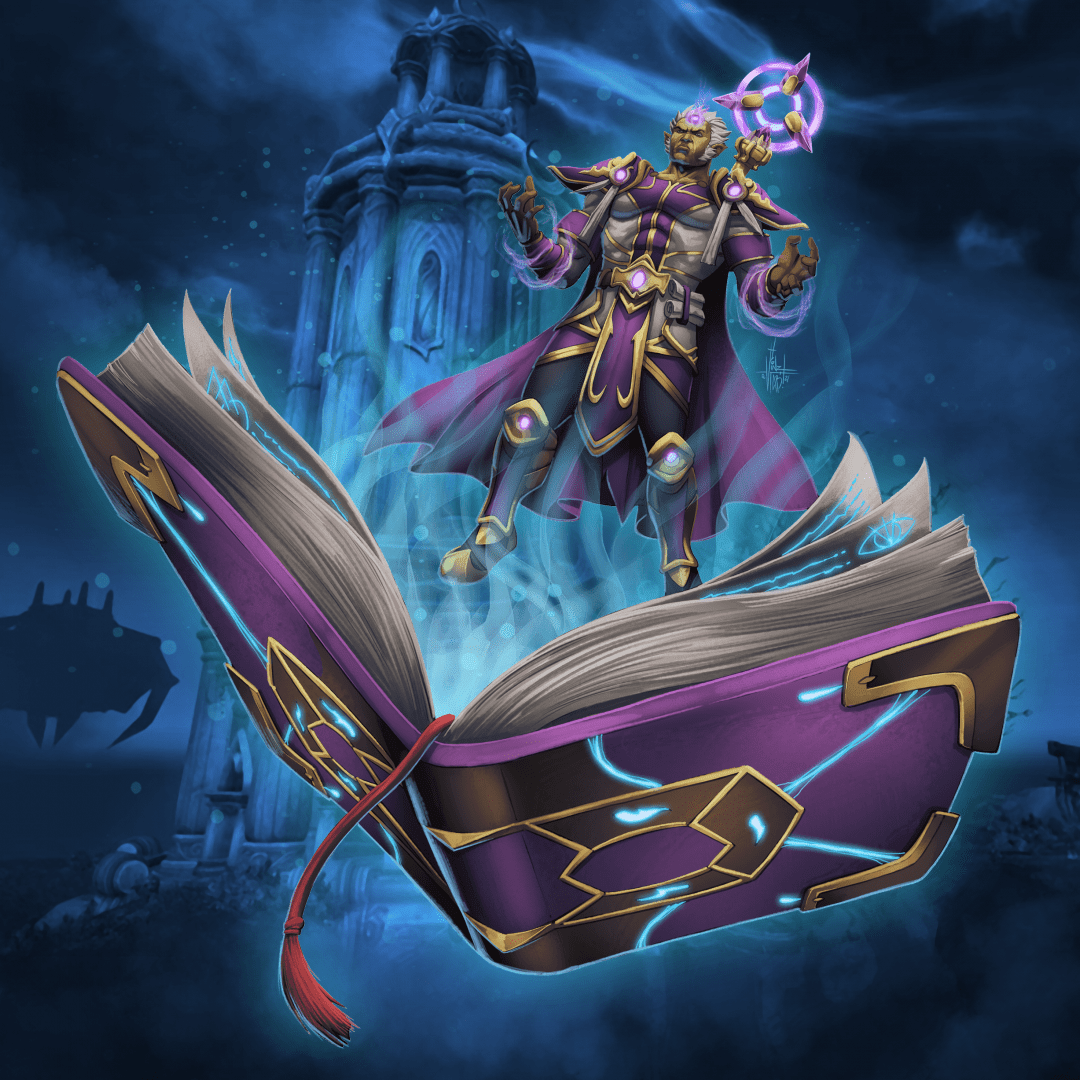 It is not that easy to get and only a few players can have it. If you wish to unlock all the rewards faster than anyone else, we have the solution for you. By ordering our Timewalking & Mage Tower Boost, our professional players will pass any challenge for you. All you are left to do is to enjoy the rewards.
SkyCoach Boosting & Coaching Services
The SkyCoach company is a team of professionals that is constantly working hard to let you enjoy the game. We offer a variety of boosting and coaching services to allow players to experience the game in a true manner. Instead of endless grinding and farming, you can do things you actually like and still do not lag behind others.
We have been on the market for more than 5 years and have thousands of satisfied clients. Our specter of services covers not only World of Warcraft. We can help you get better at other popular online titles. On top of that, our company offers reliable deals only and guarantees the lowest price.
Earlier in this article, we mentioned the way we can help players with their Raiding issues. As for the Mythic+ content, we feature a similar service. You can order our Mythic Carry boost to let our pro players take care of any dungeon for you. It is a good choice if you are never lucky with a team and cannot clear a particular dungeon on your own.
Conclusion
This marks the end of our guide. The entire WoW community is absolutely happy with the fact this in-game activity returns in the latest expansion. It is a perfect opportunity for you to gather unique rewards and see how well you perform in a particular encounter. We hope you have learned a lot of tips and tricks concerning the Guardian Druid Mage Tower challenge. Stay with us, as we will keep updating this article if any changes occur.
F.A.Q.
What reward do Guardian Druids get from Timewalking Mage Tower?
Apart from class-specific sets and a unique mount, all Guardian Druids are hunting for Fel Werebear Druid Form. It completely changes the way your character looks when shapeshifted.
What are the best Guardian Druid talents for Mage Tower?
To get an answer to this question, make sure to read a separate paragraph in our guide. We have shared the list of talents that work perfectly in this particular encounter.
How do you increase damage as Guardian Druid in Mage Tower?
No matter what boss you are fighting, you strongly rely on your bleeding abilities. Make sure to stack maximum charges of this debuff before retreating from the enemy and fighting surrounding smaller mobs.
Is Guardian Druid good for Mage Tower?
It is one of the most powerful tanks in the game. If you know this spec's essentials, you can easily beat both bosses and receive the desired reward.