As for now, players wonder how to level their characters up in the quickest way possible. In this Dragonflight leveling guide, we will provide you with detailed information. The following steps will help you reach level 70 in a blink of an eye. Make sure to read it to the end to be ahead of others once the expansion is out. Remember, this guide will be updated every time a new method of quick leveling is discovered. Stay tuned and you will learn everything about the upcoming expansion.
Why Fast Leveling in Dragonflight Is Worth It
While it may seem that playing for fun is what makes WoW a perfect game, it has a lot to offer for try-hard players. Leveling faster than others is what pushes you forward right at the beginning of the game. If you wish to be on the top-player list and get everything possible out of PVE and PVP content, fast leveling is what you need firsthand.
Keep in mind that the Dragonflight expansion is about to go live, so you have to equip the best gear once it is possible. By having top-notch equipment, you will significantly increase your winning chances in PVP. Additionally, you can clear out dungeons quicker and easier.
Being able to level your character up is also extremely important in PVE. Since WoW is all about having multiple characters that can participate in raids, you can level your alts up as fast as possible. You can be sure that your guild members or close friends you are playing with will say thank you for that.
On top of it, by being able to level up fast, you will learn to farm more gold, and you can never have too many shiny coins in your pocket. Though, if you still feel that killing mobs does not bring in enough gold, you can Buy WoW Gold with our services. It is a completely safe and reliable way to become richer. No other speed leveling guide concerning WoW Dragonflight will offer you a unique service like that. Make sure to check the prices and completion time plans to see what suits you best.
Check out some of our most popular
WoW Carry services

below:
General Changes in Dragonflight Leveling Process
As we all already know, the upcoming expansion is all about bringing new features to the game. These changes are not only about professions, Dragonriding, and items we have not seen before. The game's creators have decided to change the way leveling works as well. You no longer desperately look for the fastest WoW Dragonflight leveling 60-70 guide, as the whole process has become easier many times. Here is the brief list of confirmed changes for now:
The maximum level

possible has been increased to 70. This makes your leveling process longer and more difficult. Though, this is absolutely nothing once you read the second change implemented to the game.

XP requirements

have been significantly lowered. Once you begin leveling up a new character, it is not something you notice from the start. This change really kicks in when you hit level 30+. In fact, the bonus reaches up to a -75% decrease in XP requirements when you hit level 50. By doing so, the game's developers have made leveling four times faster than it was in the previous expansion. The newly-added feature eases the whole leveling process and makes your way to level 60 way more interesting and fast.

Chromie Time

has been updated. We all remember and enjoy the Chromie Time system that has been added in

Shadowlands.

It allows players to level their characters from level 10 to 50 in any expansion released before. As for the

Dragonflight

expansion, you can do it up to level 60 now. Previously, you could only level up in Shadowlands locations.
Another temporary buff concerning leveling was called Winds of Wisdom. This bonus became available on October 4th and lasted until November 15th. It gave a 50% experience increase for players from level 10 to 59. This buff was a great opportunity to level up a character or two because the provided boost was impressive.
Preparing Your Character for Leveling Up
A lot of players are sure that leveling is only about how fast you can clear out mob packs and dungeons or complete quests. However, despite all currently functioning XP bonuses and XP requirements reduction available, you still need to prepare your character for leveling up. We highly recommend that you do the following steps before plunging into the Dragonflight expansion:
Take some time to clean your inventory.

While this may sound like a useless tip to follow, starting a new path in Dragonflight with clean bags feels somewhat satisfying. Remember, the upcoming expansion will have a lot of quest rewards that will take up a ton of inventory space. By having enough space, you will make your leveling process more pleasant and easier. No one really wants to miss a worthy drop just because the bags are full, right?

Get as geared as possible.

By having the best gear, you can kill mobs faster. Consequently, you will be leveling up faster than other players. Nonetheless, having the right gear is not only about dealing damage. Make sure you have enough healing potion if your character is not a healer or tank. It will save your recovery time and you can level up non-stop.

Make sure you have mastered Dragonriding.

This feature changes everything we have known about mounting before. The newly-implemented mechanic seems difficult to master at first. Though, once you understand the way inertness works, you can fly without touching the ground. This allows you to travel around the continent way quicker and complete quests easier.
As you can see, fast leveling in Dragonflight is not only about killing mobs. It is also about preparing yourself in advance and creating a strategy. If you are not a huge fan of leveling your character on your own, you can always Buy WoW Boost services provided by our company. And also do not forget about other WoW Dragonflight Boost services we offer. Surely you will find something you would like.
Professional players will get you to the highest level possible while you relax and recover strength before the upcoming expansion. It is a completely safe and reliable way to enjoy the game to the fullest instead of grinding mobs or completing endless quests. Combining this service with our fast leveling guide devoted to WoW Dragonflight, you will be unbeatable.
Leveling Methods in Dragonflight
Just like in previous expansions, players have several tools to use to level up their characters. Just like in previous expansions, players have several tools to use to level up their characters. None of them is something new. The only novelty here is that you can now gain a good chunk of experience with the help of your profession. In previous expansions, you could get extra XP by gathering all possible nodes. With the Dragonflight patch, you additionally get rewarded by creating particular items that proc the First Craft Bonus. You can select a filter to see which items grant this bonus.
Looking at the following list, other methods look familiar:
Clearing out dungeons;
Completing quests;
Grinding mobs.
All of them have their strong and weak sides which will be discussed later. For instance, clearing out dungeons is indeed the fastest and most efficient way to level up. It has always been like this, and will likely remain in Dragonflight. At the same time, this method makes you have a reliable and stable group of 5 people. Only in this case, you can level up efficiently, as you will clear dungeons in no time.
Completing quests is another fast leveling method. Compared to the previous one, it lets you level gathering professions up while you are traveling around the continent. Such professions include Skinning, Mining, and Herbalism. All of them are super useful and can be combined with crafting professions to get top-notch equipment in the future. However, completing quests requires you to know exactly where you should go and what actions you should perform.
Finally, grinding mobs is probably the most obvious and straightforward leveling method. It is not as efficient as the two other methods mentioned above but can be applied if you simply like killing enemies. Though, completing the main quest line will not provide you enough XP to reach level 70. In this case, many players prefer to grind mobs to achieve it. We will talk about what zones you should visit to level up efficiently by using this particular method.
Clearing Out Dungeons
By sticking to this method, you should always keep in mind that it is not for solo players. You cannot clear out dungeons efficiently if you do not have a team to rely on. Finding a group of people like this is especially difficult if you are not playing a healer or tank. In this case, try to gather your friends playing the roles mentioned above and team up with them.
Remember, dungeons are a great source of XP only if you can minimize the clearing time between them. You should also be able to clear out dungeons immediately after they refresh. In all other cases, we highly advise you to stick to completing quests or even grinding mobs.
We have also prepared a table that includes all the dungeons that will be available once the Dragonflight expansion is released.
Leveling dungeons

Ruby Life Pools;
Brackenhide Hollow;
The Nokhud Offensive;
Uldaman: Legacy of Tyr.

Max-level dungeons

Algeth'ar Academy;
The Azure Vault;
Halls of Infusion;
Neltharus.
The first four dungeons are what you need to level your character up. The second four dungeons are used to farm rare items. However, the latter is only available if you are at the maximum level already.
If it happens that you do not feel like clearing out dungeons yourself, ordering our Mythic Carry services is what you need. Our professional players will do it for you and the only thing you will have to do is enjoy the loot received. Check out the prices and plans available to get ready for the upcoming expansion properly. If you do not wish to share your account credentials, you can choose the Selfplay option absolutely for free.
Completing Quests
Questing is a major part of the game. It has always been the best leveling method if you are playing solo. While completing quests, you not only get XP and quest-reward items but also explore the world around you. Thanks to that, you level up gathering professions that we have already mentioned above. On top of it, you learn a lot about the storyline, as you complete campaign quests.
As a rule, completing quests is more than just talking to one NPC or another. It usually consists of the following steps:
Combat process

is all about killing mobs. You can speed up this process by getting a higher-level gear or learning new spells.

Recovery process

is the time needed to restore your mana or health. This process also includes talent changing or weapon enchanting. If you are not playing as a healer or tank, food and drinks will help you stay alive for longer.

Traveling process

is when you move from one zone to another to complete a particular quest and take another one. Luckily, the Dragonriding feature makes this process significantly faster and way more exciting. We will pay more attention to the methods you can use to travel around the continent quicker further in this WoW leveling guide.
While completing quests is definitely one of the best leveling methods for solo players, it consists of many steps. Fighting enemies is definitely one of them, but it would not exist without other ones. You need to have a clear plan that will help you reduce recovery and travel time as much as possible. In this case, leveling will become easier and less time-consuming.
Another thing you need to know about quests is how you can determine their difficulty level. This will allow you to choose those that give maximum XP yet do not make you try hard that much. To make it more convenient and clear for you, we have included the following table in our WoW fast leveling guide:
| | |
| --- | --- |
| Red | Red-highlighted quests are too difficult for you now. You need to be 5+ levels higher to complete them without spending too much time and consumables. |
| Orange | Orange-highlighted quests are doable. However, you still need to be 3 or 5 levels higher to complete them. By gathering a group, you can do it easier yet it will decrease your XP reward. |
| Yellow | Yellow-highlighted quests are exactly what you need. They are usually of your level or 2 levels above at maximum. By completing them, you will get the best rewards for the time spent possible. |
| Green | Orange-highlighted quests would feel easy for you. They are usually from 3 to 10 levels lower than you are. Completing them would not take too much time but the reward will be quite mediocre. |
| Gray | Gray-highlighted quests are not worth your time. They are usually 10 levels (or more) lower than you are. By completing them, you will get only 10% of the quest's XP reward. |
If you prefer to level up solo, Yellow quests would be the best choice for you. However, if you are a group player and have a party of reliable friends, Orange or Red quests would be a better alternative.
Grinding Mobs
We have already mentioned that grinding is not the most widespread and efficient leveling method. Completing quests or clearing out dungeons will be more beneficial in terms of XP gain. However, it is still worth the attention, as many players still opt for it. Here is the list of zones that you can visit in the following order:
The Waking Shores

— from levels 58-64;

Ohn'ahran Plains

— from levels 62-66;

Azure Span

— from levels 64-68;

Thaldraszus

— from levels 66-70.
Grinding mobs is not worth your time and effort until you hit levels 58-60. It is better to choose a different leveling method until you reach that point. As we have said above, completing the campaign will not be enough to reach level 70.
In this case, mob grinding can be a way out. Though, we highly recommend doing side quests to reach the maximum level. You will find plenty of them in each of the zone mentioned. It will not only be quicker, but also more exciting and rewarding.
Selfplay AFK Leveling
This is without a doubt one of the fastest leveling methods that have ever been available in World of Warcraft. It offers an incredible leveling speed, allowing you to raise your level from 60 to 70 in no more than 3 hours and even less in most cases.
This method revolves around having a maximum-level friend who also has very good gear. You simply join his party and start killing mobs in Nokhudon Hold, which is located in the western part of Ohn'ahran Plains.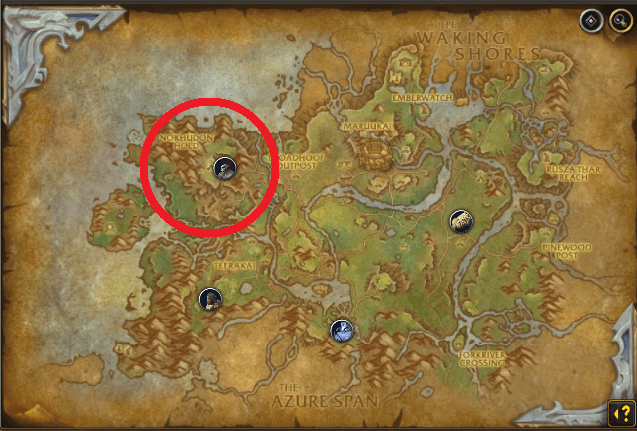 This part of the game world contains so many angry centaurs for your friend to kill. Every enemy your well-geared friend kills gives you plenty of experience. Since there are so many of them you can just constantly run around and farm together. This way you can easily get a level in 15 minutes or less, and we are speaking about the 60-70 level range. Of course, you can do this starting from level 1 as well. In this case, it will just be more tricky to keep yourself alive around all those skull-level mobs. This method is a perfect replacement for good old Cobalt Assembly Leveling, which is way less popular now because of the place being so crowded and the XP/hour ratio not being as good as it used to be.
Sure, not all players are able to use this method, because, obviously, you will need a well-geared friend who has enough time to help you powerlevel. However, with our Selfplay AFK Nokhud Leveling service this is not an issue at all! Our professional players can help you get ahead of everyone else and have as many max-level alts as you want! We also offer the best market price for the service provided. Contact our Customer Support team now if you have any questions. This offer may be limited.
Getting More XP with the Profession
The game's developers have done their best to ease the whole leveling process. As we have mentioned, players can gain extra XP by gathering different nodes or crafting items. By combining Herbalism and Mining, you can pick up everything you find and level up significantly faster. On top of that, you can sell everything you have gathered at the Auction House and earn a bunch of gold.
At the same time, crafting items only gives you experience when you do this for the first time. However, this bonus is so large that it can be compared to any side quest you complete while traveling around the Dragon Isles.
Theoretically, you can swap your profession and choose another one every time you are done with creating the cheapest stuff that procs the First Craft Bonus. It will definitely be useful in terms of gaining XP, but will require tons of gold to bring this strategy into action. The reason for that is you have to buy every material needed for the recipe from the market. Instead, consider combining a gathering profession with a crafting one and get as much value as possible without swapping the professions.
Best Items for Quick Leveling in Dragonflight
As you already understand, leveling is not only about killing mobs. To speed up this process, your character should be equipped with the right gear. The list presented below mainly consists of the items that provide a speed boost. Here is what it looks like:
Let us focus extra attention on the Cracked Radinax Control Gem once again. Other World of Warcraft leveling guides will never tell you about it, so read on carefully. There is a way you can get an infinite amount of charges for this gem. You may wonder how is this possible, yeah? Unlike the Oddly-Shaped Horn and Tuft of Yak Fur, this gem is tradable.
Even though, the game's mechanic forbids you to have multiple unique items like this, the system can be easily tricked. You can use your mailbox to send these gems to you by using your alts. Every time you run out of charges, you just go to the nearest mailbox and get three more charges.
Speaking of Falling Flame, it is only worth your attention if you already have it. You see, the chance of getting it is too low, and you do not really want to waste extra time trying to get it. It is better to save this time for leveling up further. However, you can use our WoW Raid Boost services where we will farm any raid mob for you and get you the Falling Flame effortlessly.
General Leveling Recommendations
You have learned a lot about different leveling methods. Now, let us stop for a moment and give you a few important recommendations on leveling in Dragonflight:
Master Dragonriding.

As we have mentioned above, Dragonriding is not just a cool thing to stare at. By mastering this feature, you can travel around the continent at a rattling speed. Focus on learning abilities connected with Dragonriding to soar in the skies for an almost infinite amount of time.

Use consumables.

If you wish to stay on a path for as long as you can, you will need food and drinks. They are your source of health and mana. You cannot clear out dungeons, complete quests, or grind mobs without consumables. So, spending a few minutes to buy them at the Auction House can be a good idea.

Level up professions.

While you may be focused on leveling your character up, do not forget about your profession. It can easily be done during questing since professions like Skinning, Mining, or Herbalism are all about exploring the world around you. By leveling up your profession, you will get a noticeable boost in the late game. Combining this with an additional crafting profession will allow you to create top-notch items to wear yourself or sell at the Auction House.

Upgrade your gear.

Many players get too involved in the leveling process so they forget about the gear they are wearing. You should take some time to see what armor and weapon suit you best at this particular level. By doing so, you will increase your clearing-out speed and will spend less time in vain. Remember, your damage output is especially important in dungeons or while grinding mobs.

Taking a rest.

No doubt, every one of us needs a rest from time to time. However, picking up the right moment for that is where a trick lies. You can be AFK for 1-2 minutes during a long flight when you cannot control the character. Being AFK in all other cases means you will spend a lot of time making your way from level 60 to 70. Try to focus on playing as much as you can, especially when the expansion goes live.
These tips will help speed up your leveling process in WoW Dragonflight. Consequently, you will be ahead of other players right from the expansion's launch.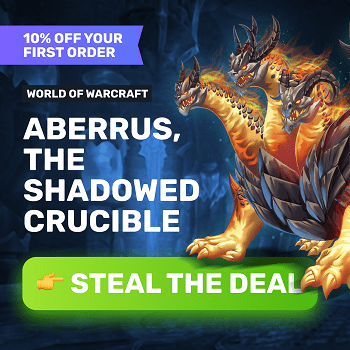 SkyCoach Powerleveling Services
While you already know everything about fast leveling in Dragonflight, it may not be enough for you. Maybe you simply do not have time to level the character up on your own. What is the way out of this situation then? We are glad to offer our WoW Powerleveling services to you.
Thousands of players trust our company. We specialize not only in WoW, but also in dozens of other online games. Check out our prices and plans available to see what service is the best exactly for you.
Here are the reasons why you should choose us:
Complete safety;
Cashback on all purchases;
Friendly and supportive managers;
Money back is guaranteed if the result is not achieved.
We are ready to help you not only with leveling up. Once you achieve the maximum level, our professional players can clear out dungeons and get the best gear possible for you. When everything is done, the real game begins. All you have left to do is to enjoy the Dragon Isles and have fun with friends. Make sure to try out our services instead of looking for another fastest leveling guide about WoW Dragonflight.
Final Words
To sum up everything we have described, you can be sure that leveling up in Dragonflight is piece of cake. By following our WoW Dragonflight leveling guide, you can reach level 70 in a blink of an eye. You do not have to spend an eternity in the game to get the maximum out of it. Just plan your actions ahead and make a plan that fits your goals and deadlines.
F.A.Q.
What is the fastest way to level in WoW Dragonflight?
Combining all our tips and tricks described in this guide will definitely help. Making use of dungeon clearing, questing, and mob grinding is how you level up faster than others. Do not concentrate all your attention on one particular method. Take the best from each of them and you will become a champion.
What is the fastest leveling zone in WoW Dragonflight?
This depends on where you are currently sitting at. However, Redridge Mountains, Loch Modan, Tirisfal Glades, Silverpine, and Hillsbrad Foothills are considered the fastest leveling zones in the upcoming expansions. Make sure to visit them to see which one suits you best.
What is the best way to level in WoW Dragonflight?
Keep in mind that leveling your character up is not only about what level you are. While making your way up to level 70, do not forget to master your profession. Buying or crafting better gear is also what helps you progress faster in the game. The same goes for learning new skills and abilities.