Every major expansion in World of Warcraft brings significant changes to the game. Developers become quite busy balancing things long before the expansion is actually released and, as a result, it completely changes the way classes are played in the game. Dragonflight, of course, is no exception. Moreso, this time, with the introduction of the new talent system class balance is changed more than ever before!
IMPORTANT NOTE: At SkyCoach, you can also Buy WoW Boost at the lowest prices and with the fastest delivery. You can make your first purchase even CHEAPER if you find our special PROMO CODE (highlighted in green) hidden in this article and get a 20% DISCOUNT.
Check out some of our most popular
WoW Boosting services

below:
So it is just the time to talk about what is the best class to play in World of Warcraft Dragonflight! In this guide, we will discuss the best class for Dragonflight PVE, including:
Melee DPS Tier List;

Range DPS Tier List;

Healer Tier List;

Tank Tier List;

PvP Tier List.
We did our best to do deep research before creating those tier lists, however, you can disagree with us if you think that your spec obviously belongs to the S-tier no matter what. With this article, however, you will get some idea about what are Dragonflight best classes in terms of DPS, healing, and tanking. But first, let us say a few words about chasing the meta really worth it.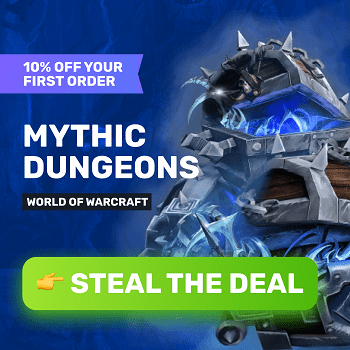 Is There a Meta?
In a game like World of Warcraft, with so many classes and specializations participating in a wide range of different activities and, on top of that, with so dynamic and fast-paced gameplay, especially in rated PVP, things are rarely kept unchanged for long. This is why Dragonflight best classes topics on Reddit are so popular right now. BLOG20
Of course, developers are constantly trying to make in-game balance as smooth as possible and sometimes they even manage to do so. Unfortunately, though, this is not as common as we all want it to be. We often see situations like Survival Hunters obliterating everything in M+ Dungeons in the last phase of Shadowlands. To be honest, a big portion of our own pro players switched to this spec at the time. There are plenty of similar examples. So, can you be always on that meta-train? What are Dragonflight's best classes in PVP, PVE, what is the best tank and best DPS? Such questions are more than common in the community.
Speaking about chasing the meta, there is a kind of WoW players who always wanted to play only the best performing classes. They are doing their best to be top-damage dealers, the best healers, and the most sturdy tanks. Which is a good thing. However, we all know how the balancing process is carried out in World of Warcraft, right? A spec can be doing no damage at all, and then, a week before the release of a new raid, blue-post magic happens, and this spec starts to eat elite enemies for breakfast, leaving all competitors way behind in the Details! statistics. The meta is constantly changing and, while you absolutely can always switch to a new class when it becomes in some way superior over others, you simply will not be able to master all of them. Sure, some people can do that, but do you have the time for it?
Judging by our own many-years-long experience, we can safely say that whether you find a spec pleasant and fun to play is much more important than how much damage or healing it deals and how many hits it can withstand. And it is not just ranting.
If you really enjoy the specialization you are playing, your performance will be always better than anyone's who always plays meta classes, simply because playing on your main for a year or two will make your rotation, and mechanics understanding far superior to those who just start mastering a new class. And even if you are a new player, chasing the meta would not be a good idea (if you do not like those meta-classes, of course), because, quite obviously, you will unconsciously try to understand your class deeper and better if you really like the gameplay it offers.
This is especially true, considering that only a very small percentage of players really aim to be among the top-notch WoW players. The majority of players are pretty happy with staying somewhere in the middle, because otherwise, you will have to sacrifice too much of your precious time for the game. This is why so many players want to Buy WoW Gold from us - they simply do not have the time to farm it themselves.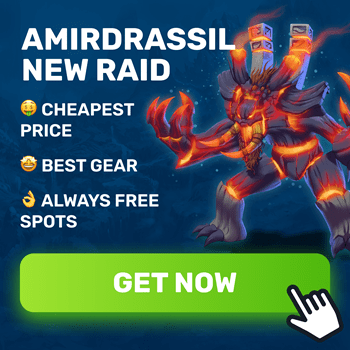 PvE Class Tier List Dragonflight Season 3
Like any other MMO's end-game content, World of Warcraft's PVE gameplay requires a lot of consideration and a perfect understanding of the game's mechanics. Another very important thing is communication with your team, which is often not so easy even in small 5-people teams, let alone big 10 or 25-people raid groups. Of course, everyone wants to be at the top in terms of damage and healing output as well as survivability. However, the balance in the game simply cannot be ideal, so some classes will perform better than others. Read on to learn what classes and specializations will be at the top and what will be struggling to keep their place in the raid.
Important Note: Remember that even if your favorite spec is in Tier-D, this does not mean that it is completely unplayable. You will still be able to participate in raids and clear high M+ keys. It will just be harder to do so. So, when discussing WoW Dragonflight best class, we are not saying that you 100% should drop your favorite class just because it is in the low tier. After all, you play the game to have fun, right? And if you have to achieve something really special, we can help you with that easily! We offer a whole range of WoW Raid Boost services designed for everyone, and our Mythic Carry services are incredibly popular among our customers.
Melee Damage Dealers Tier List Dragonflight Season 3
There are two kinds of WoW damage dealers: those who prefer to stay away from the target and use powerful ranged attacks (which often require better timing), and those who like to get up close and personal with the enemy. Playing as a melee damage dealer is usually more dynamic and hard to avoid incoming damage.
Below you find a tier list of melee damage dealers, compared among themselves. Note that this information is always subject to change as new updates are released, so make sure to check this list out as soon as new hotfixes are added to the game. Anyway, here are Dragonflight's best classes Season 3 to play as a melee DPS:
S Tier

Havoc Demon Hunter

- This spec has emerged as a powerhouse in Season 3. It went through a comprehensive overhaul that notably enhanced both its damage-dealing abilities and its capacity to endure battles. Despite experiencing a series of minor adjustments to balance its strength, this specialization retains all the key attributes to firmly hold its place in the top tier, making it the prime melee option for PvE engagements.

A+ Tier

Outlaw Rogue

- Despite the latest aura nerf affecting the Outlaw Rogue, we maintain our belief that they remain among the most formidable melee choices for Season 3. Their impressive damage output combined with exceptional group-wide benefits solidify their standing in the rankings.

Enhancement Shaman

- It stands out as one of the top-performing melee DPS specializations at present. Recent modifications to their exclusive talent tree have notably boosted their performance, and the addition of an incredible tier set will enhance their burst-focused nature while bolstering sustained damage. Additionally, the Enhancement Shaman's exceptional funnel damage capability is a game-changer, offering significant time-saving potential and effectively mitigating threats.

Subtlety Rogue

- This spec not only boasts an impressive utility package akin to other Rogue specializations but also maintains consistent damage output while offering exceptional on-demand burst capabilities. While it may not rival the absolute top performers in raw damage output, this specialization lacks significant shortcomings. It is worth keeping an eye on the Subtlety Rogue; with proper fine-tuning, any Rogue spec, including this one, has the potential to ascend to an S Tier candidacy.

A Tier

Retribution Paladin

- The spec brings invaluable group-wide DPS utilities, making it an essential asset for anyone choosing this specialization. Alongside these utilities, it offers remarkable defensive capabilities in moments of peril and maintains a strong damage output. Speaking of damage, its impressive burst windows remain effective for swiftly dealing with low-health targets, complemented by decent sustained damage. Overall, the Retribution Paladin performs admirably above average, with potential for further enhancement by bolstering its raw damage output.

Survival Hunter

- This specialization showcases remarkable front-loaded burst damage and has notably enhanced its single-target performance, addressing a previous area of concern. As with any Hunter specialization, they stand to gain from the newly introduced raid/group-wide utility, Hunter's Mark. Despite significant improvements in damage output compared to the previous season, they continue to grapple with a persistent issue - relative squishiness for a melee class.

Assassination Rogue

- The spec has made substantial strides in improving its damage profile, addressing a long-standing concern regardless of the number of enemies engaged. This comes as a significant development given the specialization's already excellent overall toolkit, mobility, and survivability. With this enhanced damage profile, the spec has notably elevated its standing, presenting a more promising outlook than before. We are eagerly keeping an eye on their performance as Season 3 progresses.

Feral Druid

- This alternative stands out as an excellent DPS choice in Season 3, offering versatility regardless of group composition. It not only inherits the comprehensive and powerful utility package typical of Druids but also features impressive short-cooldown burst windows, exceptional sustained AoE damage, and notably improved single-target damage. Moreover, its inherent durability and mobility further enhance its appeal. In summary, Feral Druid proves to be a reliable and solid choice for Season 3 content.

Unholy Death Knight

- In Season 3, Unholy Death Knights are poised for significant improvement compared to the previous season. With the introduction of a well-designed tier set tailored for Mythic+ and a legendary 2H weapon, their sustained damage output receives a notable boost. While there has been a reduction in their burst power, these alterations have resulted in a more favorable trade-off, ultimately enhancing their sustained damage potential.

B Tier

Fury Warrior

- Luckily for Fury Warriors, the upcoming tier set brings a refreshing change to the specialization's playstyle, injecting new dynamics. Although their burst damage remains potent, especially in lower-level keys, there is room for improvement in the overall damage profile of the specialization.

Frost Death Knight

- Frost Death Knights are set to maintain their status as potent burst damage dealers in Season 3, yet the longstanding challenge of lower sustained damage without cooldowns persists. Additionally, their limited utility in Mythic+ scenarios requires attention. To elevate the Death Knight class to a higher ranking, improvements are necessary. Like Warriors and Ret Paladins, this class can benefit from the newly introduced legendary 2H weapon, potentially offering a marginal boost to the class's damage profile, pending tuning adjustments.

Arms Warrior

- Despite the impressive nature of the newly introduced tier set for Arms Warriors, there remain fundamental rotational issues that create an awkward playstyle for an otherwise straightforward specialization. The primary concern lies in the inability to efficiently manage Rage, significantly impacting the class's fluidity and effectiveness in combat.

C Tier

Windwalker Monk

- This spec maintains a powerful burst capability that aligns well with the key levels considered in this tier list. Recent buffs to their core abilities and the tier set have bolstered their strength. Notably, their utility package ranks among the finest in Mythic+, and their exceptional survivability is commendable. Nevertheless, lingering concerns persist regarding their playstyle and base rotation, highlighting areas that are hoped to be addressed and resolved in the near future.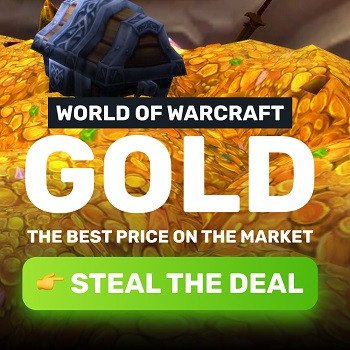 Ranged Damage Dealers Tier List Dragonflight Season 3
As stated above in the Melee DD Rating, there are two types of DPS players in the game: range and melee. Range DPS is like another game within a game. It may not be as intense as melee close combat but at least you do not have to constantly stick to the boss' bottom and waste time chasing adds.
The tier list you will find below is also subject to change. However, if you really want to know what is Dragonflight best ranged class Season 3 for M+ or raids, this list below will be helpful.
S Tier

Augmentation Evoker

- This spec continues to hold its position as the most invaluable DPS choice for PvE activities, primarily due to its incredibly potent toolkit that remains unmatched. Its abilities not only boost your team's damage output but also significantly improve their survivability. As a result, choosing this specialization makes you one of the most formidable damage dealers in the entire game.

A+ Tier

Frost Mage

- This spec has not undergone significant changes apart from the introduction of the new tier set, which has left some disappointed. The focus of the updated gameplay centers around Glacial Spike, while the tier set seems to prioritize AoE damage over single-target damage. Despite this, the raw damage output of the Frost Mage remains truly impressive, positioning them among the top performers across various DPS specializations.

Arcane Mage

- With remarkable utility and survivability, Arcane Mage stands out as a reliable ranged option for Season 3. It is crucial to recognize that this specialization excels on mid-to-high level keys, where mobs can endure the full burst potential. However, it is important to note that Arcane Mage is considered one of the more challenging specs to master. Inexperienced players with limited dungeon knowledge may not fully unlock its potential, making it a better fit for those who are adept at navigating the intricacies of this demanding specialization.

Balance Druid

- This particular specialization might not showcase its full potential in lower-level keys, but it progressively becomes a force to reckon with as the key level escalates. In Mythic+ scenarios, adeptly utilizing your cooldowns can result in exceptionally high damage output, showcasing prowess in both AoE and single-target situations.

Fire Mage

- This specialization truly shines in higher-level keys, thriving when dealing with mobs that have longer lifespans and when there are extended intervals between pulls. As gear progression reaches its peak, their upcoming tier set is anticipated to rank among the finest options. It delivers consistent damage output, impressive on-demand burst potential, and stands out as one of the sturdiest classes in the game. Moreover, it offers robust group-wide utility, leaving little to be desired except for a slight boost in damage to secure its position at the top.

A Tier

Beast Mastery Hunter

- This spec is currently excelling, arguably reaching their peak performance since the expansion's inception. Their exceptional single-target damage and consistent AoE capabilities rank among the highest in the game. When coupled with their unparalleled mobility, they stand out as a hidden gem within the class roster. Furthermore, their performance is anticipated to elevate even further following the introduction of their brand-new raid/group-wide utility - Hunter's Mark.

Demonology Warlock

- Demonology Warlock currently leads among all Warlock specializations, showcasing impressive and consistent AoE damage while maintaining a robust single-target capability. Additionally, the Warlock class as a whole boasts a well-rounded Mythic+ package and a commendable balance in damage distribution. With its current damage output and versatility, this class holds the potential to rise and emerge as the top choice among ranged options in Season 3.

Marksmanship Hunter

- The recent rework of the tier set has sparked a remarkable transformation for Marksmanship Hunters, leading to a substantial improvement in their overall performance. They have ascended to wield one of the most potent bursts in Mythic+ scenarios, excelling both in AoE and single-target situations, while also maintaining commendable damage output outside of their major cooldowns. This specialization has made significant strides, notably progressing from one of the lowest-performing DPS options on our tier list to its current impressive standing.

B Tier

Elemental Shaman

- This spec is poised for a notable shift in its damage profile entering Season 3. The introduction of a tier set offers a more flexible build, a capability that was not previously available. This new setup not only enhances the Shaman's mobility while executing their rotation but also alleviates the harsh penalties associated with excessive movement during encounters. Overall, these changes aim to provide a more adaptable and forgiving gameplay experience for Elemental Shamans.

C Tier

Affliction Warlock

- Improving the ranking of Affliction Warlock requires a focus on increasing its damage output. In cases where a DPS class offers multiple specializations, there is a risk of one spec outperforming the others and receiving more attention. If your intention is to specialize in Affliction Warlock without switching specs, it is essential to consider this potential discrepancy in performance among the different specializations.

Devastation Evoker

- There is a significant dependency on the Dragonrage cooldown, requiring players to plan ahead to maximize its potential even after it expires. This demands skill and might pose challenges for new players opting for Devastation Evoker as their primary spec in PvE.
Shadow Priest - The spec has undergone multiple rounds of changes, predominantly receiving nerfs with some compensatory buffs later on. These alterations have impacted not only their damage output but also their utility spells, including Power Infusion and Mass Dispel. Despite these nerfs, the execute damage of the specialization remains impressive, and its utility package remains strong. However, the main drawback stems from its average damage profile, placing it among the middle-of-the-road performers in terms of overall damage output.

D Tier

Destruction Warlock

- Much like other Warlock specializations, Destruction Warlock brings a formidable array of abilities, making it a sought-after inclusion in any Mythic+ group. However, players utilizing this specialization might face challenges in consistently contributing to AoE damage without relying on Summon Infernal. Additionally, their tier set seems tailored more toward single-target and light-cleave encounters rather than being optimized for situations focused primarily on AoE damage.
Tank Tier List Dragonflight Season 3
Tanks are, perhaps, the most important part of every group or raid. There are always fewer tanks than all other PVE roles and there is always a demand for them. We also should say that for now there are no particularly outstanding tanks in the game, they are all pretty close to each other, so the tier list here will be rather short. Of course, there are some pros and cons for every tank spec, but all tank specs are very strong right now, so S Tier specs will offer just a little bit more comfortable gameplay and mostly for players who are not familiar with this role.
S Tier

Vengeance Demon Hunter

- The recent adjustments to Vengeance Demon Hunter have significantly bolstered their resilience, particularly with the removal of the 5-target cap on Fiery Brand. Moreover, the reduction of Fel Devastation's baseline cooldown by 20 seconds has further fortified their defensive capabilities. This combination of robust survivability and impressive utility firmly establishes Vengeance Demon Hunter as one of the top tanking choices for Season 3.

Blood Death Knight

- In Season 3, this specialization is experiencing an excellent performance with a high damage profile and a tank spec that boasts remarkable survivability, coupled with the highest self-sustain in the game. Notably, the Blood Death Knight stands out as the sole tank class benefiting from the 2-H strength Legendary, adding an extra layer of excitement and uniqueness to their toolkit.

A Tier

Protection Paladin

- The spec stands as one of the premier tank alternatives at present. It boasts an exceptional damage profile and unparalleled group-wide utility, rendering it a highly coveted choice among players. Moreover, its durability has seen enhancements since the previous season, reclaiming its position after being overtaken by the notably robust Guardian Druid in the latter part of Season 2.

Protection Warrior

- In the initial phases of Season 3, Protection Warriors are anticipated to excel with an impressive damage profile, positioning them favorably among tanks. Notably, they are recognized for their exceptional durability, making them one of the most resilient tank options heading into the next season. The utility provided by Spell Reflection proves to be a valuable asset in Season 3 dungeons, likely contributing positively to their rankings.

B Tier

Brewmaster Monk

- This spec has seen improvements from the previous season but still maintains a relatively squishy disposition compared to other tank classes. However, their damage output ranks among the highest, if not the very best, in the game, making them an excellent choice for lower to mid-level keys. As you ascend to higher-level keys, it is important to note that their survivability might become more challenging, potentially posing issues as you face tougher encounters.

C Tier

Guardian Druid

- Despite the new tier set not matching the potency of the previous Season 2 set bonus, Guardian Druids are expected to maintain strong performance across all key levels in Season 3. While they might not have been as dominant in the lead-up to Season 3, the specialization boasts respectable damage output and exceptional utility. This well-rounded nature positions Guardian Druids as versatile tanks capable of smoothly transitioning into the next season.
Healer Tier List Dragonflight Season 3
Same as tanks, Dragonflight healers are pretty close to each other, with only minor pros and cons, which will be visible only in really high keys or on Mythic raid difficulty, so the healer's tier list will only have tiers from S to C. All healing specs will be able to do pretty well in most of the encounters without much issue, however the Dragonflight best healer will have it a bit easier than some spec from C Tier.
S Tier

Discipline Priest - The recent rework of the Discipline Priest specialization has led to a notable improvement in their performance, especially in Mythic+ scenarios. Their increased damage output sets them apart, making them arguably the top DPS healer, especially when Power Infusion is factored in. Moreover, their toolkit includes great utility tailored for Mythic+, complemented by excellent healing per second (HPS). Overall, Discipline Priests stand out as formidable healers with a versatile skill set.

Restoration Druid

- The spec remains in a robust position, showcasing impressive healing abilities alongside competitive damage output. Their reputation for outstanding utility and remarkable resilience continues to be a defining strength in Season 3. The most recent damage buffs have further elevated the spec's damage profile, edging them closer to the S Tier and solidifying their standing as an exceptionally versatile and potent healing option.

A+ Tier

Holy Paladin

- The spec is demonstrating strong potential for Season 3, despite experiencing some slight utility nerfs. Their utility remains among the best any healer can provide. When combined with their respectable healing output and competitive damage profile, they emerge as a potential meta-class. Notably, Holy Paladins excel in mob control, showcasing one of the finest sets of crowd control abilities from a healer's perspective.

A Tier

Preservation Evoker

- The spec boasts one of the most potent 2-piece tier sets among all healing specializations, offering a significant boost to both their healing per second (HPS) and damage per second (DPS) profiles. This enhancement enables an improved damage output while retaining their existing comprehensive utility package.

Mistweaver Monk

- This specialization has been delivering outstanding performance since the onset of Season 3, marking it as potentially the spec's strongest iteration throughout the expansion. Several rounds of buffs have notably enhanced their performance across various aspects, culminating in their effectiveness reaching an all-time high.

B Tier

Holy Priest - As Season 3 has begun, the playstyle of Holy Priest remains largely unchanged, with only minor adjustments such as slight utility nerfs, buffs to spot-healing capabilities, and minor reductions in certain AoE healing abilities. This suggests that unless further changes are announced, we might not witness a significant shift in Holy Priest's placement within tier lists.

C Tier

Restoration Shaman

- In Season 3, Restoration Shamans have faced some challenges, primarily due to their tier set's focus on healing, favoring their usefulness in Raiding over Mythic+. Despite possessing an excellent utility package, their DPS contribution ranks among the lowest compared to other healing specializations. This has led to a comparatively tougher position for Restoration Shamans in the current landscape.
PvP Class Tier List Dragonflight Season 3
PVP meta is much harder to define than PVE one, because PVP battles are much more unpredictable if not chaotic. All classes can do pretty well in PVP, depending on the player's personal skill and the game's understanding. PVP meta is also changing very quickly and depends strongly on personal biases. For now, though, we have prepared a quick PVP tier list for you to check out: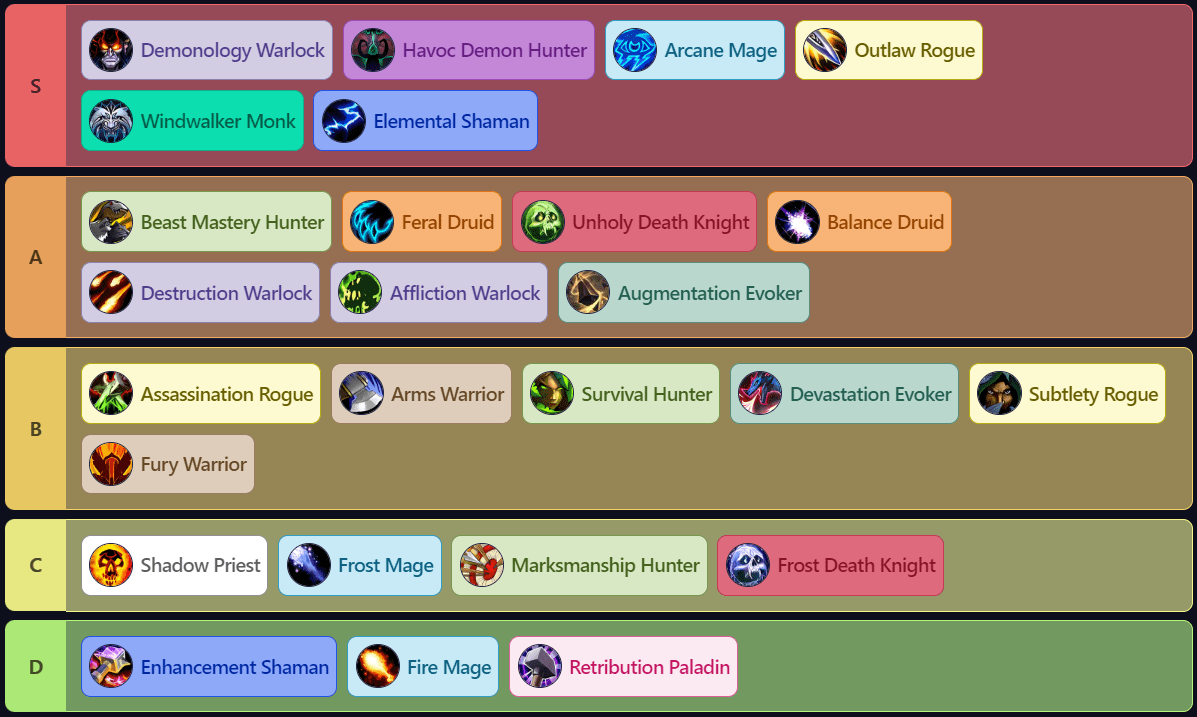 Do not worry if your favorite spec is at the very bottom of the list, because you can still get any rewards you want via our World of Warcraft Boosting services. We offer a wide range of services, starting from WoW Powerleveling all the way to various Dragonflight Boost services. Contact our Customer Support team now to ask any questions.
Conclusion
We hope now you have a better understanding of what is Dragonflight best class so far. We already mentioned that a few times in this article: all classes and specializations are playable in any scenario, all the differences will be important only in really high Mythic keys (above 20) or in Mythic raids, so you can safely keep playing on your favorite class, without worrying about your character not being invited in PUG groups or raids, even if it placed in low-tier. And, again, all information here will surely be changed further into the expansion, so make sure to check it again, when another major patch is released.
F.A.Q.
How to pick a WoW class?
The devs are constantly improving in-game balance and there is no perfect choice when it comes to picking what class you wish to play. We highly recommend to make the final decision depending on your preferences and the playstyle you prefer.
What is the best melee class for mythic plus Dragonflight?
Havoc Demon Hunter stays the best choice when picking the strongest melee class for M+ instances.
What is the best dungeon spec in Dragonflight?
Havoc Demon Hunter;

Augmentation Evoker;

Outlaw Rogue;

Enhancement Shaman;

Subtlety Rogue;

Frost Mage;

Arcane Mage;

Balance Druid.
What is the best DPS in Dragonflight Season 3?
If you prefer playing as a melee DPS, go for Havoc Demon Hunter. In case you wish to act as a ranged DPS, we recommend considering Augmentation Evoker.
What is the S tier in Dragonflight?
Havoc Demon Hunter;
Augmentation Evoker;
Vengeance Demon Hunter;
Blood Death Knight;
Discipline Priest;
Restoration Druid.
What is the least played class in Dragonflight?
The Survival Hunter spec is the least-picked alternative you are going to see when playing WoW Dragonflight.
What is the easiest class to play in WoW?
In most cases, the Hunter class proves to be the easiest one to master. The reason for this is its versatile toolkit you can apply equally efficiently in both PvE and PvP scenarios.
What classes are always good in WoW?
Despite what's happening in the game and how its meta is changing, Rogues, Mages, Warrior, and Warlocks always stay in high demand.
What is the most popular M+ spec?
When choosing the strongest M+ choice, you should consider playing as Havoc Demon Hunter or Augmentation Evoker.
What is good DPS for M+?
Havoc Demon Hunters and Augmentation Evokers are currently the strongest DPS options you can choose for Mythic+ dungeons.
Who is the leader of the Dragonflight?
Each Dragonflight in Azeroth has its own leader, also called an Aspect:
Alexstrasza the Life-Binder is the one and only leader of the Red Dragonflight;
Nozdormu the Timeless One is the leader of the Bronze Dragonflight in the past, present, and all possible futures;
Yong Kalecgos is the leader of all survived Blue dragons;
Merithra of the Dream of the Dream is the current leader of the Green Dragonflight;
Things are a little more complex with the Black Dragonflight. There are two self-proclaimed leaders of the Black dragons. One is Wrathion, the Black Prince, one of the last Black dragons in Azeroth, cleared from the Old Gods' curse. The second one is Sabellian, the leader of the Black dragons pack, which for a long time remained in Outland. He also managed to cure himself and his kindred from the Old Gods' curse.
What class is top DPS in WoW?
As you can see from our Dragonflight DPS tier list, for now top DPS classes are Havoc Demon Hunters and Augmentation Evokers.
Does race matter in WoW?
We highly recommend that you choose your character's race just coming out of your preferences, as it has no major impact whatsoever.
Are there legendaries in Dragonflight?
Yeah, you can find plenty of legendaries in Dragonflight, and the devs keep adding new ones as fresh patches come out.
Does Dragonflight require Shadowlands?
No. Shadowlands, as well as all other previous expansions, is now a part of the standard World of Warcraft package.
Does Dragonflight come with a boost?
Yes. Hero and Epic Dragonflight editions include a 60-level boost for any of your characters. You can also buy it via the in-game store.