Welcome to the enchanting world of Tarisland, where our Tarisland Solo Bard guide beckons you to embrace the harmonious path of independent musical mastery. Within these pages, immerse yourself in the diverse gameplay strategies, melodic abilities, and adaptive builds tailored for adventurers looking forward to trying new playstyles.
Whether you seek the solitude of a lone troubadour or the freedom to orchestrate your own destiny, this comprehensive guide aims to unleash the melodious prowess of the Solo Bard Tarisland in the sprawling landscapes of this realm. Join us to discover every bit of information about this class and spec in particular, as we are about to start.
IMPORTANT NOTE: Apart from learning everything about the Solo Bard spec, you can also Buy Tarisland Boost from SkyCoach. We offer a wide range of products at the lowest market price and with the fastest delivery. You can make your first purchase even CHEAPER if you find a special PROMO CODE (highlighted in green) hidden in this article and get a 20% DISCOUNT.
Check out some of our most popular
Tarisland Boosting

services below:
Solo Bard Pros & Cons
In case you wish to try a fully balanced yet versatile spec, Solo Bard offers this opportunity like nobody else. Within this section of our guide, we will enlist all Solo Bard's strong and weak sides to provide you with a complete understanding of whether you wish to try this specialization at all:
Starting with Solo Bard Pros, they are as follows:
Versatile Abilities

– This spec possesses a range of damage dealing and support abilities, including healing, buffs, and crowd control, enabling them to navigate challenging situations with finesse and adaptability;

Self-Sufficiency

– This Bard's spec can mitigate damage and provide healing for themselves, granting a level of self-sustainability crucial for solo adventuring;

Flexibility in Role

– With access to a diverse skill set, Solo Bards can adapt their playstyle, transitioning between damage-dealing, support, and control roles as the situation demands.
It is high time to add a few words about Solo Bard Cons, including the following points:
Lower Raw Damage Output

– Compared to some dedicated damage-focused classes, the Solo Bard's damage output might be comparatively lower, especially in sustained combat situations;

Reliance on Timing and Coordination

– Their effectiveness heavily relies on timing and coordination of abilities, making it more challenging to maximize potential compared to more straightforward classes;

Limited Solo AoE Damage

– Solo Bards might face difficulties in dealing with multiple opponents simultaneously due to the limited AoE damage in their skill set.
If you have already started to play a different class or wish to try this one right away, we are here to help you. At SkyCoach, you can Buy Solo Bard Powerleveling in a few quick clicks and trust this job to our PROs. We will do everything for you to let you enjoy a ready-to-play character with the maximum level already. We offer fair prices and guarantee the results!
How to Play Solo Bard in Tarisland
As we continue our Solo Bard DPS guide, we are going to delve into this spec's basics, as this class has its own features you cannot find when playing other ones. Of course, we are talking about Musical Score, which is your class passive. The latter lets you build Musical Note Skills to differ your Chord Score effects. These notes are what your playstyle is centered around and they also allow you to be versatile in any combat situation.
To ensure your acquaintance with this spec is smooth and straightforward, we have prepared this short explanation of how to play Solo Bard in Tarisland:
Embrace Versatility

– Utilize your diverse skill set, ranging from healing melodies to crowd control tunes and buffs, to adapt to various situations. Experiment with different combinations to find your preferred playstyle;

Manage Resources Efficiently

– Keep an eye on your resources, such as mana or stamina, as many Bard abilities consume these. Learn to balance offense, defense, and utility skills without exhausting your reserves too quickly;

Prioritize Survival

– Invest in abilities that bolster your survivability. Healing songs, damage mitigation, and crowd control can aid in navigating through tough encounters when soloing;

Utilize Support Abilities Wisely

– Leverage your support abilities strategically. Buff allies or weaken enemies with debuffs, heal yourself when necessary, and control the battlefield to your advantage;

Adapt Your Playstyle

– Adjust your approach based on the adversaries you encounter. Against single formidable foes, focus on survival and damage. When facing multiple enemies, control the battlefield and manage threats.
Combining your large set of skills and overall versatility, you can excel in any combat situation whether you need to deal damage or heal yourself or allies. This makes Solo Bard a desirable member of any part whether we are talking about Raids or Dungeons. Speaking of the latter, you can Buy Tarisland Dungeon Boost at SkyCoach and get any instance finished in a blink of an eye. We offer the lowest prices and guarantee the results! BLOG20
Solo Bard Abilities Tarisland
In the following section of our guide, we will pay close attention to what Tarisland Solo Bard abilities you are going to use in any encounter:
Every time you cast Musical Note skills, it leaves a note on the musical score. When there are 3 notes, your Chord Score casts different Chord Skills based on specific note combinations. When there are at least 3 notes on the musical score, if you keep casting Musical Note Skills, the new notes will overwrite the oldest notes on the musical score. You also have a spec-unique aura, granting bonus Vitality that increases Main Attributes by 6% during raids.
Attack the target dealing Magic damage equal to 65% of your attack +86. Healing effect -50% and mana cost is doubled when cast of a teammate. When using this spell, you leave a Red Note upon the musical score after cast.
Attack the target 1.5 times within 2 seconds. Each attack deals Magic damage equal to 44% of your attack +58. Healing effect -50% and mana cost is doubled when cast of a teammate. When using this spell, you leave an Orange Note upon the musical score after cast.
Based on the Note Combination, the effect of this cast is different:
Warlike Chord – Red x3: Deal Magic damage equal to 104% of your attack +137. Chord Effect boosts your damage by 10% for 32 seconds;
Spiritual Chord – Red x3 and Orange x1: Deal Magic damage equal to 117% of your attack +154. Chord Effect boosts your Combo Rate +10 for 24 seconds;
Rhythmic Chord – Red x1 and Orange x2: Attack the target 2 times, and each attack deals Magic damage equal to 64% of your attack +86. Chord Effect makes your next Voice of Force cast instantly, lasting for 8 seconds;
Swiftness Chord – Orange x3: Attack the target 3 times, and each attack deals Magic damage equal to 40% of your attack +55. Chord Effect allows you to get x1 Red Note.


Inspire the power of music to hit the target, dealing Physical damage equal to 304% +395, and boosting your attack by 3 for 34 seconds.
After chanting for 1.5 seconds, trigger a Sonic Boom at the targeted place, dealing Magic damage equal to 102% of your attack +134. Every time this skill hits a target, the cooldown will be reduced by 1 sec. One can also cast this spell while moving yet can interrupt it if you jump.
Play wild music for the next 15 seconds that boosts your Crit Rate and Combo Rate by 10%. In addition, Crit and Combo will be increased by 130, and the Speed-up effect will be increased by 5%.
Solo Bard Ultimates Tarisland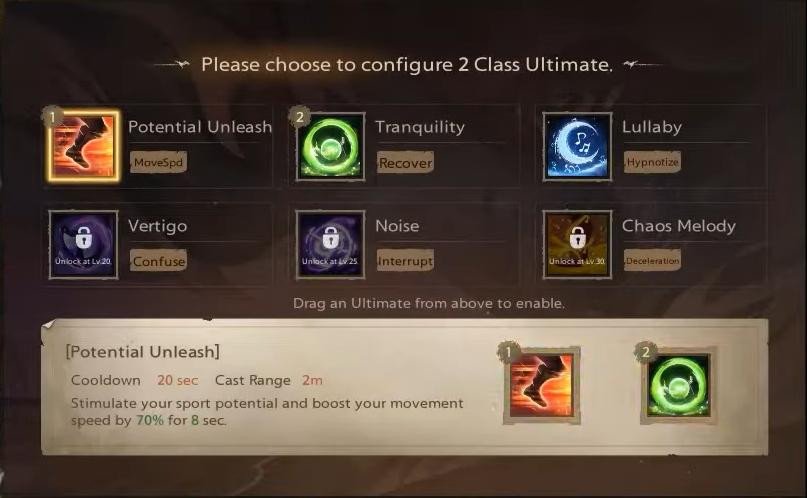 Just like with all other classes and specs, you have 6 Tarisland Solo Bard ultimates in total. While you can choose the ones you like depending on your preferences and overall playstyle, we highly recommend that you opt for Potential Unleash to increase your survivability in the long run. The latter lets you increase your movement speed for a lot, which is a great escape mechanic in case a melee damage dealer gets too close.
Potential Unleash

– Stimulate your sport potential and boost your movement speed by

70%

for 8 seconds;

Tranquility

– Calm yourself down and recover

20% HP;

Lullaby

– Chant for 2 seconds and make the target

Hypnotized

for 15 seconds. The chance of waking up when injured is 100%;

Vertigo

– Play an enchanting melody,

Confuse

enemies within 4 meters for 5 seconds. The chance of waking up when injured is 100%;

Noise

– Make a noise to interrupt a target's spellcasting. Some boss skills cannot be interrupted;

Chaos Melody

– Give the target a

Deceleration

effect of 50% for 5 seconds.
If used correctly and timely, Lullaby is probably the best Solo Bard ultimate you can use in PvP fights. The latter lets you get rid of one player for as many as 15 seconds, which is a lot. The only problem here is not to deal damage to the Hypnotized character no matter what happens around.
Best Solo Bard Builds
We have already stated that Solo Bard is a highly versatile specialization, which offers several builds for you to choose from. On top of that, no one forbids you to try out your own alternatives if you are looking forward to experiments.
As of today, these are the two best Solo Bard builds:
Zealous Voice Build;

Elegant Voice Build.
If we are to define the best PvE Solo Bard build, this would be the Zealous Voice one for sure. It is perfect for both leveling and clearing mobs quickly. Besides, you have plenty of talents to enhance its potential.
Best Solo Bard PvE Build
As we have already mentioned, Tarisland Solo Bard PvE build centered around frequent usage of Zealous Voice and its enhancement is the best one you can opt for. This is your main ability you cannot ignore and are going to use a lot to generate Red Notes.
Since it is specifically good for PvE encounters, it is also considered a perfect Solo Bard raid build, especially when upgraded. By using this spell and combining Notes effectively, you will be able to deal plenty of damage while also casting various Chord Score effects, depending on which one you need in a particular situation.
Here is what talents you should consider when using the Solo Bard Zealous Voice build:
Talent

Description

Stimulate
Zealous Voice deals

2%

more base damage. The damage bonus granted by the

Chord Effect

of

Warlike Chord

is increased by 0.5%.
Homology
Upon impact,

Zealous Voice

has a 2% chance of pursuing the target one more time.

Warlike Chord

has a

2%

chance of gaining an additional

Chord Effect.

Finale
You dea

l

5% more damage to targets below

25% HP.
While this build can significantly increase your chance of gaining the upper hand in PvE, success is never guaranteed. Therefore, you can Buy Tarisland Raid Boost at SkyCoach to get even the toughest bosses slain. All you are left to do is to enjoy the best loot and keep exploring this realm further.
Best Solo Bard PvP Build
As for the best Tarisland Solo Bard PvP build, do not hesitate to try out the Elegant Voice one. The latter is centered around the replaced Voice of Force spell. This is only possible if you get the correct talent, which we are going to talk about a bit further in this section.
Consider using the following talents when opting for the Solo Bard Elegant Voice build:
Talent

Description

Elegant Voice
Obtain

Elegant Voice

(this skill replaces Voice of Force).
Outburst
The damage over time by

Elegant Voice

deals 5% more Crit damage. The

Crit

rate bonus granted by the

Chord Effect

of Passionate Chord is increased by 1%.
Impermanence
Every time

Elegant Voice

deals

Crit

damage over time, the remaining cooldown for this skill is reduced by 1 second. The Chord Effect of

Uplifting Chord

further reduces the remaining cooldown by

0.5

seconds.
To ensure you win each and every encounter against other players no build can help with that. Nonetheless, this can be achieved if you Buy Tarisland PvP Boost from our website and trust this job to our PROs. We will gladly help you achieve the desirable goals and earn the greatest rewards.
Solo Bard Best in Slot Gear Tarisland
As we eagerly anticipate the full unveiling of equipment mechanics within Tarisland, we regrettably lack the specific details to offer at this moment. Nevertheless, our unwavering commitment to keeping you informed remains steadfast, and we will promptly update our article as fresh insights emerge regarding the Solo Bard best in slot gear. This imminent update will shed light on the optimal combinations of armor, weaponry, and accessories that not only amplify damage potential but also bolster your resilience, ensuring your readiness for any chosen role.
While the precise intricacies linger concealed, it is increasingly apparent that the Solo Bard's emphasis will gravitate towards enhancing raw Attack power, accompanied by significant boosts to Critical Hit and Combo stats. Regardless of your inclination towards resilient tanking or unyielding damage output, these attributes serve as the bedrock of your character's effectiveness, compelling you to explore diverse avenues, including judicious gear selection, to fortify your prowess.
Solo Bard Rotation Tarisland
Due to your Musical Score passive, it is essential to learn the best Solo Bard rotation no matter what build you decide to use and what content you prefer. By doing so, you can significantly increase your damage output and adapt to any combat situations:
Zealous Voice Build Rotation




Wild Music;
Passionate Play;
Keep casting Zealous Voice;
Add a few casts of Voice of Force when needed;
When having the perfect combination for Chord Score, use this spell.


Elegant Voice Build Rotation


Wild Music;
Passionate Play;
Keep casting Elegant Voice;
Add a few casts of Zealous Voice when needed;
When having the perfect combination for Chord Score, use this spell.
No matter what rotation and build you decide to use, do not hesitate to experiment with ultimate choices. For example, both Lullaby and Vertigo offer great opportunities to disable up to 2 enemies when a fight starts.
Solo Bard Leveling Tarisland
Mastering the path of Tarisland Solo Bard leveling demands patience and dedicated effort. To expedite your character's journey to mastery and unlock their full potential more swiftly, our specialized Powerleveling services present a viable solution.
Our skilled professionals are ready to adeptly guide your character through the leveling journey, ensuring rapid progression to your desired level and the acquisition of vital skills and equipment. This approach alleviates the burdensome grind and protracted delays, enabling you to relish the more exhilarating aspects of your Solo Bard adventure while bypassing the frustrations of sluggish progression.
Conclusion
Embarking on the journey of the Tarisland Solo Bard guide has been an enchanting exploration into the harmonious world of musical prowess. This article has unraveled the intricate gameplay strategies, versatile abilities, and adaptive builds essential for adventurers traversing the melodic landscapes of Tarisland.
Armed with a diverse array of musical talents and damaging skills, Solo Bards navigate the challenges of adventuring with finesse and adaptability. Whether strumming healing melodies or orchestrating crowd-controlling harmonies, the Solo Bard's versatility shines as they craft their own destiny amidst the harmonies and challenges of Tarisland.
F.A.Q.
What is the best Bard spec in Tarisland?
The final choice comes down to what role you wish to execute, but you will probably go for the Solo spec, as it is aimed at dealing damage. Going for the Harmony alternative is also possible if you wish to be a healer.
Is Solo Bard good in Tarisland?
The Solo specialization is perfect for dealing damage from a distance. It is also known for a wide range of versatile skills, which you can adapt to combat scenarios thanks to Chord Score.
Is Solo Bard hard to play Tarisland?
Compared to other ranged DPS specs, playing Solo Bard efficiently requires some time and practice due to its Chord Score ability.
What is the best spec for Bard PvP Tarisland?
In most cases, you would probably opt for the Solo spec, as it is centered around dealing damage.
Is Solo Bard good in PvE Tarisland?
Thanks to a wide range of skills and the ability to combine them right when the battle happens, Solo Bards perform superbly well in both raids and dungeons, as well as other PvE activities.
Which Bard spec is best for PvE Tarisland?
For fast leveling and efficient mob clearing, we highly recommend that you opt for the Solo specialization. It features plenty of damage dealing skills but also has a few tricks to heal up yourself or your allies.
How do I maximize DPS Solo Bard Tarisland?
Start by learning all your abilities, as well as how they interact with each other. Then, focus on learning all the rotations we have provided in our article.