Welcome to the mystical world of Tarisland, where the arcane arts converge with elemental fury, and only those who master the ancient ways of flame magic can harness the fiery power that courses through this enigmatic realm. Our Tarisland Flame Mage guide is your key to unlocking the secrets of this scorching school of magic and becoming a formidable wielder of the flames.
Whether you are a novice mage seeking to ignite your first fireball or an experienced practitioner looking to refine your skills, this comprehensive article will light your path toward mastering the art of fire manipulation. Join us as we delve into the incendiary depths of Flame Mage Tarisland tradition, where sparks of knowledge will ignite your potential and turn you into an unparalleled pyromancer.
IMPORTANT NOTE: Apart from learning everything about the Flame Mage spec, you can also Buy Tarisland Boost from SkyCoach. We offer a wide range of products at the lowest market price and with the fastest delivery. You can make your first purchase even CHEAPER if you find a special PROMO CODE (highlighted in green) hidden in this article and get a 20% DISCOUNT.
Check out some of our most popular
Tarisland Boosting

services below:
Flame Mage Pros & Cons
We would like to start our guide with a brief explanation of Flame Mage pros and cons to let you know whether this class and spec is what you are looking for or not. Just like with all other classes and specializations in the game, Flame Mages boast a variety of strong and weak sides.
Beginning with Flame Mages Pros, they are as follows:
Devastating AoE

– Unlike its counterpart specialization, Frost, Flame Mages are masters of dealing AoE damage. This feature makes this spec especially efficient when it comes to fast leveling and dealing with groups of enemies;

Versatility

– Despite being able to deal immense AoE damage, Flame Mages are also perfect for raiding when your task is to fight a single-target enemy;

DoT Mechanic

– While you deal plenty of damage by your spells right away, this spec also features a specific mechanic that is triggered when your enemy is influenced by the Heat debuff. The latter lets you hit even harder when the time comes.
Moving on, we have the following Flame Mage Cons to discuss:
Limited Mobility

– Unlike the class's Frost spec, most of the abilities you are going to cast when playing the Flame spec require you to be standing still. This significantly reduces your mobility and makes you a more vulnerable target;

Mana Consumption

– This is a default disadvantage of every range caster but we have to mention it anyway. Maintaining control over the volatile flames of fire magic can be energy-intensive, and Flame Mages may find themselves depleting their mana reserves rapidly, leaving them vulnerable when they run out of magical energy;

Limited Elemental Affinity

– While fire magic is destructive, it can be less effective against enemies with strong resistance or immunity to fire. Flame Mages may find themselves at a disadvantage when facing opponents who can easily withstand their flames.
As you can see from the list of Flame Mage strong and weak sides, this is quite a balanced specialization. We highly recommend that you try it in action yourself to see how it works for you. After all, you can always swap it to the Frost spec and keep playing this class in a completely new way.
How to Play Flame Mage in Tarisland
If you are new to the game, this section of our Flame Mage DPS guide is what you are looking for since we will cover the basics of this class and spec below. To describe it briefly, playing as Flame Mage in Tarisland requires a good understanding of the class's abilities, rotation, and gameplay mechanics. Flame Mages are known for their bursty and high-damage output, primarily through powerful fire spells and DoTs effects.
Here is a basic guide on how to play Flame Mage in Tarisland:
Movement

– Flame Mages can struggle with movement, but you have tools to deal with it. Use Dimensional Movement to blink away while casting. This will let you survive longer and deal damage from a safe range;

Choosing a Build

– Currently, you can pick between the

Fireball

and

Skyfire

builds to use. When making a decision, think of what content you are going to take part in. For example, it can be dungeons or raiding;

Learning Rotations

– As we have already mentioned, it is essential to learn all possible Flame Mage rotations by heart. This is the key to winning both

PvE

and

PvP

fights when playing as a ranged caster. Further in this guide, we will pay more attention to this topic;

Combat Strategy

– In combat situations, maintain a safe distance from your enemies to avoid direct physical confrontation. Use your fire magic to attack from a distance, always remember about Pyro Shield to protect yourself, and set the battlefield ablaze to control the flow of combat;

Mana Management

– Pay attention to your mana. Flame Mages can run out of mana quickly if they are not careful. This is another key reason why it is so vital to learn the rotation. It will let you use your abilities in the exact order as needed and deal the highest damage possible.
Finally, the most important Flame Mage tip we can give to you is never stop practicing. Similarly to other range caster classes in most MMORPGs, mastering this specialization will require plenty of time and effort. BLOG20
Flame Mage Abilities Tarisland
In this part of our guide, we will focus attention on what Tarisland Flame Mage abilities are currently available in the game:

Upon casting Thermal Bomb, it ignites the target and triggers a countdown of 5.5 seconds until a detonation occurs. Simultaneously, each instance of damage inflicted by your Damage Skills adds 1 Heat point to your tally, with a maximum cap of 50. When Thermal Bomb ultimately detonates, it clears all accumulated Heat points, amplifying the explosion's damage by 100% for each Heat point expended.

Unleash a Fireball towards your target, inflicting magical damage equivalent to 86% of your Attack stat plus an additional 153 points.

Trigger the detonation of Pyro Elements stored within the target, resulting in the release of magical damage equal to 101% of your Attack power plus an extra 176 points. Additionally, this action bestows a 20% increase in critical hit rate.
Ignite the target by imbuing it with Pyro Elements, causing magical damage equal to 5.5% of your Attack power plus an additional 43 points every second. This fiery effect endures for a duration of 74 seconds. Upon conclusion, it culminates in an explosive finale, resulting in magical damage amounting to 18% of your Attack power plus an extra 83 points inflicted upon the target. The magnitude of this damage increases in direct proportion to the accumulated Heat.

Manifest a Blazing Orb at the designated location, which erupts in a fiery explosion after 2.5 seconds. This explosion inflicts magical damage of 101% of your Attack power, augmented by an additional 176 points, to all foes within a 4-meter radius. Notably, this skill boasts a 100% critical hit rate, ensuring devastating damage potential.

Engage in a 1.5-second incantation, after which you'll conjure a formidable Fire Tornado at the designated location. This swirling tempest inflicts magical damage equivalent to 85% of your Attack power, bolstered by an extra 148 points, upon all adversaries within its range.
What sets this skill apart is its unique cooldown reduction mechanic: each time it successfully connects with a target, the cooldown timer diminishes by 1 second. Moreover, you have the versatility to cast this skill while in motion, with the only interruption being a jump.

Initiate the ignition of your flame-infused power, resulting in an increase of your critical hit rate by 8%, a 10% enhancement in critical damage, and a 10-point augmentation to your Attack stat. This fiery empowerment persists for a duration of 74 seconds, granting you a potent advantage during battle.
Flame Mage Ultimates Tarisland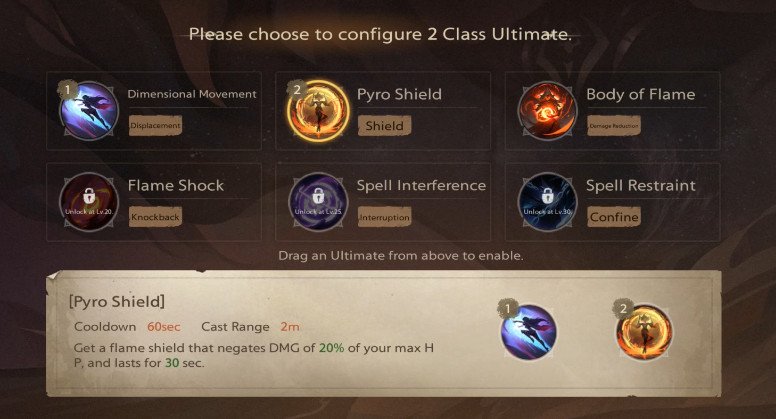 By choosing the right Tarisland Flame Mage ultimates, you can significantly increase your damage out put or mobility. A great example of that is Dimensional Movement, which is exactly the tool you need to survive much longer.
Dimensional Movement

– Flash to a designated direction for 16 meters;

Pyro Shield

– Summon a protective Flame Shield that has the capability to nullify damage equivalent to 20% of your maximum HP. This resilient shield remains in effect for a span of 30 seconds;

Body of Flame

– Envelop yourself in searing flames, resulting in an 80% reduction in the damage you receive and a 50% decrease in the damage you deal. This fiery shield endures for a duration of 8 seconds, serving as both protection and restraint in the midst of battle;

Flame Shock

– Emit a blazing wave of fire to forcefully propel enemies within a 4-meter radius backward, causing them to be knocked back by the fiery force;

Spell Interference

– You have the ability to disrupt a target's ongoing special casting, preventing them from completing their spell or ability. However, it is important to note that certain boss skills may be immune to interruption, and your interference won't affect them;

Spell Restraint

– Engage in a 2-second incantation, during which you can focus your powers to confine the target for a duration of 15 seconds. The unique aspect of this spell is its innate chance of completely negating any incoming damage, which is set at 100%. However, be aware that you are unable to cast this ultimate ability while in motion.
The final pick of the ultimates depends on your personal preferences and playstyle. However, we are sure that Dimensional Movement is the best Flame Mage ultimate you can possibly opt for. While it does not provide you with a direct damage output upgrade, it lets you survive longer, which means you can keep doing damage from afar.
Best Flame Mage Builds
While it is little known about possible Flame Mage builds, we have a few theories that have been tested and have a chance to be tried in action by you as well.
As of today, we can single out the two strongest Flame Mage builds, such as:
Fireball Build;

Skyfire Build.
In the following sections of our guide, we will go over which one can be considered to be the best PvE Flame Mage build, as well as the one for PvP.
Best Flame Mage PvE Build
Starting with Tarisland Flame Mage PvE build, you would probably want to opt for the Skyfire one. Why? This build prioritizes raw power and concentrated damage output over versatility, making it ideal for delivering devastating single-shot attacks. However, it is important to note that the trade-off is limited mobility, as this ability cannot be cast while on the move. The advantage lies in its ability to unleash exceptionally high single-shot damage and provide an instant burst of power.
This alternative can be a great choice if you are looking for a perfect Flame Mage raid build since it lets you deal much more damage compared to another option we will describe further.
Here is what talents you should be using with the Flame Mage Skyfire build:
| | |
| --- | --- |
| Talent | Description |
| Heat Catalysis | Following the casting of Thermal Bomb, the subsequent Skyfire spell has a 33% chance to trigger an instant cast of Skyfire, providing a swift and unexpected release of your fiery magic. |
| Immovable Flame | While remaining stationary, your critical hit rate and critical damage are gradually enhanced by 2% every 0.5 seconds. This effect can stack up to 3 times, intensifying the power of your critical strikes. It is crucial to note that this bonus is nullified if you initiate movement or perform a jump. |
| Enhanced Skyfire | Skyfire inflicts 3% additional direct base damage and also increases damage-over-time by 3%. This amplification in both aspects of the spell makes it an even more potent and destructive ability. |
If you are struggling to complete a particular raid and even our build does not help you, let our PROs take care of this job for you. By choosing SkyCoach, you can be sure we will assist you in defeating the mightiest bosses in a blink of an eye. The best raid loot is your if you Buy Tarisland Raid Boost from us. We offer fair prices and guarantee the fastest result!
Best Flame Mage PvP Build
If you prefer fighting other players rather than hitting mobs, then you should take a look at Tarisland Flame Mage PvP build we have prepared for you. Unlike the previous option, the Fireball build opts for slightly reduced damage per spell in exchange for heightened flexibility. It is well-suited for mobile spell-casting and adapting to a variety of combat scenarios, particularly battles that demand frequent changes in position and adaptability.
Here is a list of talents you should be using with the Flame Mage Fireball build:
| | |
| --- | --- |
| Talent | Description |
| Burn Out | Upon striking the target, Fireball bestows you with the capability to deal 8% increased damage to the specific target you hit for a brief duration of 0.4 seconds. This effect can accumulate and stack up to 3 times, amplifying your damage output as you continue to hit the same target. |
| Charged Fireballs | In the event that a Fireball fails to land a critical hit, the likelihood of the next Fireball achieving a critical hit is increased by 3%. This effect is cumulative and can stack up to 5 times, persisting until the critical hit is achieved with the next Fireball cast. |
| Enhanced Fireball | Fireball's base damage is augmented by 2.5%. Moreover, it inflicts a substantial 25% increase in damage to targets whose health is below the 2.5% threshold, making it especially effective against weakened adversaries. |
In case you need help to complete another Battleground or anything else related to PvP activities, you can count on us. Our team offers you to Buy Tarisland PvP Boost so that you can become the best among others even if you are only starting out your journey. Trust this job to our PROs and enjoy the rewards no matter how well you are at fighting other players.
Flame Mage Best in Slot Gear Tarisland
Since we do not know much about the way equipment is going to work in Tarisland yet, we cannot provide you with specific details on this topic right now. However, we will update our article once we learn more about Flame Mage best in slot gear to let you know what armor, weapons, and accessories you are to wear to maximize your damage output, as well as survivability.
While we do not have exact details to share with you right now, it already becomes clear that those who play as Flame Mages will value pure Attack increase and Critical Hit stats. No matter whether your playstyle will be centered around dealing single-target or AoE damage, these are the attributes you will be maxing will all possible methods, including wearing the right gear.
Flame Mage Rotation Tarisland
Our team is currently testing all possible options to provide you with the best Tarisland Flame Mage rotation, which will let you deal the highest DPS. Despite being a cross-platform game and not having many abilities to choose from, you still can experiment with plenty of alternatives. This concerns both PvE and PvP rotations.
Once we gather enough information, this section will be updated to let you know the most efficient rotations for both Fireball and Skyfire builds. However, it is already clear that every Flame Mage rotation will be centered around building up Heat to deal DoT damage in the long run.
Flame Mage Leveling Tarisland
Being a master of AoE damage, Tarisland Flame Mage leveling process is an easy and straightforward activity. While it often involves grappling with the challenge of maintaining consistent damage output due to their inherent immobility in combat. However, given their designation as a ranged-damage class, strategically positioning oneself at a safe distance and employing kiting techniques can prove invaluable in eradicating adversaries effectively.
As you progress through leveling Flame Mage, you will notice a marked simplification in vanquishing foes and formidable bosses. The path to mastery offers rewards in the form of equipment and crafting materials, generously granted through conquering dungeons and defeating world creatures. These resources empower players to enhance their character's attributes, ultimately leading to heightened effectiveness in battles and magical prowess.
If you do not have enough time to level up your Flame Mage on your own or simply wish to speed up this process, we are always there for you. On our website, you can always Buy Tarisland Powerleveling and get to the desired level in a blink of an eye. We offer the fastest completion speed and the best market price you can only find!
Conclusion
In conclusion, the path of a Flame Mage is one filled with fiery potential and mesmerizing power. This guide has unveiled the secrets of fire manipulation, equipping you with the knowledge and skills necessary to harness the elemental fury that courses through Tarisland. As a Flame Mage, you are not just a wielder of flames but a master of the arcane, capable of unleashing scorching devastation upon your foes.
While this journey may demand precision and control, it offers you the exhilarating opportunity to wield one of the most potent forces in the Tarisland realm. The pros and cons, the intricacies of spells, and the strategies of play have been unveiled, enabling you to become a formidable Flame Mage.
With this guide in hand, you are now ready to set this world ablaze with your power, igniting a legacy that will be remembered throughout the ages. May your journey be filled with triumphs, and may the flames of your magic forever burn brightly on the mystical canvas of Tarisland.
F.A.Q.
What is the best Mage spec in Tarisland?
It all comes down to your playstyle and preferences, as both Frost and Flame specs of Mage can work equally well. However, we would highly recommend that you go for playing as Flame Mage in case you wish to deal AoE and DoT damage.
Is Flame Mage good in Tarisland?
You cannot find a better spec if your goal is to destroy your foes with AoE and DoT abilities. While this spec struggles with mobility, it has a few tools to level this disadvantage.
Is Flame Mage hard to play Tarisland?
You will have to spend some time getting used to positioning yourself correctly on the battlefield, as well as learning the core rotations. To sum it up, playing as a Flame Mage is quite difficult but manageable in the long run.
What is the best spec for Mage PvP Tarisland?
We would recommend that you opt for the Flame Mage spec, particularly its Fireball build. By doing so, you can balance between dealing high damage and have enough mobility to survive against melee enemies.
Is Flame Mage good in PvE Tarisland?
It is one of the best specializations you can choose for PvE activities since you can level up quickly due to your AoE abilities. On top of that, you have a wide range of skills and talents to focus on dealing single-target damage, which is particularly useful in raiding.
Which Mage spec is best for PvE Tarisland?
While it ultimately depends on your own preferences and the desired playstyle, we would advise playing as a Flame Mage due to its versatility and the ability to deal both AoE and single-target types of damage.
How do I maximize DPS Flame Mage Tarisland?
It is essential to learn the core rotations, wear BiS gear, and choose the right talents.