Welcome, traveler, to our comprehensive Tarisland Frozen Barbarian Fighter guide devoted to one of the bravest and mightiest warriors you can pick in this game. Within these pages, we will embark on a journey through the captivating world of Tarisland, exploring the dynamic gameplay, powerful abilities, and versatile builds that define Frozen Barbarian Fighter.
Whether you are a seasoned warrior looking to refine your skills or a newcomer eager to master the ways of ice and steel, this article will be your trusted companion, providing the knowledge and strategies needed to become a legendary force in the heart of this realm. Join us as we delve into the frosty embrace of Barbarian Fighter Tarisland depths, where the art of combat meets the power of the frozen elements.
IMPORTANT NOTE: Apart from learning everything about the Frozen Barbarian Fighter spec, you can also Buy Tarisland Boost from SkyCoach. We offer a wide range of products at the lowest market price and with the fastest delivery. You can make your first purchase even CHEAPER if you find a special PROMO CODE (highlighted in green) hidden in this article and get a 20% DISCOUNT.
Check out some of our most popular
Tarisland Boosting

services below:
Frozen Barbarian Fighter Pros & Cons
If you do not know whether this specialization is worth your attention, let us start our guide with a quick explanation. In this section, we will go over Frozen Barbarian Fighter's strong and weak sides to provide you with an understanding of what this spec is about.
As always, we will begin with Frozen Barbarian Fighter Pros, namely:
Exceptional Tankiness

– Frozen Barbarian Fighter is a paragon of durability, boasting substantial health and defense. This resilience makes them a formidable frontline warrior, capable of withstanding a barrage of enemy attacks and protecting their allies;

Ease of Mastery

– This spec is relatively easy to master, making it an excellent choice for newcomers to the Tarisland world. The straightforward playstyle allows players to quickly grasp the fundamentals of Frozen Barbarian Fighter, making it accessible and enjoyable for a wide range of players;

Decent Damage Output

– Despite their primary role as a tank, Frozen Barbarian Fighters do not fall short in the damage department. They possess a balance between defense and offense, ensuring that they can contribute significantly to battles while holding the line.
However, no specialization is perfect and Frozen Barbarian Fighter Cons include the following points:
Susceptibility to Kiting

– One of the downsides of this specialization is its vulnerability to kiting tactics. Frozen Barbarian Fighter's relative lack of mobility can make it challenging to engage with agile opponents who prefer to keep their distance and attack from range;

Potential for Monotony

– Some players might find the straightforward and unadorned combat style of Frozen Barbarian Fighter somewhat monotonous. This class excels in simplicity, but this very trait can lead to a perceived lack of variety in gameplay;

Lower Damage Output

– While they offer decent damage, Frozen Barbarian Fighters may fall short when compared to dedicated damage-dealing classes. Players seeking to top the damage charts might be left wanting more, as the class's primary focus is on tanking rather than raw offensive power.
Keeping this information in mind might help you make an informed decision whether you even want to spend your precious time leveling up another character of this class and spec. However, if you decide to go for this, you can count on us. By choosing SkyCoach, you can Buy Frozen Barbarian Powerleveling and get a ready-to-play character with the maximum level and tons of loot. We offer fair prices and guarantee the fastest result!
How to Play Frozen Barbarian Fighter in Tarisland
In case you have no idea what this spec's playstyle is built around, this part of our Frozen Barbarian Fighter DPS guide will explain everything to you. We will go over this specialization's passive ability and provide you with a clear example of how important it is to stack Frozen Runs and why they serve as your main damage dealers.
Here is a short version of our guide, explaining how to play Frozen Barbarian Fighter in Tarisland:
Understand Your Role

– Embrace your role as the tank of the group. Your primary responsibility is to absorb enemy damage, protect your teammates, and control the flow of battle by drawing the attention of adversaries;

Positioning is Vital

– Pay close attention to your positioning. Position yourself between the enemy and your allies to shield them from harm. Be mindful of your surroundings and adjust your position as needed to intercept threats;

Cooldown Management

– Learn the cooldowns of your abilities and use them strategically. Use crowd control abilities to disrupt enemy attacks and provide moments of respite for your team. Prioritize using your defensive skills

(e.g. Death Fight)

when facing powerful foes or during critical moments;

Survivability

– Invest in gear and talents that enhance your survivability. Look for items that boost your health, resistance, and healing received. Your longevity on the battlefield is your team's insurance policy;

Pay Attention to Frozen Rune Stacks

– To ensure you deal the maximum damage you are capable of, always look at how many Frozen Rune stacks your target is suffering from. By triggering this debuff with the Frost Strike ability when the right time comes, you can deal plenty of damage while also becoming even tankier yourself.
Always be open to improving your skills. Learn from each battle, experiment with different strategies, and adapt to evolving challenges. This continual growth will make you a more formidable Frozen Barbarian Fighter. BLOG20
Frozen Barbarian Fighter Abilities Tarisland
If you wish to get acquainted with Tarisland Frozen Barbarian Fighter abilities closer before trying this spec in action, this section of our guide is devoted exactly to this topic:
Accumulate Frozen Runes. Once you use Frost Strike, all Frozen Runes will be consumed and the remaining damage will be calculated based on the proportion of the consumed amount. You also grant your group a bonus aura of Firmness that increases Dual Defense by 2% during raids.
Acquire 5 Frozen Runes, which enable you to inflict damage equal to 80% of your attack power plus an additional 44 points to the target. Simultaneously, they bolster your Dual Defense by 5%, and this effect can be stacked and recharged up to 2 times for even greater protection.
Get a total of 10 Frozen Runes and propel an axe in the direction of your target, causing damage equivalent to 111% of your attack power along with an additional 121 points to all foes in its path. The axe subsequently returns to you, restoring your health by an amount equal to 3% of your maximum HP, complemented by an additional 149 HP.
This ability only appears after you unlock the Frost Cross talent and replace Storm Flying Axe. Acquire a stockpile of 10 Frozen Runes, then launch a formidable axe towards your intended target. This attack inflicts damage equivalent to 111% of your base attack power, enhanced by an extra 60 points, affecting all enemies along its arc path. As the axe returns to you, it not only deals a health-restoring blow, recovering 3% of your maximum HP but also bestows you with an additional 74 HP.
Receive 15 Frozen Runes, utilizing them to unleash a powerful attack. This offensive strike inflicts damage equal to 113% of your base damage plus an extra 60 points to the target. Additionally, it provides you with a substantial 65% damage reduction, significantly fortifying your defenses. Notably, any remaining damage will be calculated over a span of 5 seconds, with the duration and intensity dependent on the number of Frozen Runes employed in the attack.
Envelop yourself with a whirlwind of airborne axes, unleashing a continuous barrage of damage to the vicinity. This relentless onslaught inflicts damage equivalent to 52% of your attack power, bolstered by an additional 28 points, every second to any nearby targets caught in the maelstrom.
Elevate your Dual Defense by an additional 8 points, fortifying your defenses for a duration of 58 seconds. This augmentation is further boosted by a unique mechanic: the lower your health, the greater your damage immunity. This effect provides a dynamic and adaptive layer of protection during combat, ensuring your resilience increases as your health diminishes.
Harness the power of frost energy, enhancing your Glancing capabilities with a 10% increase plus an additional 72 points. This surge in the Glancing effect also amplifies the growth rate of your Frozen Runes, allowing them to accumulate more rapidly as you maintain control of your frost-infused abilities.
Frozen Barbarian Fighter Ultimates Tarisland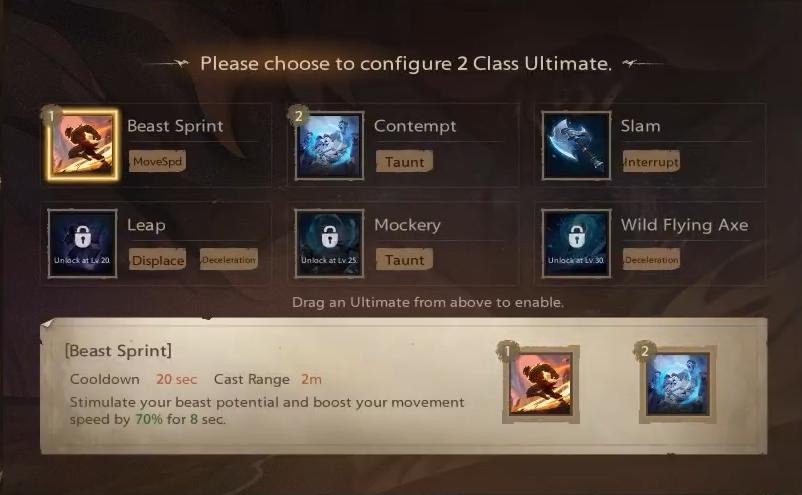 When it comes to Tarisland Frozen Barbarian Fighter ultimates, the choice mainly depends on your playstyle and preferences. However, ults like Contempt are highly recommended to be picked since this is the bread and butter of any tanking spec and this one is not an exception here.
Beast Sprint

– Stimulate your beast potential and boost your movement speed by

70%

for

8 seconds;

Contempt

– Taunt your enemies within 8 meters. This effect lasts for

6 seconds;

Slam

– Interrupt the targeted enemy's spellcasting. Do keep in mind that some bosses' skills cannot be interrupted with this ultimate;

Leap

– Jump to the target or the specified location, and reduce the speed of the enemies within 3 meters around the landing area by

30%.

This effect lasts for

3 seconds;

Mockery

– Taunt a targeted enemy for

6 seconds;

Wild Flying Axe

– Throws an axe at the target, causing an effect of

50%

of

Deceleration

for

5 seconds.
If you need help to make an informed decision concerning the best Frozen Barbarian Fighter ultimate, we would recommend opting for Contempt / Mockery in any case and preferred playstyle. However, those who are looking for a way to enhance their mobility can choose Leap as well.
Best Frozen Barbarian Fighter Builds
In Tarisland, Frozen Barbarian Fighter can adopt various builds to suit different playstyles and situations. Since we have not had enough time to test all the possible build alternatives, our team is currently working on this. Once we gather enough info, we will update this article for sure.
At the moment, we only know about the two best Frozen Barbarian Fighter builds, namely:
Storm Flying Axe Build;

Frost Cross Build.
Getting ahead of things, we should say that the Frost Cross variety is the best PvE Frozen Barbarian Fighter build since it enhances your tank capabilities as nothing does. This is exactly what you need when participating in a tough raid or dungeon where you need to soak all the incoming damage for the entire team.
Best Frozen Barbarian Fighter PvE Build
As we have just claimed, the only Tarisland Frozen Barbarian Fighter PvE build that deserves your attention is Frost Cross. This unique ability is attainable through talent upgrades and replaces Storm Flying Axe. With Frost Cross, you gain the ability to not only deal damage but also significantly reduce incoming damage from your adversaries. It is the ideal build to adopt when your primary role is to act as a protective tank for your team, allowing you to absorb damage and provide valuable support in combat.
Since we have mentioned a few words about acting as a tank, the suggested option can act as a great Frozen Barbarian Fighter raid build when your primary task is to soak as much damage as possible.
Here is a list of talents you are to opt for when using the Frozen Barbarian Fighter Frost Cross build:
Talent

Description

Frost Cross
Replaces

Storm Flying Axe

with Frost Cross.
Frost Reaction
When

Frost Cross

is used beyond the duration of Frost Strike, it reduces the cooldown of

Frost Strike

by 1 second.
Frostbind
Additional damage reduction granted by

Frost Cross

is increased by

125%.

The ability's cooldown is decreased by 1 second.
No matter what build you use, success is never guaranteed. This is especially true if you are trying to defeat a mighty boss since you cannot do this all by yourself and have to rely on your team. In case you are stuck at a certain point and need help, you can count on SkyCoach. If you Buy Tarisland Raid Boost from us, our PROs will gladly assist you and slay any boss you cannot get through. We offer the best market price and guarantee the fastest result!
Best Frozen Barbarian Fighter PvP Build
When looking for a perfect Tarisland Frozen Barbarian Fighter PvP build, we would recommend that you opt for Storm Flying Axe. The reason for this is that it boasts decent HP recovery capabilities and lets you deal plenty of damage along the way. At the same time, you still remain quite tanky, which is exactly what you need when participating in Battlegrounds, for example.
Here is a brief description of what talents you want to choose when using the Frozen Barbarian Fighter Strom Flying Axe build:
Talent

Description

Piercing Chill
Chill Strike has a

100%

chance to reduce the cooldown of

Storm Flying Axe

and Frost Cross by

0.75

and

0.5 seconds.

Storm Protect
After

Storm Flying Axe

returns, increase the

Glancing

chance by

5%

for

4 seconds.

Quick Throw
Every time

Storm Flying Axe

hits a target, it reduces the cooldown by

1.5 seconds.
Similarly to PvE activities, you can never be sure of your victory, especially if you are playing with other players in a party. Therefore, you might want to Buy Tarisland PvP Boost from us to ensure you win every Battleground and always claim the best rewards. This can be easily achieved thanks to our PROs who will help you win every PvP encounter.
Frozen Barbarian Fighter Best in Slot Gear Tarisland
As the intricacies of equipment mechanics in Tarisland are yet to be fully unveiled, we regrettably lack specific details to provide at this moment. Nevertheless, we are committed to keeping you informed, and our article will be promptly updated as we gain insights into the Frozen Barbarian Fighter best in slot gear. This forthcoming update will shed light on the armor, weapons, and accessories that maximize both damage output and survivability, ensuring you are well-equipped for your chosen role.
Although precise details remain elusive, it is becoming increasingly evident that Frozen Barbarian Fighters will highly prioritize enhancements in pure Attack, as well as substantial boosts to HP and Max HP. Regardless of whether your playstyle leans toward tanking or damage dealing, these attributes are the bedrock of your character's effectiveness, and you will explore various means, including gear selection, to elevate them.
Frozen Barbarian Fighter Rotation Tarisland
While it is true that you can think of and create dozens of possible rotations, we have prepared two alternatives that will work perfectly for the builds we have described above. Getting ahead of things, we should say that the best Tarisland Frozen Barbarian Fighter rotation may vary depending on what is going on in a fight. However, we will provide you with a general guideline for you to rely on:


Storm Flying Axe Build Rotation


Basic Rotation:

Chill Strike – Frost Strike

to obtain Frozen Runes and then consume all of them with the second ability, dealing a decent amount of damage;
Enhanced Rotation:

Chill Strike – Storm Flying Axe – Frost Strike

to generate even more Frozen Runes, which results in higher damage output at the end of the rotation;
Complete Rotation:

Death Fight – Frost Outbreak – Axe Cyclone – Storm Flying Axe – Chill Strike – Frost Strike

to become more defensive and deal the highest DPS possible at the end.


Frost Cross Build Rotation


Basic Rotation:

Chill Strike – Frost Strike

works similarly to the previously described alternative and there is nothing to change here since it is the most basic rotation;
Enhanced Rotation:

Frost Cross – Death Fight

lets you deal a decent amount of damage and become super tanky to soak everything that comes at you;
Complete Rotation:

Frost Cross – Death Fight – Frost Outbreak – Axe Cyclone – Chill Strike – Frost Strike

provides you with enough defense and lets you deal enough DPS even when your primary goal is to soak it.
Frozen Barbarian Fighter Leveling Tarisland
The journey of Tarisland Frozen Barbarian Fighter leveling can be a rather gradual and time-consuming process. To expedite your character's progression and unlock their full potential more swiftly, it may be wise to consider utilizing our Powerleveling services.
Our dedicated experts will efficiently guide your character through the leveling process, ensuring you reach your desired level and acquire the necessary skills and equipment without the need for extensive grinding or delays. This way, you can focus on enjoying the more exciting aspects of your Frozen Barbarian Fighter's adventure without the frustration of slow leveling.
Conclusion
In closing, our Tarisland Frozen Barbarian Fighter guide has unraveled the icy prowess of this formidable spec, equipping you with the knowledge and strategies needed to conquer the challenges of this enchanting realm. From mastering your gameplay and abilities to customizing effective builds, you have delved deep into the heart of this warrior's journey.
Whether you choose to be the unyielding tank or the relentless damage dealer, Frozen Barbarian Fighter offers a diverse array of playstyles to explore. As you navigate the landscapes of Tarisland, you will find yourself at the forefront of battles, harnessing the power of ice and steel to protect your allies and triumph over your foes.
F.A.Q.
What is the best Barbarian Fighter spec in Tarisland?
Depending on whether you prefer to act as a damage dealer or tank, you need to choose between Thunder and Frozen specializations. The latter lets you soak tons of damage, which is useful when participating in raids and dungeons. If you are a more experienced player who is ready to take responsibility for your team's survivability, then we recommend that you opt for the Frozen spec.
Is Frozen Barbarian Fighter good in Tarisland?
This spec excels in tanking plenty of damage thanks to abilities like Storm Flying Axe / Frost Cross. It is also recognized for extremely powerful ultimates such as Contempt and Mockery.
Is Frozen Barbarian Fighter hard to play Tarisland?
The only challenging aspect you are to master is when to use your defensive abilities to extract maximum benefits out of them. In general, playing as Frozen Barbarian Fighter is not that difficult, as you can stay alive for quite a long time and deal damage along the way.
What is the best spec for Barbarian Fighter PvP Tarisland?
If you prefer to soak damage, as well as taunt enemies to distract them from your allies, you would definitely enjoy playing as the Frozen specialization when choosing the Barbarian Fighter class.
Is Frozen Barbarian Fighter good in PvE Tarisland?
No raid or dungeon can survive without having a reliable tank to soak damage for them. Therefore, Frozen Barbarian Fighter is an excellent choice for any PvE activities since you have a wide arsenal of abilities for tanking purposes.
Which Barbarian Fighter spec is best for PvE Tarisland?
If you wish to stay alive longer, we would recommend that you opt for the Frozen spec of the Barbarian Fighter class. At the same time, you need to understand that the entire team relies on you when in a raid or dungeon, as you will have to soak plenty of incoming damage.
How do I maximize DPS Frozen Barbarian Fighter Tarisland?
Make sure to master the rotations we have described above, always pay attention to what gear you are wearing, and choose the optimal talents to enhance your performance.